Meet Krampus AKA The Christmas Devil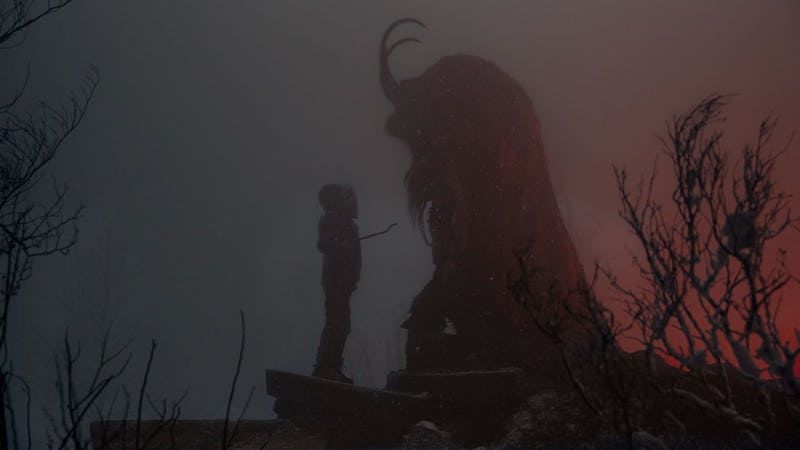 When you think of Santa's helpers, what comes to mind? Little elves dressed in red and green overalls with miniature Santa hats on their heads? Or maybe a jovial, loving Mrs. Claus, helping her husband wrap gifts and load his sled? Well, if you were hoping to see a movie about Santa's helpers this Christmas season, you're in luck because Krampus is hitting theaters on Dec. 4. Unfortunately, Krampus is not your typical Holiday movie. For one thing, it's a comedy-horror hybrid, and for another, it's about Krampus, a lesser known counterpart to Santa Claus. In the trailer for the film, Krampus is introduced as a menacing figure — the opposite of Santa, who comes to punish the naughty instead of bringing gifts to the nice. But, what is Krampus really?
The legend of Krampus is believed to have originated in Europe during the 1600s, and is still alive and well in certain Eastern European countries. Krampus is sometimes referred to as a 'Christmas Devil' — usually depicted with horns and demonic features, it's not hard to see why. But in its original form, Krampus is actually one of Santa's helpers who helps keep the children in line...with his terrifying presence. Or, as Christoph Waltz explained once on The Tonight Show, "Krampus [comes with] a stick, a bag, and he threatens you. If you weren't good, you get stuck in the bag, and hit, and shipped off."
The threat of Krampus lives on in Austria, Germany, Hungary, Slovenia and the Czech Republic, where young men have revived the tradition of the Krampus Run — or Krampuslauf. In keeping with tradition, men wear intricate, wooden masks and dress up in full-body suits adorned with sticks and bells. They run down the streets in a kind of celebratory parade that thrills and horrifies children on Dec. 5, the night before Saint Nick arrives on Dec. 6.
In Krampus, the Christmas Devil is summoned after a family's Christmas dinner becomes more about fighting than celebrating, causing a young boy to turn his back on Santa. Instead of getting a lump of coal in his stocking the next morning, he and his family get a visit from Krampus himself. "Krampus enforces Christmas. Krampus is there to punish the people who don't celebrate," explained director Michael Dougherty in an interview with the Wall Street Journal.
So, you better watch out, you better not cry, because, whether you like it or not, Krampus is coming to town.
Images: Universal Pictures