9 Iconic Movie Scenes Ever Woman Needs To See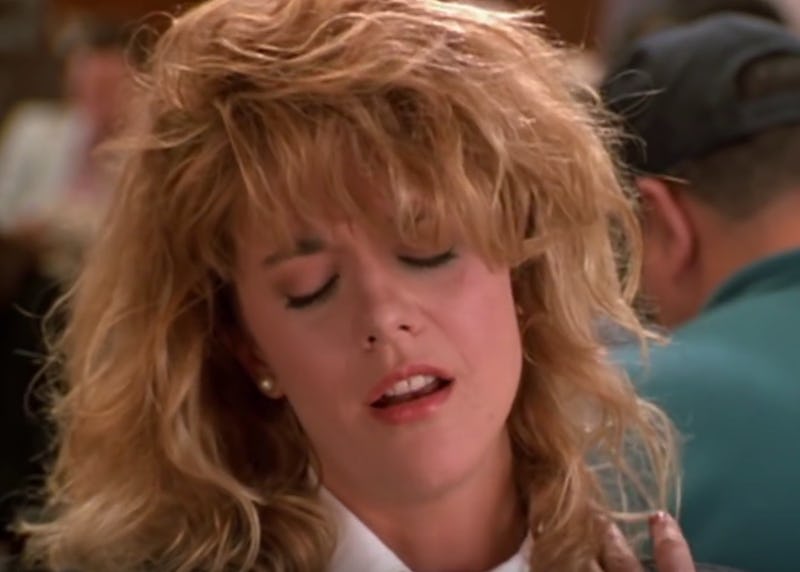 For any girl going to the movies, it can be hard to find something on screen to really connect to. It's the same old story: male-run Hollywood hires male directors and male screenwriters, who then write inauthentic portrayals of women and hire women that fulfill their own, narrow ideas of beauty to do the portraying. That's not to say that all men are incapable of creating strong content for women in film. However, it is the unfortunate truth that there is not an abundance of movie scenes that really stand out for women. This is slowly changing — Mockingjay, Part 2 is currently dominating at the box office, rallying cries for more women in leadership roles behind the camera are getting louder, and, if you ask any stranger on the street who the best actor of our time is, odds are they'll answer Meryl Streep. (If they don't, they clearly aren't worth your time.) Here's a round-up of some of the best movie scenes for women, or nine iconic movie scenes every woman should watch.
Female roles are only getting stronger and stronger, and the world of international cinema is much too big for this lowly movie lover, so think of this list as more of a guide to the world of feminist cinematic moments.
When Harry Met Sally
It would be a crime to leave When Harry Met Sally's infamous fake orgasm scene off this list of iconic movie scenes. Not only does the scene contain one of the best quips in movie history — "I'll have what she's having" — it also serves as an unapologetic demand for satisfying sex, something rarely seen coming from women in film.
The Princess Bride
There is a scene in The Princess Bride when Princess Buttercup starts taking a more active role in her story, and confronts the Dread Pirate Roberts about the pain he caused her when he "killed" her one true love, Westley. Not only is the scene iconic because of Robin Wright's elegant performance, it also leads into one of the most romantic reunions ever.
Real Women Have Curves
Real Women Have Curves is about a young girl learning to embrace herself and her body. And, that theme could not be more evident than in this scene, when Ana (America Ferrera) and the other women she works with in the factory take off their clothes while working to try to beat the heat. Watch this scene and try to tell me that a woman's body should be covered up at all costs, I dare you.
Ruby Sparks
The climax of Ruby Sparks might not be recognized as an iconic scene yet, but it should be. The scene, in which Ruby realizes she is being controlled by her boyfriend (whatever he writes about her comes true), is heartbreaking and frustrating and beautiful all at once. It perfectly captures the feeling of being trapped in your own skin.
Erin Brockovich
The numbers scene in Erin Brockovich is, hands down, a must watch scene for every woman (and man) on the planet. Women have real lives to deal with, they do not have time to hand out their phone numbers to any stranger with the guts to ask for it, a point Julia Roberts makes crystal clear in this scene.
The Princess And The Frog
"Almost There" is not only the best song from Disney's The Princess and the Frog, it's also a great anthem for any girl who needs motivation to chase her dreams. Unlike Disney Princess songs of the past — I'm looking at you, "Some Day My Prince Will Come" — "Almost There" is all about independence and making a life for yourself instead of waiting for a man to do it for you.
The Devil Wears Prada
Let's be real: pretty much any scene Meryl Streep has ever been in should be required viewing, but there is one scene in The Devil Wears Prada that stands out. Stripped of makeup and designer clothes, Miranda Priestly (Streep) finally lets her guard down, and made Priestly a fully formed, three dimensional character in the process.
Beyond The Lights
In Beyond the Lights, Noni, a young pop star, feels lost in her public persona. She feels voiceless and ignored, but when she sings "Blackbird" for Kaz, she lets all of that emotion out. Even if it's just a movie, watching Noni find her voice again is nothing but touching.
Grease
An anti-slut shaming theme if there ever was one, "There Are Worse Things I Could Do" as performed by Rizzo (Stockard Channing) in Grease is one of the best moments in the film. Don't let the haters bring you down, Rizzo!
Women in movies can inspire audiences in many different ways. And, hopefully, these nine scenes will inspire you to be yourself.
Images: Columbia Pictures; Giphy (9)