Adele Is Going On Tour, But Don't Get Too Excited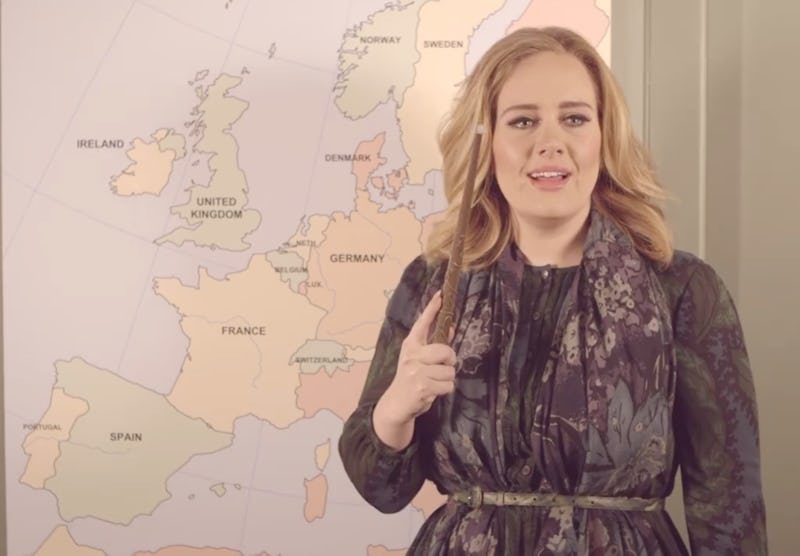 It's a good time to be an Adele lover. The emotional songstress dropped her first new album in four years, 25 , and just announced that she's going on tour. Yes, that's right, Adele is hitting the road! In true Adele fashion, Adele announced her tour with an adorable video posted to her official Facebook page. In her video announcement, Adele stumbles a few times, laughs at her own "Hello, it's me" introduction and gives a very Harry Potter geography lesson. It's beautiful and perfect, just like Adele herself.
For a hot minute, it looked like fans would have to continue waiting for another Adele tour — the singer hasn't gone on tour for four years. But, Adele put all those fears to rest on Thursday, announcing proudly, "I have been bluffing this whole time and I'm so relieved to finally tell you that I am of course coming on tour, and I can't wait to see all of you there."
Before you get too excited at the chance to say "Hello" to Adele in person (sorry, I had to), know that Adele's current tour dates only include stops in Europe. The goddess of song has yet to announce any official plans for a U.S. tour, and instead just confirmed 34-dates across Europe starting Feb. 29 in Ireland, and ending in mid June in Belgium. Tickets will go on sale starting Dec. 4, so get ready Adele fans, because if the record-breaking sales of 25 are any indication, tickets will likely sell out fast.
At least those not lucky enough to live in Europe get to watch the goofy announcement video! (I think all teachers should consider using Harry Potter wands as pointers from now on.) Still, non-European fans are, unsurprisingly, pretty upset by Adele's announcement.
But never fear, Adele worshipers, for many reports are saying that the European tour dates are only the first leg of an international tour, and more tour announcements are expected soon. In October, Adele spoke to Ryan Seacrest about her hopes for a world tour, saying, "I'd love to do a world tour and I'd love to be able to say I've done it it the end, but I don't know if I'm strong enough for it."
If, for some reason, Adele's tour never reaches the U.S., at least we'll always have her 25 press tour — filled with epic television performances like "Hello" with classroom instruments on The Tonight Show.
Images: Adele/Facebook