How To Stay At 'Apres Ski' Whistler Blackcomb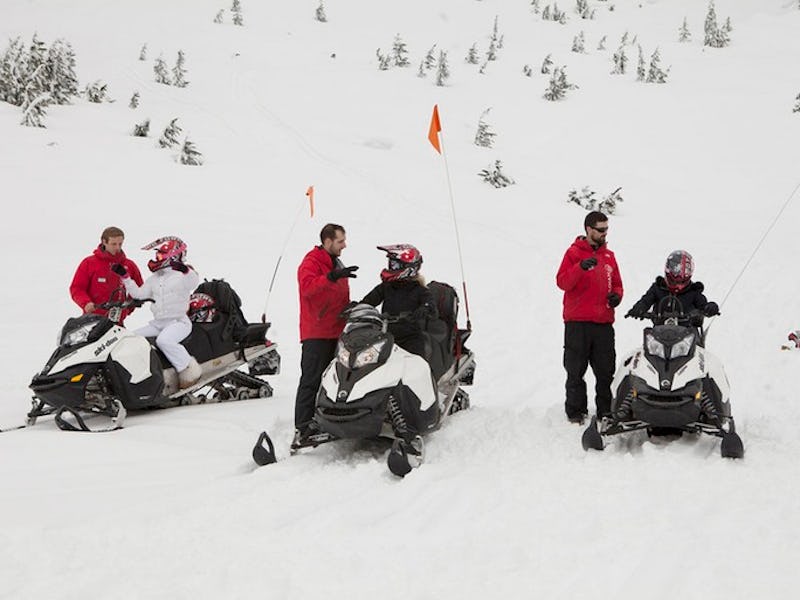 Cold weather typically makes me want to hibernate until spring — and when I think of dream vacations, beach resorts and tropical islands tend to be at the top of my list. But Bravo's new docu-series Après Ski has me wanting to jet off to a snowy paradise for the first time ever. So, can you stay at the Après Ski resort Whistler Blackcomb? I mean, I'm guessing my budget won't cover the spa days, champagne, and fancy food that the cast is currently enjoying — but I'm still dying to head to Whistler so I can enjoy some of the spectacular scenery.
The accommodations for the show were booked by Gibbons Life, a service that works with travelers to plan out a customized, one-of-a-kind vacation. Basically, your wish is their command and you'll have an unforgettable and unique vacation — for a very hefty sum, of course. But, luckily for me and everyone else who's dreaming of spending time in the snowy village, Whistler Blackcomb is a popular tourist destination and there are plenty of ways to enjoy the beautiful resort that won't max out every single credit card in your wallet. (But, we'll probably have to forget about the "butlers in the buff" for now.)
According to Whistler Blackcomb's official website, there are lodging options for every budget — from luxury hotels to casual inns to house rentals, there's no shortage of places to stay. Whistler Blackcomb has also set up a Last Minute Hotel Deals option — if you book within two weeks of your trip, you'll get an amazing deal at one of Whistler's many beautiful properties. In fact, it's possible to stay there for around $100 per night. You'll have to bring your own champagne and snacks, but you'll get to enjoy the same beautiful scenery and mountains as the Après Ski cast.
Now that accommodations are settled, what about the rest of your stay at Whistler Blackcomb? The resort is, of course, best known for skiing and winter sports. Whistler Mountain hosted skiing events at the 2010 Winter Olympic Games and sporting enthusiasts flock to Whistler Blackcomb to experience the slopes for themselves. But if you want to try your hand at some uncommon winter sports, Whistler is the right place to do so. Adventurous visitors can experience the luge, bobsleigh, and skeleton — and Whistler boasts the fastest bobsleigh track and sliding track in the world.
When you're ready for a break, there are many great restaurants in Whistler at every price range — and you'll certainly have worked up an appetite after all that time outdoors. You can find pretty much every cuisine, including oysters, Australian pies, crepes, Mexican, and sushi. The New York Times recommends the Garibaldi Lift Company, which is located at the base of Whistler Mountain, as an ideal spot for nachos and cocktails after a day on the slopes.
Although winter sports are undeniably the biggest draw for tourists, you can also enjoy low-key, indoor activities. Whistler has a lovely shopping center with over 200 stores, and Scandinave Spa basically looks like the most beautiful spa ever. Whistler seems like the perfect place to vacation if you want a combination of outdoor adventures, delicious food, and relaxation time.
Now if you'll excuse me, I'm off to plan my trip to Whistler Blackcomb. Maybe I'll even learn how to ski while I'm there.
Images: Eike Schroter/Bravo; atsushikase/Flickr (2)