20 Creative Secret Santa Ideas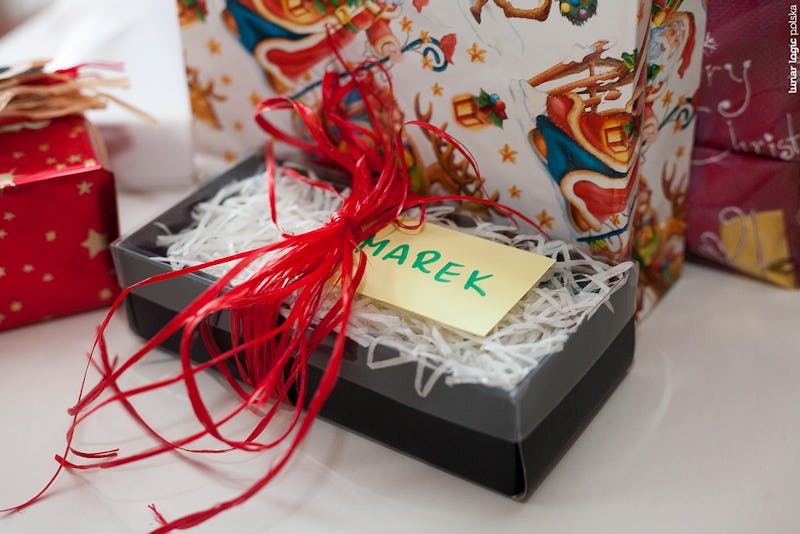 We all have those people on our holiday shopping list who are difficult to shop for. But, when you're required to purchase a gift for someone in your office or community group who you don't even know that well? Well, you might be searching for a few creative Secret Santa gift ideas to get you through that shopping predicament.
I think Secret Santa gift exchanges are a great way to boost morale and spread some holiday cheer in the office. But, I'll be the first to admit that having to pick out something nice for one of your co-workers — when the only thing you know about them is that they like to constantly adjust the office thermostat — can be an overwhelming challenge. You likely have a price limit in place, and you don't know them well enough to purchase something even remotely personal. So, you probably end up picking out something generic like chocolates or a cliché holiday decoration.
Well, no more, my friends! Say goodbye to those standard, fallback gifts for your random gift exchanges. There are plenty of items out there that make for a fitting Secret Santa surprise — regardless of how well you know (or don't know) the person you're buying for. Take a look at these creative ideas, and get ready to be the most appreciated Secret Santa in your entire group. Everybody's going to keep their fingers crossed that you draw their name next year!
1. Portable Wine Glass
Portable Wine Glass, $20, Goverre
If your gift recipient is a wine-lover (and, let's be honest, who isn't?), they'll be thrilled to receive this portable stemless wine glass. It's like one of those handy travel coffee thermoses, but for wine. What could be better than that?
2. Roku Streaming Stick
Roku Streaming Stick , $50, Walmart
Be the Secret Santa that gives the gift of endless entertainment with this handy streaming stick. Even better? It's pretty reasonably priced!
3. Mulled Cider Candle
Mulled Cider Candle, $18, Amazon
A candle is always a safe choice for a Secret Santa gift. But, a handmade one that smells exactly like delicious mulled cider? Well, that definitely takes this standard gift up a notch.
4. Personalized Christmas Ornament
Personalized Christmas Ornament , $22, Amazon
You may not know much about the person you're buying for. But, at the very least, you know their name. So, this handmade personalized ornament is a festive and fun gift!
5. Quotable Book
Quotable Book, $32, Dormify
Everybody loves a good quote. And, this big book of over 100 classic quotes will be a beautiful and thought-provoking addition to any coffee table.
6. Coloring Book
Spirit Animals: An Original Coloring Book , $13, Amazon
Coloring books for adults are one of the biggest trends of 2015, and this one by artist Carlos Gonzalez is perfect for someone itching to get a little creative. Bonus? The pages are one-sided, meaning you don't have to worry about your masterpieces bleeding through onto another design
7. Phone Charging Cord
Florabunda Power Trip, $32, Dormify
Most people are familiar with the struggle of dealing with a phone that's constantly low on battery. So, anybody will appreciate this extra phone charging cord. Plus, could it be any cuter?
8. Hot Cocoa Coasters
Hot Cocoa Coasters, $10, Amazon
There's nothing like a steaming mug of hot cocoa in the winter. And, while these handmade crocheted coasters aren't nearly as delicious, they're way more adorable.
9. Instant Camera
Instax Mini 8 Instant Camera, $69, Darby Smart
Sure, technology is great. But, there's not much that can top the fun of an instant camera. This adorable version prints out photos within 90 seconds. Plus, it comes in a ton of different colors!
10. Table Tennis
Lucky Lad Table Tennis, $10, TJ Maxx
If your gift recipient is on the competitive side, they'll love this tabletop tennis game. Plus, they can keep it at their desk and encourage some friendly competition when the office atmosphere gets a little too tense.
11. Beard Envy Kit
Billy Jealousy Beard Envy Kit , $20, Amazon
Do you have a male acquaintance or co-worker who flaunts an amazing beard that is basically their pride and joy? Well, they're sure to appreciate this kit — including a beard wash, a manly brush, and a styling product.
12. Clocky Alarm Clock
Clocky Alarm Clock, $39, Dormify
We all struggle getting out of bed and into the office. So, this alarm clock on wheels is sure to do the trick. If the user hits snooze, it literally hops off the nightstand and runs around the room. It's a gift they'll probably love and hate at the same time.
13. Neighborwoods Coaster Set
Neighborwoods Coaster Set, $36, Darby Smart
There's nothing like a little hometown pride, and your Secret Santa recipient is sure to love these engraved cedar coasters. There are tons of different cities available from San Francisco to Boston, so you're sure to find what you're looking for!
14. Map Flask
Antique Print Map Flask, $23, Amazon
Speaking of maps and drink accessories, this antique map flask is another great gift for that secret person on your list! Whether they're a geography nerd or just appreciate a good flask (or both!), they're sure to love this creative take on a classic flask.
15. Wine Soaps
Wine Soaps , $28, Uncommon Goods
Yes, we all know drinking wine is great. But, washing yourself with it? That sounds like a dream come true. Gifting this set of wine-inspired soaps is going to make you the ultimate Secret Santa.
16. Photo Display
Pinch Photo Display , $13, Dormify
Help your Secret Santa recipient dress up their workspace with this fun and creative photo display. The clothespin clips are not only an adorable touch, but they're also super easy to assemble. It's a win-win.
17. Bluetooth Speaker
Philips FLEX Wireless Portable Bluetooth Speaker, $40, Amazon
Be the most tech-savvy Secret Santa by wrapping up this portable bluetooth speaker. Tech-lovers and music-lovers alike are sure to be thrilled!
18. Tea Making Kit
Artisan Chai Tea Making Kit, $25, Darby Smart
If you're shopping for someone who loves tea and trying DIY projects in the kitchen, then this kit is exactly what you're looking for. Your recipient can create a one gallon batch of delicious chai tea — just what they need to warm up after your holiday gift exchange!
19. Moccasins
Plaid Lodge Moccasins, $55, J. Crew
Who doesn't love having cozy feet in the cold winter months? And, if you know your Secret Santa recipient's shoe size, these festive plaid moccasins are sure to keep their toes warm and snuggly.
20. Salsa Grow Kit
Salsa Grow Kit , $12, Uncommon Goods
For those kitchen whizzes who also have a green thumb, this kit makes for the perfect gift! With all of the seeds, soil, and planters they need to grow the fixins for a delicious salsa, this gift is fun and delicious. Now you just need to keep your fingers crossed that you'll get to taste some!
For more cool holiday ideas, check out Bustle on YouTube.
Images: Lunar Logic/Flickr