Singer Mashes Up All Of Adele's '25' In 4 Minutes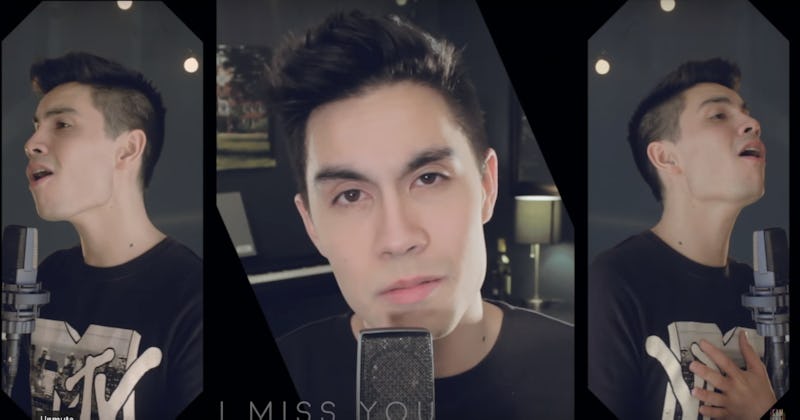 Since most of us are currently digesting the leftover turkey and mashed potatoes from Thanksgiving, why not take a back seat and enjoy all of Adele's 25 in four minutes? "How is that possible?" you might ask. "Adele's album is way longer than four minutes?!" You're right about that. Turns out that a popular YouTuber named Sam Tsui made a mashup that covers every new song on Adele's brand-spankin-new album. This way you can listen to the video while going online and purchasing the actual CD. Clearly, the two are meant to be together forever.
I'd like to take a minute and thank Sam. Not only are his soulful eyes and melodic voice making me want to date a singer, but the excellent arrangement of the songs are making me want to learn more about music in general. It seems that YouTubers these days are packed with talent, and a way to reach a big audience that was not possible nine years ago.
Hearing Adele's songs (that I've had on repeat for the last week) in this new light really gives them a twist. It's like discovering the music all over again! If I were you, I would play Sam's video below and just close my eyes. Or keep scrolling down to read some of my choices for best songs on Adele's 25.
1. River Lea
This song is my favorite on the album. It takes a while to get going but the pre-chorus and chorus just grab you. Adele sings about the river in her home town that influenced her personality to this day.
Choice Lyric: But my heart is a valley, it's so shallow and man made / I'm scared to death if I let you in that you'll see I'm just a fake.
2. Send My Love (To Your New Lover)
Upbeat Adele is my favorite Adele. This cheeky, Taylor Swift-like, uptempo song makes you remember that breakups do not have to be the end of the world. We can always move on. Or we can break up and you can treat someone else like crap...
Choice Lyrics: Send my love to your new lover / Treat her better.
3. Water Under The Bridge
Listen. I've had my share of heartbreak (mostly over the cancellation of a favorite TV show). Adele just gets it. Sometimes we breakup for really small reasons but that doesn't mean we have to erase all the good parts of the relationship. Or forget what we liked about the other person. In this song, Adele makes sure the other person gives credit for the reasons they liked her even though they are breaking up.
Choice Lyric: If you're not the one for me / Then how come I can bring you to your knees.
Images: YouTube; Giphy