7 Sex Toys To Give Your Best Friend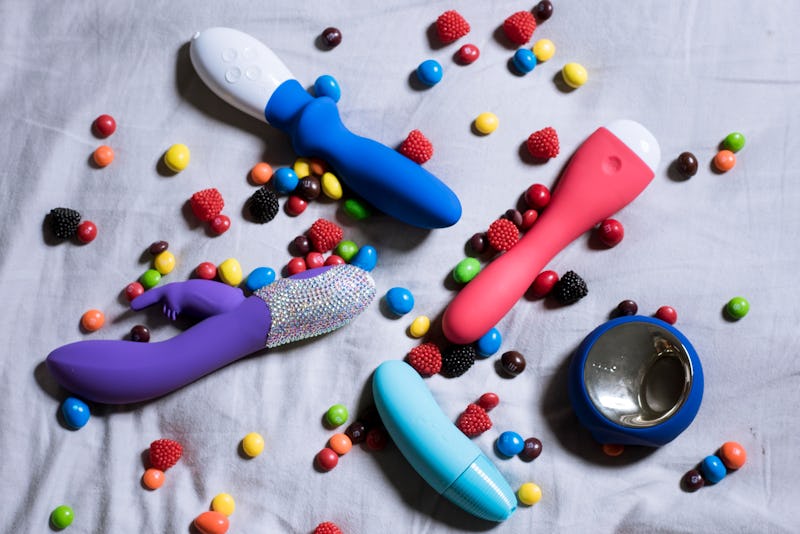 What do you get the friend who has everything? You give your friend a sex toy, of course. Seriously. Get your friend a vibrator. I get it, it's probably not the perfect stocking stuffer (Is that a pun? Is it intended? The world may never know.) But just because it's not something she'll open in front of the family doesn't mean it's not a great present. I bought my roommate her first vibrator last year and it seems to be a big hit, so I hear. No really— I can hear it from my room.
In fact, according to a survey of 2,000 LELO customers, 65 percent of women under 35 received their first sex toy from a female friend as a present. Seriously. If you have a friend that's interested in getting one for the first time, but nervous about actually to but it, step up to the plate. But you have to remember that everyone is different, and varying levels of sexual experience, so not every sex toy is going to be a perfect fit.
Most sex toy shops will have staff that are friendly, open, and most importantly, informative. I talked to the lovely woman at Shh! in London about what would be good for a first timer, and when a couple of friends took me to Babeland in NYC to get my first one, the staff were equally helpful. There are so many options it can be a little overwhelming, and the staff there has heard everything before, so don't be shy.
But if you're looking to buy one for your friend, here are some good ideas to get you started. From bullets to rabbits to robots, there's something out there for everyone:
Especially if it's her first sex toy, some people might find a vibrator a little intimidating. You'll probably be able to gauge it by how open your friend is about sex, but if you think she might be overwhelmed by a larger vibrator, start with a clit-stimulating vibrating bullet— it's super powerful and usually not too expensive. This is the Rocks Off Ammunition RO-80mm Erotic Ink Bullet Vibrator, but there are lots of options out there.
Rocks Off Ammunition RO-80 mm Erotic Ink Bullet Vibrator, $19, Love Honey
The rabbit. I love it. If you have a friend who likes something reliable, or is just a massive Sex and the City fan, check out the loads of different rabbit vibrator options available, the Tracey Cox Supersex one here is particularly stylish. I promise, it's a classic for a reason.
Tracey Cox Supersex USB Rechargeable Rabbit Vibrator, $60, Love Honey
3. For The One With A Flair For The Finer Things: Vesper Vibrator Necklace
If you've got some money to spare and really want to treat yo friend, the Crave Vesper necklace is both a super fancy piece of jewelry and an awesome vibrator. Seriously, you can get it in a bunch of different finishes and it's subtle and sexy.
Vesper Vibrator Necklace, $79, Amazon
4. For The One Who's Glued to Her Partner: Tor 2
A sex toy doesn't just have to be for her. If you think your friend might be a little intimated by jumping into the sex toy ring solo. If she's always got a boyfriend in tow, a couple's vibrator may be a good start. The Tor 2 is an amazing option from Lelo, but a bit pricey, so if it's out of your price range look at Durex and other cheap options. Seem too beginner? Check out couple's vibrators like the We Vibe.
5. For The Techie One: Duet Flex
The new trend is customizable vibrators, which frankly are way over my head, but if you have a techie friend what's better than a bespoke vibrator that vibes just for you? This one from Crave is easy to program using your laptop, she can pick exactly what she wants.
A remote vibrator is a really fun, flirty way to have some sexy time in public, without getting arrested or ruining Christmas. Basically you place a vibrating egg inside you and your partner controls the vibrations— depending on how powerful one you buy, it can be from quite a distance. It's a fun secret joke between the two of you, super hot, and makes boring family dinners 10 times more sexy and hilarious.
Fifty Shades of Grey Relentless Remote Vibrator, $52, Amazon
7. For The Luxurious One: Lily 2
You know your friend that always seems to be taking a bath or lighting scented candles or using every LUSH product ever? This is for her. Not only is it a super powerful vibrator, but the Lily 2 is also scented, not in a drowning out the lady scent sort of way, just in a mood setter way. And less messy than a bath bomb.
Want more of Bustle's Sex and Relationships coverage? Watch people guess what these sex toys are used for:
Images: Andrew Zaeh/Bustle; Miss Vibrator; Love Honey; Crave (2); Liberator; Babeland; Lelo