This Is The Answer To Your Hair Band Problems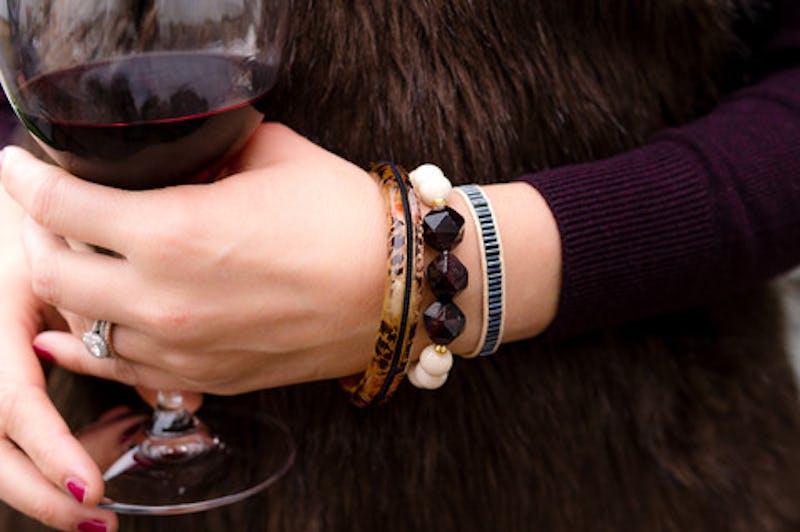 It's destroying your outfit, spreading germs, and even causing infections — and you're probably wearing one right now. The most convenient place for a hair tie is right on your wrist, but one company is making it a little safer to keep the hair essential close. According to Cosmopolitan, Hairbanglez turns your elastic into a trendy bracelet that makes wearing a hair tie around your wrist a far more appealing option.
After hearing recently about how a hair tie sent someone to the emergency room, it's become more clear to me that I need a few Hairbanglez in my life. How does it work? Well, the thin plastic bracelet has an indent that holds your hair tie in place so it doesn't actually touch your wrist but remains in that ever-so-convenient place. Say goodbye to germs and hello to your new favorite piece of jewelry!
"One day during my two hour train commute, I had the idea to come up with a better way to 'wear' my hair elastic when it wasn't in my hair," Karin, creator of Hairbanglez, says on the site. "After tons of ideation, feedback from friends and family, prototypes, and a little bit of blood, sweat, and tears, the Hairbanglez brand was born."
Available in 11 different colors, the bracelets also feature scalloped edges for your fingers that make it easy to get the hair tie off of your bracelet and into your hair. Considering that each of these stylish creations only cost $10, it's safe to say that I'll be sticking one of these fashionable little finds in all of my friends' stockings this holiday season.
Hairbanglez come in both patterned styles as well as plain colors, so you can wear them with just about any outfit.
Watch this bad boy in action!
Who knew that the secret to a hair fix would be sitting in your jewelry box the whole time? This is so genius.
Want more beauty tips? Check out the video below, and be sure to subscribe to Bustle's YouTube page for more hacks and tricks!
Images: Hairbanglez (3)