BAME Anthology About Immigration Crowdfunding Now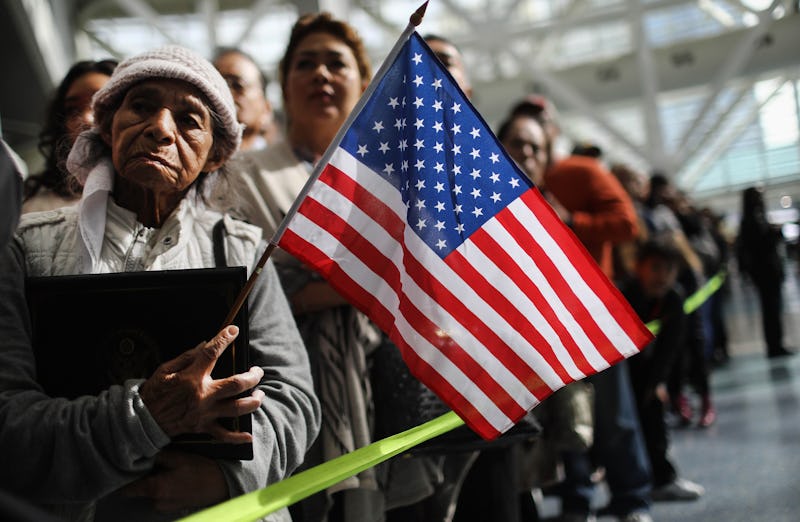 Mario Tama/Getty Images News/Getty Images
Writer and podcast host Nikesh Shukla has a new project in the works. His forthcoming book, The Good Immigrant, is an anthology about race and immigration, crowdfunding now on Unbound. Written by 15 Black, Asian, and Minority Ethnic (BAME) authors, Shukla's anthology addresses the racism brought to light by any public discourse on immigration in "post-racial" Great Britain. The Good Immigrant combats the "narrative around immigration [that] is built on falsehoods, stereotypes and anxieties about the diminishing sense of what Britishness means."
The Good Immigrant isn't Shukla's first foray into activism. After learning about the total lack of diversity in the World Book Night 2016 selections, he asked "Where are World Book Night 2016's BAME Writers?" In that essay, Shukla presents a handful of possible selections — including Roxane Gay's Bad Feminist and Chinua Achebe's Things Fall Apart — that World Book Night's organizers could have used to increase the event's representation. Shukla also took part in an Author Day panel on diversity, in which he called for writers to challenge publishing's racism and sexism, saying, "We all have a collective responsibility to change things."
The lack of diversity in publishing is part of the larger problem of institutionalized white supremacy and patriarchy. The Good Immigrant, then, works on two levels: it addresses how the publishing industry overlooks emerging BAME writers, and also tackles anti-immigrant rhetoric that equates Britishness with whiteness.
This problem is not unique to the U.K. As the U.S. prepares to take in 10,000 displaced Syrians in 2016, more than 30 governors have refused to accept any refugees from the crisis, despite the fact that their statements are unconstitutional and exactly what ISIS wants. Meanwhile, Republican presidential candidate Donald Trump is running on a platform that supports, among other things, making Mexico pay millions to build a border wall and violating the 14th amendment in order to end birthright citizenship.
It's because many vocal members of the public actually support this kind of harmful and outlandish rhetoric that projects like The Good Immigrant are so important.
At the time of this writing, Shukla's book has raised 24 percent of its funding goal.
Image: Getty Images