'Empire' Is About To Take A Long Winter's Nap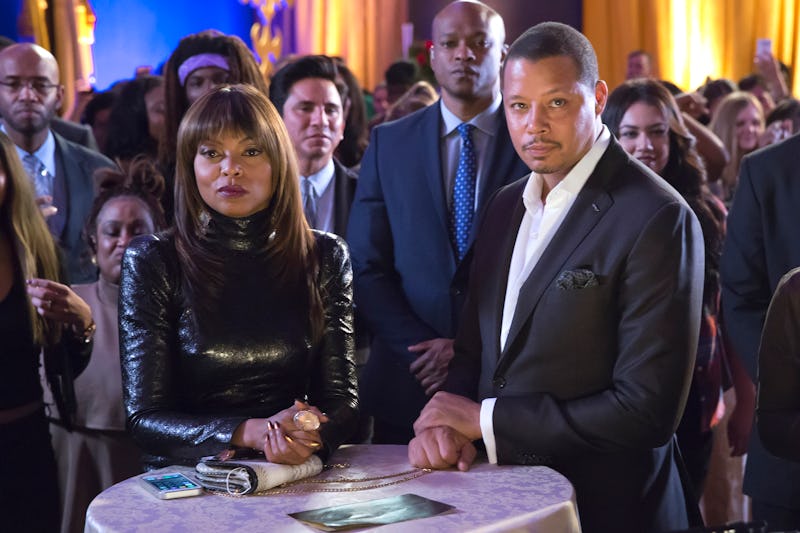 The war between Empire Entertainment and Lyon Dynasty is heating up, but we'll have to wait to see who comes out the winner after Wednesday night's Empire fall finale.When does Empire come back? Unfortunately, I have bad news. After Wedesnday's midseason finale, Empire returns to Fox on March 30. That feels like an absurdly long time. That's the entire season of Winter away, for many of us. How is anyone expected to wait that long?
With impending twists that include the return of Hakeem's ex-girlfriend Camilla and all of the Swiftstream drama, we are sure to be left wanting more after this Wednesday's episode "Et Tu Bruté." According to Fox's official episode description, "Lucious makes a reckless play for the streaming service that he believes will make him the most powerful man in music, only to learn that the entire business strategy was part of a scheme that might jeopardize everything for which he has worked so hard. Meanwhile, Cookie decides to plan a concert at the prison where she spent 17 years locked away from her family; and you won't want to miss the last few minutes that will leave you speechless." I'm already stressed for what's in store. At least that concert will be fun to watch.
Fortunately, a show like Empire can be enjoyed several different ways while it's off the air. You can do a rerun binge of your favorite episodes or an entire season. You can load up your favorite songs onto your life playlist. Or you can just revisit some of the best performances that kept you coming back week after week.
1. "Bottoms Up"
Who doesn't love brunch songs! Mirage A Trois and Freda are easily the best things to come out of Empire Season 2.
2. Battle Prep
You're gonna have to re-watch the episode to watch the full battle again, but their prep is a performance within itself.
3. "Powerful"
Amazing. Their relationship might be causing a stir, but you can't deny that this is a good performance.
4. "'Bout 2 Blow"
Classic Hakeem is always the best way to get over the Empire hiatus blues.
5. "Snitch B*tch"
Never forget the Petey Pablo jail jams. Never.
6. "Ain't About The Money"
It's always better when the Lyon brothers work together, after all, and this music video is something else.
BONUS: Teen Choice Awards
Let's just revisit this magic, shall we? Hiatus makes the fan grow stronger, and Empire will be back before we know it. Plus, Taraji P. Henson and Terrance Howard are hosting a Holiday Special together, so Empire will be able to keep us warm all winter long.
Image: Chuck Hodes/Fox