9 Great Actresses Who'll Get Shunned By The Oscars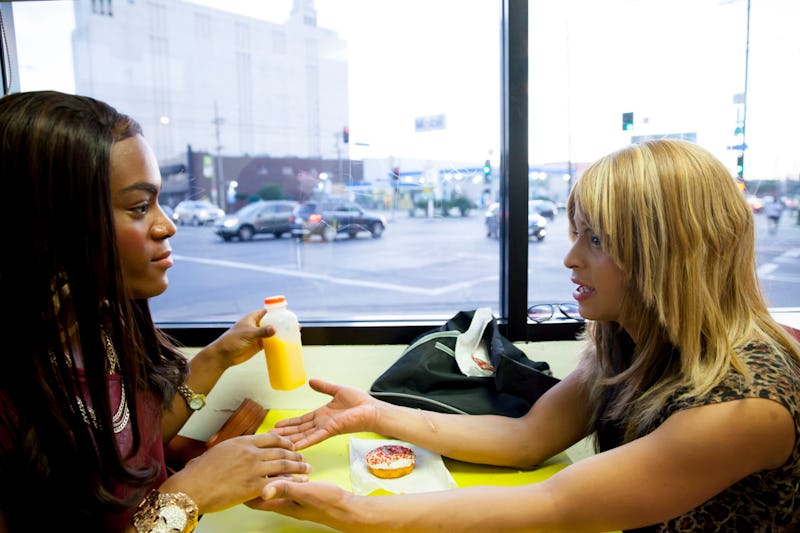 Many of us have already begun working toward our predictions for movies will win an Oscar at the 2016 Academy Awards. Considering the impressive films to spring from the loins of 2015, it isn't especially difficult to find a number of choice films worthy of recognition in the Oscars' top tier categories. The challenge comes in picking from this collection of quality the select few charmers that fit the bill of "Oscar-friendly." The even greater challenge: accepting that some of our favorite movies of the calendar year are very much not.
Nowhere is this more true than in the race for Best Actress. At this point, consideration of the category is practically guaranteed to feature some much-lauded names: the conversation would have us believe that Cate Blanchet, Brie Larson, Jennifer Lawrence, and Saoirse Ronan are shoe-ins for the nod. Each guess factors in the quality of its actress' performance and the buzz of her potential campaign, with an extra emphasis on the latter in regard to Lawrence, whose picture has yet to hit theaters.
As for the final slot, actresses like Jennifer Jason Leigh, Rooney Mara, Charlotte Rampling, and — when the especially hopeful have the mic — Charlize Theron have had their names tossed around. Deserving though they may be of attention, I can't help but think upon the past year in cinema's slew of talented lead actress who simply don't have a shot at the trophy.
Rinko Kikuchi in Kumiko the Treasure Hunter
With its oddball premise (a Japanese loner travels to America to dig up the buried suitcase from Fargo, not realizing that the film is a work of fiction), Kumiko the Treasure Hunter might have wound up alienating its audience were not for the captivating performance by star Kikuchi. She doesn't say much, except when chatting with her furry friend Bunzo, but manages a strange but empathetic sorrow all throughout the picture.
Teyonah Parris in Chi-Raq
The Academy would sooner give Leo that Best Actor trophy than pay respects to any faction of vigilantly political Spike Lee satire spoken entirely in rhyme. As the star of the picture, Teyonah Parris is its greatest onscreen asset: She's frightfully commanding, thrillingly hilarious, and patiently poignant even with the speed of the picture operating around her.
Juliette Binoche in Clouds of Sils Maria
Though at one point a contender for the Best Actress crown, Binoche's early-in-year turn has been overshadowed by an onslaught autumn releases. But, even if Clouds of Sils Maria were to open in the heat (or cold) of Oscar season, Binoche's performance is too internalized and psychologically demanding to earn due affirmation from the Academy.
Jennifer Jason Leigh in Anomalisa
As mentioned above, Leigh could very well land herself a nod this Oscar season, but not necessarily for her strongest performance of 2015. In Anomalisa, Leigh manages a self-effacing humanity you don't often find on the big screen, especially by whim of a voice performance alone. Even when speaking for a stop-motion puppet, Leigh delivers one of the most humane characters of the year.
Sidse Babett Knudsen and/or Chiara D'Anna in The Duke of Burgundy
Call it a cop-out, but it's impossible to choose between the two stars of the year's sultriest romantic drama. As power dynamics shift within the relationship between Knudsen and D'Anna's characters, we see each actress exhibit an inspiring range of character... though one a little too provocative to earn either Oscar recognition.
Carey Mulligan in Far from the Madding Crowd
On the opposite end of the spectrum from most of the pictures on this list is a movie steeped in, as hard as this may be to believe, perhaps too much high-brow classicism for the Oscars' tastes. (Just as the Academy's hipness caps around Crash, its sophistication tops out around The King's Speech). Mulligan feels right at home in a spirited, romantically infused Victorian England, balancing work, love, and sense of self with well-adorned grace.
Kitana Kiki Rodriguez in Tangerine
Tangerine, another of my favorites of 2015, has the impossibly charismatic Rodriguez to thank for its beginning-to-end liveliness. Forget the whole shot-on-an-iPhone gimmick and come for the magnetic mania of Rodriguez's kooky woman-on-the-hunt shtick. The star prowls around Los Angeles seeking out her unfaithful boyfriend in this offbeat and agitated but heartrending little comedy-drama.
Bel Powley in Diary of a Teenage Girl
Against all odds, we can actually graduate Diary of a Teenage Girl's terrific Bel Powely from "no shot" to "underdog" Oscar status, thanks if only to her recent collection of a Gotham Award for Best Actress. Her warts-and-all turn at the head of the merciless coming-of-age picture just might make a claim for that coveted fifth slot after all... or at least a healthy run for it.
Even if my predictions come true, and none of these actresses get that precious Oscars nod, their performances are still worth watching and re-watching. While the Oscars might be considered the be-all end-all goal of every actor's career, they can often miss some of the most poignant, mind-numbingly good performances done throughout the year.
Images: Magnolia Pictures (2); Amplify; Roadside Attractions; IFC Films; Paramount Pictures; Artificial Eye; Fox Searchlight Pictures; Sony Pictures Classics