Ryan Gosling's 'SNL' Monologue Made Canada Cool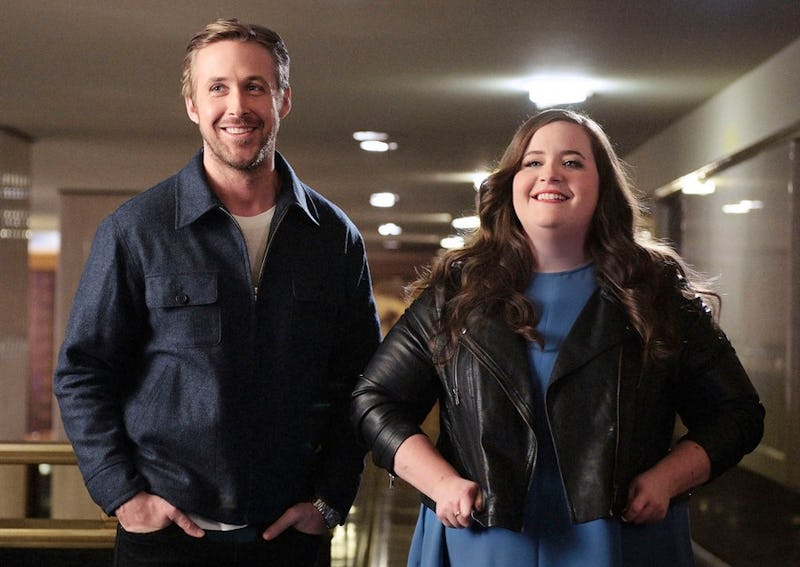 Look, Ryan Gosling doesn't need any help. Plenty of people want to see Gosling on Saturday Night Live so much, they don't need any extra incentive to tune in. But that doesn't mean it was unwelcome when he got a little bit of help from a former SNL cast member: Mike Myers. Now, it probably seems like the two don't have much in common. Why would Myers need to make an appearance on Gosling's monologue? The monologue explains that, even though their movies couldn't be more different from each other, they come from the same place: Canada.
Of course, you might not realize that Gosling is Canadian — he isn't really the poster child of Canadianness. In fact, when he opened his monologue, other cast members pointed out that he sounded like he had a Brooklyn accent (albeit a fake one.) Gosling's response? He was trying to keep a low profile. "Not everybody is a big fan of immigrants right now." (He also said that "Nobody wants a dramatic actor from Canada," because the country is thought of as "America's hat.")
When Myers did show up, he nudged Gosling into celebrating his Canadian heritage. The two sang a song about Christmas in Canada, with lots of references to Molson beer and saying "aboot." They even did a little soft-shoe.
It was good to see Mike Myers back at Studio 8H. It's seems like it's been a while since he's popped up to do anything, Saturday Night Live or otherwise. I wouldn't say he'd be an obvious match for Gosling, but the two had real chemistry together — unless that was just Canadian politeness I was sensing. Gosling can be so serious, it's good to see him lighten up a little, and Myers is just the goofy personality to bring that out in him.
Here's the full monologue:
Image: Dana Edelson/NBC