15 Gift Ideas For The Introvert In Your Life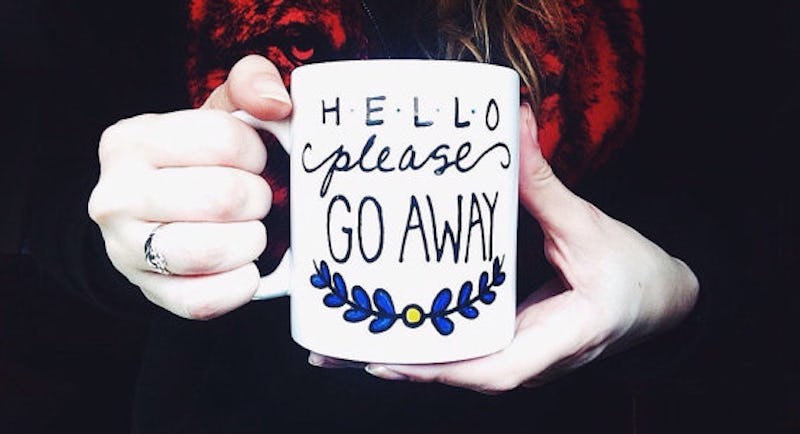 Picking out holiday gifts is almost always a little stressful, but holiday shopping for the introvert in your life can often be among the most intense shopping challenges out there; after all, what do you get someone whose only holiday wish is to be left alone, possibly with some snacks? December can be a trying time for the introverted — all those parties, all that small talk, all those expectations of feigned interest in your cousin's new home business selling swimsuits for dogs. So this year, why not give your introverted friends some gifts they can actually use, as they spend January nestled inside their secret hideouts, recharging their mental batteries and dodging your attempts to make plans with them? They'll surely thank you as soon as they're ready to handle human contact again (probably mid-March).
Of course, every introvert recoils from society's intense social demands in a slightly different way. With that in mind, we've come up with 13 gifts that should please all your anti-social pals, from those who like to be alone in order to quietly contemplate nature, to those who like to be alone just because they kind of hate everyone.
As an introvert myself, I feel pretty certain these 15 gift ideas will make the introvert in your life (inwardly) smile.
For your introverted friend who has more books than room (which is, let's be real, probably all of them).
Spine Bookcase, $149, Amazon
Not to further the stereotype that all introverts like to sit at home quietly sipping tea, but OK, some of us totally do. And if we're going to be making tea anyway, we might as well use this adorable manatee-shaped silicone tea infuser to do it, right?
Manatee tea infuser, $3, Amazon
Allow your closest introverted friend to delve even further into their own brain, with this D.I.Y. time capsule kit. This set of 12 fold-and-mail style sheets feature writing prompts to help you write to your future self about the important stuff — as well as stickers to seal them up until the day arrives.
"Letters to My Future Self" diary, $11, Amazon
This high-end set of over-the-ear wireless Bluetooth headphones have been praised for their high sound quality and 24 hour battery life. But your beloved introvert will probably be most interested in the fact they also have an active noise cancellation function, which you can run when you're listening to music, or when you just want to pretend that you're listening to music so that no one will try to talk to you on the train.
Plantronics BackBeat Pro Headphones, $150, Plantronics
It's a myth that all introverts exclusively spend their solo time at home sipping a cup of chamomile tea. Some of us like to nurse a stiff drink while not talking to other people, too — and the Crafted Taste cocktail of the month club allows subscribers to get the makings of a new craft cocktail shipped to their door every month, so that your favorite introvert can enjoy the pleasures of a fancy cocktail without having to endure the horrors of a crowded bar on Friday night.
Crafted Taste cocktail of the month subscription, $65-200, Crafted Taste
Looking to give your introverted friend a token of how much your precious time together means to you? Why not get them one that they can also put their feet up on while watching Jessica Jones? Stitchtagram pillows feature your own custom images, so that you can celebrate the five times they actually agreed to be in your Instagram photos.
Customized throw pillow, $48, Stitchtagram
Does your friend get bummed over the fact that there are times in their day when it is literally impossible to read a book? Like, say, when they're in the shower, or stuck in a huge traffic jam?
Remedy this problem post-haste with a subscription to an audiobook service like Audible, which lets members pick a new, full-length audio book to download each month. And depending on what e-book reader they use, they may even be able to sync their audio and written books, switching back and forth.
3 month membership, $45, Audible
30 Day Free Audible Trial, Amazon
Does your bestie still like to do their writing the old fashioned way, in a notebook (ideally while sipping some kind of very picturesque coffee concoction)?
Mod Notebooks will send your pal a notebook, and when they've finished using the whole thing, they can use the prepaid envelope attached to the notebook's back cover to send it back to Mod Notebooks — who will fully digitize the entire interior of the notebook within five days. Finally, their doodles, business plans, or outlines for a teen vampire sex comedy will actually be something they can share (if they choose to, of course).
Notebook and digital transcription, $29, Mod Notebooks
For the certified April Ludgate in your life.
"Hell is Other People" cross-stitch, $30, EleventhHouseWares/Etsy
Hey, they tried telling people they wanted to be left alone, and that didn't seem to work. Maybe this laser-cut necklace will finally help everyone get the memo.
Necklace, $13.99, KitschBitchJewellry/ Etsy
You might think that the non-socially-inclined would only want to stream films at home, but actually, movie theaters are a great place for introverts: the theater experience can really help you lose yourself in the art of great cinema; being in a movie theater is a perfect excuse for not returning emails; and it's also the ideal setting to shush people who won't stop talking (my personal favorite introversion-related activity).
MoviePass is a movie theater subscription service which allows pass holders to see a movie a day — including new releases — at over 3,700 theaters nationwide, making it an ideal gift for introverts who are going to be desperately looking for an excuse to get away from their families come 4 p.m. Christmas day.
Three month membership to MoviePass, $125, moviepass.com/gifts
With this mug, you can pour coffee down your gullet and make your disinterest in small talk clear in one single move.
"Hello, Please Go Away" Mug, $20, MeganPadovanoDesign/Etsy
Introverts certainly don't have a monopoly on caring about nature or anything like that. Necklaces that can hold a living plant belong to everybody! But this necklace is definitely a great pick for introverts who kinda sorta like plants more than people most of the time.
Wearable planter necklace, $39, wearableplanter/ Etsy
Does your introvert friend have a small business or side hustle that they love — but they loathe the networking they're required to do to keep it afloat? Lots of introverts have a rough time with networking; an easy way to help them out on that front is to buy them a pack of the coolest business cards available. The design will do most of the talking, and allow them to easily set up a future one-on-one meeting with their networking contact (and then quickly flee into the night).
Set of 50, $19.99, Moo Business Cards
Saint Daria, please protect and keep us all from people who want to know if you "got up to anything fun over the weekend."
Daria candle set, $26, HolyPopCulture,