EW: 'Hannibal' is So Delightfully Gross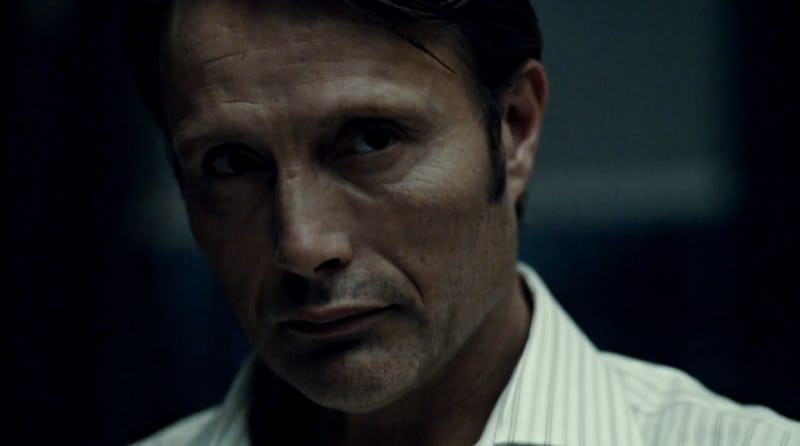 Goddamn you, Bryan Fuller. Damn you straight to hell. The second serving of the delightfully kooky showrunner's take on the Thomas Harris novels, Hannibal, is still a few weeks away from its season two premiere. But to whet the appetite of its ravenous fans, NBC released a teaser trailer on Facebook, and yep: it's as unsettling and gross and we've come to expect from the truly terrifying show.
If you're not familiar with the unsettling and beautiful psychological drama — and if you aren't: shame! Shaaaaaaame upon your house! — then allow us to introduce you before you dive into the video below. The ethereal and atmospheric take on the cannibal they call Hannibal is a full-on visual and visceral masterpiece. (Seriously — the fact that its on network television is astounding to us.)
Starring Hugh Dancy as FBI profiler-with-a-twist, Will Graham, and the creeptastic Mads Mikkelsen as the aforementioned Dr. Lecter (with a career-resurging role for Gillian Anderson to boot), the series follows the events prior to the most well-known of the Harris novels-turned-movies, Silence of The Lambs. Taking a dive into the machinations behind the monster psychologist's movements throughout the world prior to being locked up by (spoiler alert) Graham, Hannibal pushes the limits and also/occasionally, a few stomachs. Driving the point home is the season two trailer, where Hannibal playfully shows that he not only has a leg up on everyone going into this season — but he's quite liberal with the spice, too. A wickedly delightful metaphor, considering the seemingly unnecessary mental anguish he's putting his former bromance partner, Graham, through.
Ugh. Somebody please save poor Will Graham before he ends up as the main course at Hannibal's next fancy dinner.
Image: NBC