Do 'Carol's GG Noms Predict Oscar Success?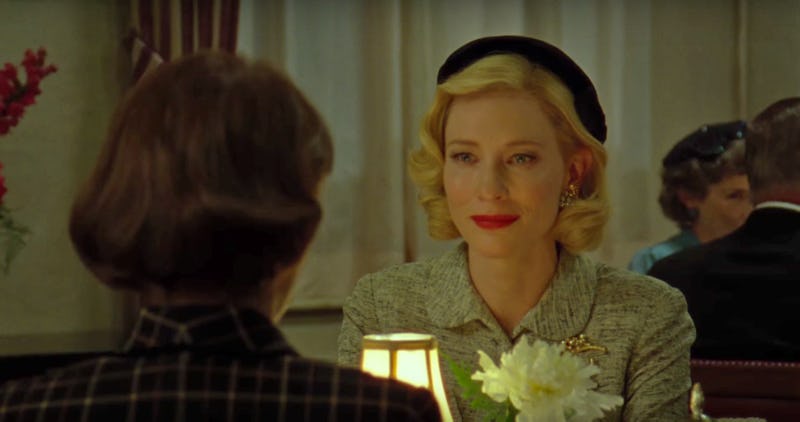 Awards season is well underway: The 2016 Golden Globe nominations were announced Thursday morning, and experts have already begun predicting how this year's crop of nominees will fare at the 2016 Oscars. One of 2015's most buzzed-about movies, Carol , picked up five major Golden Globe nods: Best Motion Picture — Drama; Best Performance by an Actress in a Motion Picture — Drama for its two leading women, Cate Blanchett and Rooney Mara; Best Director — Motion Picture for its director, Todd Haynes; and Best Original Score. Carol , which is based on the novel The Price of Salt by Patricia Highsmith, tells the story of two women who meet in a department store in New York City in the 1950s and begin a romantic relationship. The film has received rave reviews from critics, and this morning, many awards show buffs are wondering: Do the film's Golden Globe nominations mean Carol will do well at the 2016 Oscars? It's a good question.
Generally speaking, the Golden Globe Awards are not considered a good indicator of a movie's Oscar chances, because the people who vote for them don't vote for the Oscars. The Golden Globe nominees and winners are decided by the members of the Hollywood Foreign Press Association (HFPA), and there is no overlap between their membership and the membership of the Academy of Motion Picture Arts and Sciences (AMPAS), the group that decides the Oscars. However, that doesn't mean Carol's Oscar potential is weak.
The Screen Actors Guild (SAG) Awards are often seen as a more accurate predictor of the Oscars than the Golden Globes, because there is some overlap between SAG's membership and the membership of AMPAS. When the 2016 SAG Award nominations were unveiled on Wednesday, Carol showed up in two key categories: Outstanding Performance by a Female Actor in a Leading Role for Blanchett, and Outstanding Performance by a Female Actor in a Supporting Role for Mara.
So, when it comes to Carol's Oscar nomination chances, I'd guess that Best Actress and Best Supporting Actress are its two (for lack of a better word) best shots. (Some experts are also predicting the film to earn a nod for Best Adapted Screenplay, as well.) We'll just have to see what happens when the 2016 Oscar nominations are revealed on January 14, 2016.
Image: The Weinstein Company; Giphy