Did Netflix Or Amazon Get More Golden Globe Noms?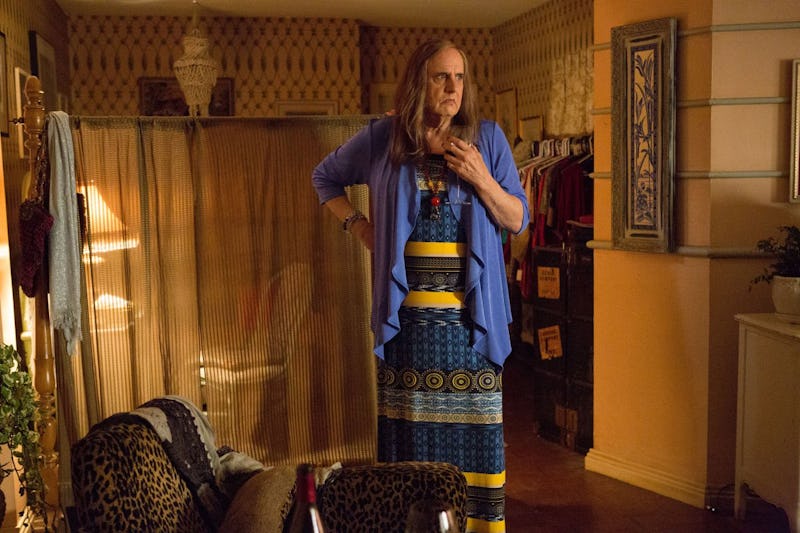 After much predicting, prognosticating, and finger-crossing, the 2016 Golden Globe nominations are finally here! ...And they're an eclectic bunch, to say the least. The television categories are a combination of old standbys (like Downton Abbey's Joanne Froggatt), and exciting new shows (like USA's Mr. Robot). One thing many TV fans were likely keeping an eye on this year was the ongoing battle between the two streaming giants: Netflix and Amazon. The former got a head start a few years ago when it debuted House Of Cards and Orange Is The New Black; but the latter has been doing its best to catch up, triumphing over Netflix's prison dramedy last year with their ground-breaking comedy Transparent. So who got more Golden Globe nominations, Netflix or Amazon?
It was actually a much closer call than you might expect. While Amazon landed some surprise nominations for its classical music comedy Mozart In The Jungle, some of Netflix's old stalwarts stumbled at the gate — both House Of Cards as a series and its lead actor Kevin Spacey failed to secure nods for the first time in the show's history. But at the end of the nominations announcement, a clear victor emerged.
Let's break down the noms and see who came out on top.
AMAZON: Transparent — 3 Nominations
Amazon's most acclaimed show, which won for both Best Comedy Series and Best Actor in a Comedy for star Jeffrey Tambor last year, repeated both of those nominations, and added co-star Judith Light into the Supporting Actress race to boot. Those three noms for Transparent make it the single most awarded show out of either streaming service.
AMAZON: Mozart In The Jungle — 2 Nominations
The inclusion of this half-hour series set in the world of classical music was something as a surprise, as it wasn't picking up much chatter in the run-up to the announcements. But it managed to squeeze into the Best Comedy Series race over two Netflix shows that had ostensibly better odds: Master Of None and Unbreakable Kimmy Schmdit (the latter of which inexplicably went home empty-handed today). And Mozart star Gael García Bernal landed himself in the Best Actor in a Comedy race alongside Jeffrey Tambor.
NETFLIX: Narcos — 2 Nominations
House Of Cards may have failed to score expected nods in the Drama Series and Best Actor races, but another Netflix drama took its place: the War On Drugs crime thriller Narcos, and its Brazilian star Wagner Moura for his compelling portrayal of real-life drug lord Pablo Escobar.
NETFLIX: Orange Is The New Black — 2 Nominations
Netflix's prison dramedy scored its second Comedy Series nod in a row (it competed as a Drama in its first season and failed to score a Series nod in that category), and also its second nod in a row for Supporting Actress Uzo Aduba, hot off her Emmy win a few months ago. For the first time in the show's run, star Taylor Schilling failed to score a Golden Globe nomination.
NETFLIX: House Of Cards — 1 Nomination
The show itself, and star Kevin Spacey, may have been snubbed, but House Of Cards' radiant leading lady Robin Wright was not. The actress, who took home the trophy for the show's first season, earned her third nomination in a row for playing icy First Lady Claire Underwood.
NETFLIX: Master Of None — 1 Nomination
Amazon's Mozart In The Jungle may have trumped this brand new show in the Comedy Series race, but its star (and creator), Parks And Recreation alum Aziz Ansari, still made into the Best Actor race alongside Bernal and Tambor, filling that category up with performers from streaming services. (In that category, only Rob Lowe of FOX's The Grinder and Patrick Wilson of Starz's Blunt Talk come from shows on traditional platforms.)
NETFLIX: Grace And Frankie — 1 Nomination
As one half of the titular duo, Lily Tomlin landed herself in the Best Actress in a Comedy Series category — making her a double nominee this year, including her nod for Best Actress in a Motion Picture Comedy for the road trip dramedy Grandma. And don't go feeling too bad for Tomlin's snubbed co-star, Jane Fonda; she still managed to land herself a nomination this year, for her Supporting performance in the movie Youth.
NETFLIX: Bloodline — 1 Nomination
This dark family drama earned one nomination in the Supporting category for Ben Mendelsohn, whose portrayal of the unhinged black sheep Danny Rayburn earned the series its most glowing reviews. Co-star Kyle Chandler (Friday Night Lights) sadly couldn't repeat his Emmy nom for Best Actor with the HFPA.
NETFLIX: Beasts Of No Nation — 1 Nomination
Netflix made history three years ago by becoming the first streaming service to receive Golden Globe nominations for its TV shows; now it has made history again as the first streaming service to receive nominations for its films. Beasts Of No Nation, from True Detective director Cary Fukunaga, earned a Supporting Actor nod for star Idris Elba — since it was released simultaneously on Netflix and in theaters, the HFPA considered it a film rather than a made-for-TV movie.
And there you have it! Both Amazon and Netflix earned two nods in Best Series categories... but even though Amazon had the most-awarded show between the two streaming services, Netflix still came out on top thanks to the sheer number of its programs that earned nominations. The final tally is:
Amazon: 5 nominations
Netflix: 9 nominations
Netflix wins this round.
Images: Amazon (3); Daniel Daza, Jojo Whilden, David Giesbrecht, KC Bailey, Melissa Moseley, Saeed Adyani, Courtesy of Netflix/Netflix