'The Martian' Is A Comedy, Says The Golden Globes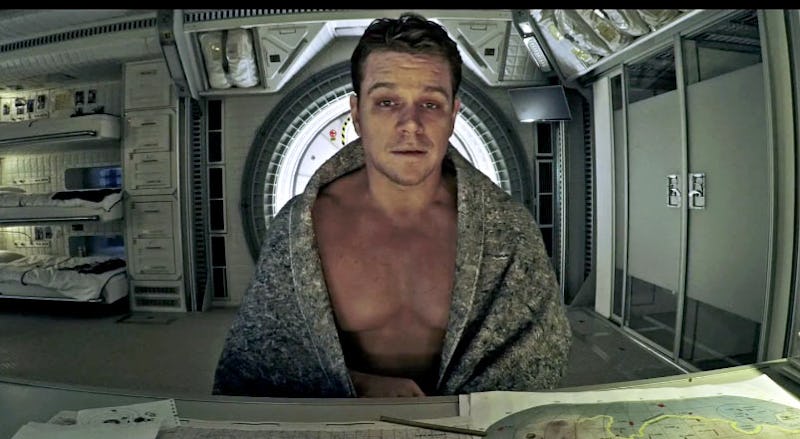 If I asked you to name five comedies you've seen within the past year, what would make the list? Here are a few to help jog your memory: Magic Mike XXL, Spy, American Ultra, Ted 2, Trainwreck, and The Martian. "Um, Allie," you say, "That last one doesn't really belong in that list." But guess what? According to the Hollywood Foreign Press Association, it does: the Golden Globes nominated The Martian as a comedy. Well, technically it was nominated in the Best Motion Picture – Musical or Comedy category, and since there are obviously no musical numbers in the movie — although I would love to see Matt Damon perform "Scotty Doesn't Know" on Mars — The Martian is apparently being viewed as a member of the comedy genre. So why do the Golden Globes think The Martian is a comedy?
The simple answer: because they can. The Golden Globes are a project of the HFPA, which has its own eligibility committee to decide who and what can get nominated for each category. So if the HFPA says that The Martian is a comedy, then it's a comedy as far as the Golden Globes are concerned. But it's interesting that this wasn't a unanimus decision on behalf of the committee: the motion passed by only one vote, according to the Los Angeles Times. Which brings us to the long answer...
The more categories that there are, the more films that can be nominated (and the less competitive each sub-category is). So by separating films into dramas and comedies, the Globes can compare each movie to other works within the same genre, as opposed to having to select and compare five totally different movies. But the problem arises when there's a film with elements of both genres (ie; the dramedy), which allows people to argue for its placement in either category. Since the "comedy" category is often considered less competitive, sometimes films stand a better chance of winning when given this label. But this, of course, wedges out other full-blown comedies that could have potentially received nominations. And so, the rabble-rousing begins.
Personally, I think that The Martian is a drama with many comedic elements. But I also think that many good dramas have comedic elements, just as many comedies have dramatic elements (for example, Trainwreck). But at the end of the day, I wouldn't put Trainwreck in a category with Concussion. And I wouldn't say that The Martian is part of the same genre as Pitch Perfect 2. But since I'm not a member of the HFPA, my opinion really doesn't matter. The Martian is a comedy for all Golden Globe purposes, and I'll support Matt Damon all the way to Mars.
Image: 20th Century Fox