The Beauty Resolutions You Should Make In 2016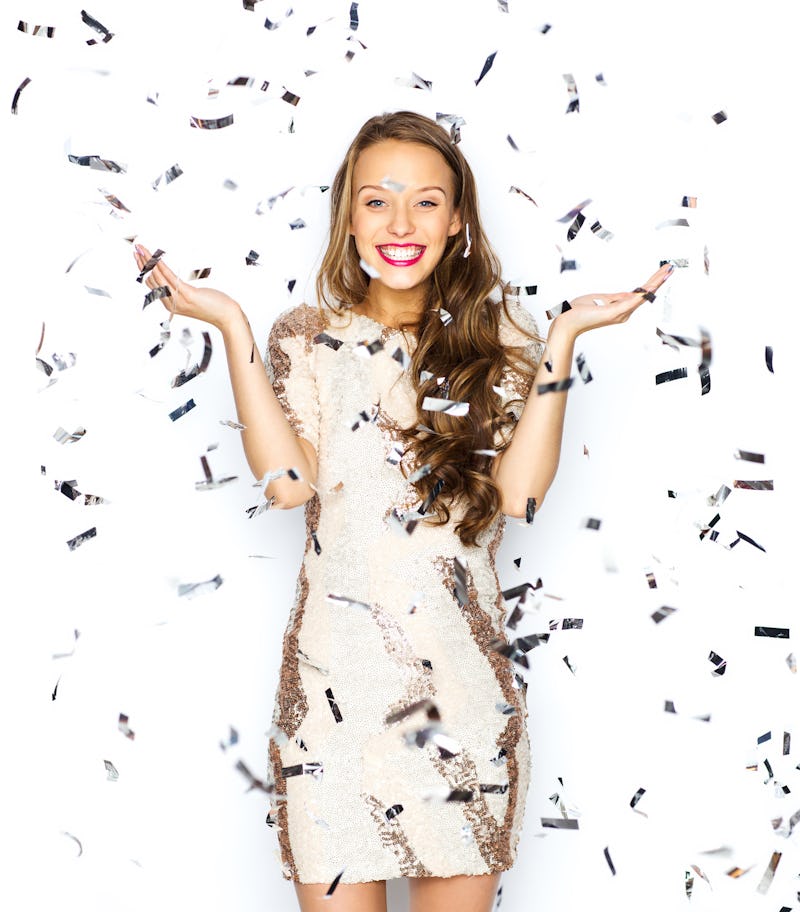 At this point, many of us are thinking about our resolutions for 2016. Maybe you're thinking of how you can be a better feminist this year, or maybe your resolutions are inspired by books, or maybe you're being extremely practical about making resolutions you know you'll keep. Personally, I've been giving some thought to all of the beauty-related resolutions I'd like to make for 2016. Looking back at the 10 beauty resolutions I made for 2015, I can see some that I excelled at (I've been moisturizing like crazy and my nails have improved a lot) as well as some that I didn't always keep (such as taking off my makeup every night and wearing sunscreen every day... Oops).
My priorities change every year, though, so for 2016 I'm focusing on new things I'd like to improve or change. I would recommend these same recommendations to my friends and family, because I think they're all really good resolutions to make.
Here are ten beauty resolutions that everyone could probably benefit from in 2016.
1. Try Minimal Brows
Bold brows are definitely having a moment and that's probably not going to change in 2016, but I think we can all finally agree to take a collective step back. Between the overdone Instagram brow, which has quickly become a cliche, and the overwhelming amount of brow products on the market, it feels refreshing to take a minimal approach to brows these days.
Personally, I like to make mine look tidy by plucking any stray hairs every two weeks or so and then sweeping upwards with an old mascara wand before going out (you can add a touch of makeup setting spray, hairspray, or even Vaseline to the wand for holding power). If I need to fill in any sparse patches, I do so with a very light hand using this $3 e.l.f. Eyebrow Kit. That's all anyone's brows really need, and it takes less than $5 and five minutes.
2. Treat Yourself To Something Special
Clarisonic Mia 2 Polka Dot Duo, $199, sephora.com
Maybe you've always wanted a Clarisonic. Maybe you've been dying to try lash extensions, hair extensions, or some other special expense that you normally can't justify. After the stress and expenses of the holiday season, you deserve to do something special for yourself. It'll get the new year off to a great start, whether by helping you to look your best or feel relaxed and pampered.
At the very least, treat yourself to a mani-pedi, a blow-out, or a facial. If the holidays left you completely broke, resolve to save up some money so you can treat yourself later on in 2016, and for now enjoy an at-home spa day with a DIY face mask, a bubble bath, and a glass of wine.
3. Update Your Hair Style
Some of us change our hair every few months like a chameleon (guilty!). Others are comfortable with the same hairstyle for years. I just went through all the trouble of bleaching my hair blonde, so I'm resolving to stick with it for as long as possible. However, if you rarely change your hair, consider trying something new in 2016. I'm not talking about a trim, either. Try blunt baby bangs, the vibrant red hair that you've always wanted, or a chic bob. There's nothing like a drastic hair change to welcome a new year and a fresh start.
Just be sure to research plenty of hair inspiration images on Pinterest first and bring them to a hairstylist who can help you achieve your vision (in other words: don't drunkenly give yourself bangs in the bathroom on New Year's Eve).
4. Pick A Signature Fragrance
If you don't already have a signature fragrance, consider changing that in 2016. If you do have a go-to perfume, maybe 2016 is the year to switch things up. There's nothing like smelling a certain fragrance and having it bring you back down memory lane to a specific time in your life. For me, Tom Ford Black Orchid always makes me think of winter in New York City, but Tom Ford White Patchouli is my new date-night favorite.
5. Switch To A Cleansing Oil
Cosmedix Purity Solution Deep Cleansing Oil, $35, cosmedix.com; Vichy Purete Thermale Cleansing Micellar Oil, $18, vichyusa.com; Garnier Clean+ Nourishing Cleansing Oil, $6, ulta.com
This is a particularly good idea if you have dry, normal, or sensitive skin but even those with oily skin can use a cleansing oil if it's the right one. Many cleansers are too harsh and drying on the skin, causing more problems than they solve. Treat your skin more gently in 2016 by switching to a cleansing oil. You simply massage it onto your skin and then rinse off the oil (and with it, all that dirt and makeup). It leaves your skin feeling soft, silky, and clean. I've tried the Vichy and Cosmedix oils pictured above and they're both excellent. The Garnier oil is a great budget option.
6. Practice Self-Care
Even the best beauty products can't do anything if you're not taking good care of yourself. If you've been guilty of letting your self-care slide in 2015, resolve to do better in the new year. Get plenty of sleep every night, preferably on a silk pillowcase to keep your hair and skin looking great. (And don't forget to wash your makeup off with that cleansing oil before hitting the sack!) Drink lots of water every day, even if you have to resort to buying a truckload of La Croix. Eat healthy, take your vitamins, wear sunscreen, and try to go outside on your lunch break once in awhile. Your body will thank you in the form of healthier-looking nails, skin, and hair.
7. Invest In Makeup Brushes (And Clean Them)
If you don't have a nice set of makeup brushes, then 2016 is the year to change that. You don't have to break the bank, either. Some of my favorite brushes are totally affordable, such as Sigma brushes, Real Technique brushes, e.l.f. brushes, and Eco Tools brushes. A decent makeup brush can totally transform how your foundation, blush, eyeshadow, bronzer, etc. looks.
If you do have makeup brushes, then resolve to give them a good cleaning every weekend. I use a $3 e.l.f. Brush Shampoo but you can use pretty much anything, such as your facial cleanser or baby shampoo. It only takes a few minutes and saves you from some pretty nasty break-outs and infections caused by all the bacteria that accumulates on brushes.
8. Stick To A Consistent Skincare Routine
Every year, there's tons of new skincare products that promise to fix all of your problems. Trust me, as a beauty writer, I know how easy it is to get caught up in trying the latest new thing. It's not always good for my skin, though. I find that my skin is usually happiest when I keep things simple and only introduce one new thing at a time. A consistent skincare routine is really important. In 2016, figure out what your skin needs and what products actually work for you, and stick with them.
For me, my constants are a really good moisturizer and a gentle oil cleanser to keep my dry, sensitive skin happy. Then, every once in a while, I'll try a new product in the hopes of soothing my rosacea. Whether your skin issue is rosacea, eczema, acne, or aging, keep things consistent and don't upset your skin by trying too many products all at once. And always wear sunscreen!
9. Get Rid Of Expired Or Unused Products
This is something everyone should try to do at least twice a year, so if you haven't cleaned out your beauty stash in a while resolve to do so in 2016. Mascara, products in jars, and natural beauty products should be first up because these products expire quickly. Often products will have an expiration date or a window of time (such as "6m" for six months) stamped on them to help you out, but not always. Pay attention to weird smells or colors, and consider writing the date of purchase on new products with a sharpie to help you remember how old something is. Nobody wants a breakout or an eye infection from expired products.
Besides, isn't it nice to get rid of excess products and start the new year fresh? You can organize everything in an aesthetically pleasing way when you're done.
10. Drink The Korean Beauty Kool-Aid
TONYMOLY Petite Bunny Gloss Bars, $9, tonymolyus.com
Now, I know I said to be wary of trying out too many skincare trends, but we can make an exception for Korean beauty products. Korean beauty is having a big moment and it's not going away anytime soon (after all, they're the ones who made BB creams a thing) so make sure to check it out in 2016 if you haven't yet.
My favorite Korean beauty brands are: TONYMOLY for adorable packaging and affordable products that deliver (such as the Bunny Gloss Bars above and the Magic Food Banana Sleeping Pack) and MISSHA for truly high-quality, innovative skincare (try their Time Revolution First Treatment Essence and their Cell Renew Snail Cream). Just be careful: once you start, you won't be able to stop. They're that good. Happy new year, indeed.
Images: Syda Productions/Fotolia; Courtesy Brands