Why Empire Is The Most Stylish Show On TV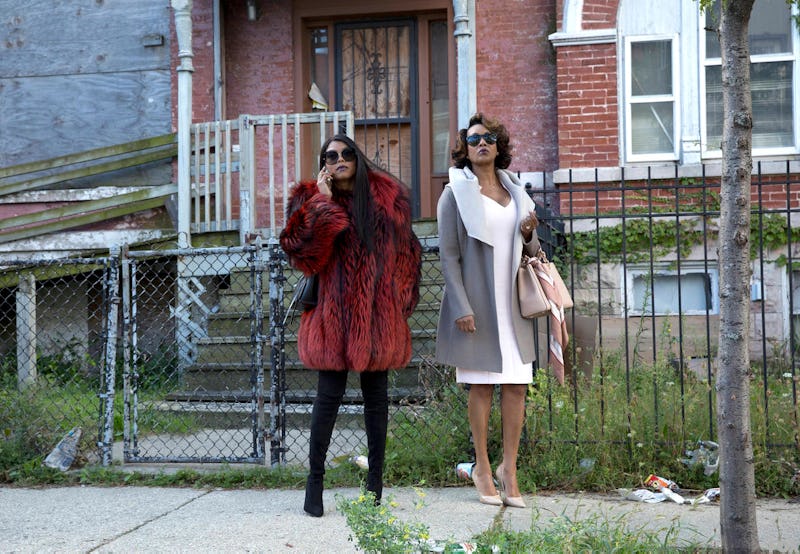 The 2016 Golden Globes nominations were announced Thursday, and amongst a handful of other excellent television series, Empire is up for Best Drama. The show is in the midst of only its second season, so nabbing a nomination for a category this huge is a major honor, and it's totally deserving of it, at least IMO.
We first met Cookie Lyon, A.K.A. Taraji P. Henson, in early 2015, and have since become completely enthralled by her music mogul family with all its dysfunctional drama, shocking romances, and over-the-top personas. Yes, director Lee Daniels' new masterpiece has pretty much got it all — super dope music, jaw-dropping suspense, and loads of steamy love scenes. No wonder it's been shattering records and owning TV ratings like it's nobody's business. But there's another major factor for which the show owes its wild success — a killer sense of fashion.
From a bodysuit made entirely of metal chains to a head-to-toe leopard ensemble, Cookie's wild and eccentric getups are literally everything your fashion dreams are made. But she's not the only one who slays the style game. The men on the show are just as stylish, rocking tailor-made suits, leather-embossed activewear, and, of course, tons of glitzy chains. Basically, the show has got major swag.
Let's take a look at 9 of the best fashion moments that prove Empire is the most stylish show on TV.
1. Leopard & Fur
Cookie departs from prison after 17 years in this killer ensemble. I became a fan of her style from the get-go.
2. Statement Jacket
Hakeem's fashion sense is always bold and colorful, and this red striped jacket is one of my favorites.
3. Loud Accessories
From purple studded backpacks to rainbow hair, Cookie's assistant brings major flavor to every ensemble.
4. Minimalistic Chic
Even when the Empire boys do minimalism, they do it with so much edginess and style.
5. Gold Metal Bodysuit
This is giving me major Mary J. Blige vibes circa the 90s, and I'm loving it.
6. Basic Neutrals
This ensemble looks like it came straight off the Yeezy Season 1 runway.
7. Denim & Gold
Cookie looks like a vintage Louis Vuitton ad, doesn't she?
8. Fur Accents
Cookie has always got some kind of brightly-colored fur on, and it always adds an extra oomph to her looks.
9. Bold Colors & Prints
You can always count on Empire to serve up vibrant hues and super cool patterns.
Want more Empire? Check out the video below, and be sure to subscribe to Bustle's YouTube page for more hacks and tricks!
Images: FOX (10)