21 Gifts Every '90s Kid Needs Immediately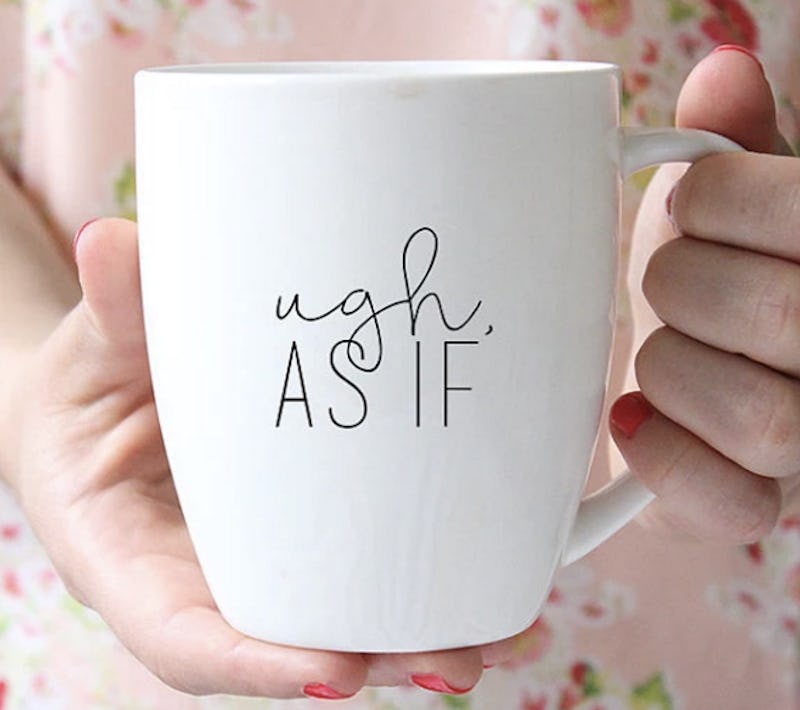 If you know what Gak is and you can correctly identify a Walkman, then congratulations, you were a '90s kid, aka the best kind of kid you could be. Your holiday memories during that decade include watching Home Alone on VHS, and praying Santa would bring you a Furby for Christmas. To be honest, your tastes haven't changed too much, because there are just some gifts for '90s kids that you still would love to find under the tree.
You can't help it if you still love Lisa Frank and scrunchies — you are only a product of the time you grew up in, and I don't blame you. From Clarissa Explains It All to the original Boy Meets World, growing up in the '90s was an awesome time. The Spice Girls were on the radio, butterfly clips were in your hair, and caller ID was still a novelty. I'm sorry to say there will never be a time that joyous again, but you can try and recreate some of that nostalgic magic at Christmas time with '90s-themed gifts instead.
Whether they are for your BFF, a cool coworker, or just something to add to your own wish-list, here are 21 gifts that will appeal to all '90s kids. As Kevin McCallister would say, merry Christmas, ya filthy animal!
Technically, Saved by the Bell started in the '80s, but it's still one of the most iconic shows of the 1990s — not to mention, it featured every '90s girl's first crush, Zack Morris. Since your friend didn't actually go to Bayside High but always dreamed of it, get them the next best thing: a t-shirt repping their Bayside Tigers pride.
Bayside Tigers T-Shirt , $12, Amazon
No '90s gift list would be complete without a tattoo choker. It's cheap, it's simple, but it's so quintessentially '90s, it's a must.
Basic Black Tattoo Stretch Choker , $7, Amazon
If you were a '90s kid, then you remember the very first NOW CD infomercials and how badly you wanted to get your hands on it, but almost 20 years and over 50 CDs later, you probably scratch your head every time you see a new installment at the store. While a true '90s kid would appreciate the nostalgia behind getting any NOW compilation as a gift, the 1990s collection, which has all the music they know, love, and probably had their first slow dance to, will make their day.
NOW That's What I Call The 1990s CD , $15, Amazon.com
Love it or hate it, fashion in the '90s is nothing short of iconic. Champagne Supernova is Maureen Callahan's in-depth look at the movers, shakers, and mold breakers of the 1990s fashion scene, and it's as stunning and groundbreaking as the era of fashion itself. If you still have a friend who rocks the chic grunge look, she needs this book.
'Champagne Supernovas: Kate Moss, Marc Jacobs, Alexander McQueen, and the '90s Renegades Who Remade Fashion by Maureen Callahan , $13, Amazon
Just because the Electronic Dream Phone game of your childhood now goes for $250 on Amazon doesn't mean you can't give the gift of '90s fun and games this holiday. Instead of paying exorbitant amounts of money for a vintage board game, go with a '90s-themed one like Re-Fraze '90s Pop Edition, which requires players to use their '90s music, movie, and TV show knowledge to win the game. Just make sure you stick around long enough to play it after it gets unwrapped, because games are better played with fellow '90s friends.
Re-Fraze '90s Pop Edition , $11, Amazon
It used to be all over everyone's notebooks, backpacks, and even bedroom walls, so it's time Lisa Frank found its way to the new techie lifestyle, too. Get this case and some Lisa Frank nail decals for a perfectly paired gift.
Lisa Frank Snap On iPhone Case, $10, Toys R Us
The go-to beauty product of the 1990s, Lip Smackers still comes in the weird and wonderful flavors you remember as a kid, including Coca-Cola and Sprite. Instead of stuffing stockings with EOS lip balms, go a more '90s-glam route. Just prepare yourself for the lip smacking that is to follow.
Sweet Kisses Lip Smackers Collection, $11, Amazon
8. Velvet Scrunchies
It doesn't get much more '90s than velvet and scrunchies. Whether you're giving it as a stocking stuffer or as a small gift to your own girl gang, there are plenty of patterns to choose from.
Velvet Scrunchies , $16, Amazon
From Adam Sandler to Chris Rock to Mike Myers, the '90s had some of Saturday Night Live's best featured players, but the most memorable will always be Chris Farley. In his five years on the show, he made people actually laugh out loud at his outrageous characters like Matt Foley and Todd O'Connor of Bill Swerski's Superfans,and even though he is gone, his hilarious performances are not. For the comedy lovers in your life, give them the gift of bell laughter, '90s style.
Click Here To Watch Now on Amazon Instant Video
You know you're going to give someone an adult coloring book this year, so you might as well make it a '90s-themed one. Featuring scenes from '90s pop culture, Colour Me Good would make a great gift for the creative, Fresh Prince of Bel-Air-loving people in your life.
'Colour Me Good '90s' by Mel Elliott , $10, Amazon
If there is someone in your life who still watches old episodes of Friends, regularly goes to themed trivia nights, and even waited in line to visit the Central Perk-themed pop-up shop this past summer, then this on-brand mug is the ultimate gift for him or her. They can sip out of it while discussing whether or not Ross and Rachel were really broken up, and feel like they are one of the six best friends sitcoms have ever seen.
Central Perk Coffee Mug, $25, Amazon
It doesn't get more '90s than this t-shirt, am I right? Whoever you give this to will look like a cartoon character or the opening credits to The Fresh Prince of Bel-Air, so obviously, you'll make their year with this gift.
All Over Print Shirt , $34, Society6
Everyone needs an ugly Christmas sweater for the holiday season, and this tribute to the most iconic Christmas movie of the '90s is the perfect pick. It's festive, nostalgic, and hilarious — three things '90s kids truly appreciate.
Ugly Christmas Sweater, $20, Etsy.com
From a young Marky Mark to Freddie Prinze Jr., this print includes all of your childhood crushes. It's the ultimate hottie poster for the ultimate '90s girl.
"90s Boys Did It Better" Print , $12, Society6
Yin-yang symbols, Britney Spears heads, and the MTV logo are just a few of the totally '90s nail decals in this mix-and-match kit. Give a set to all of your fellow '90s babes, and make it a makeover night, Cher Horowitz style.
Totally 90s Nail Decals, $11, EmergingThoughts.com
Since hats will be necessary this winter, a beanie is a practical and useful gift. These simple, understated beanies, though, are also stylish, and an awesome shoutout to the best decade around.
90s Beanie, $10, Etsy.com
The show might have been ruined for you when you heard the most depressing Rugrats fan theory on the Internet, but the hit cartoon from Nickelodeon is still a sweet childhood memory. For the feminist in your life, this Cynthia shirt is so '90s, and so perfect.
Cynthia T-Shirt, $21, Etsy.com
If you're lucky enough to have found the Mulder to your Scully, show them how you feel this holiday with an X-Files inspired BFF necklace. Admit it, you've always hoped to hold David Duchovny close to your chest, and now you finally can.
'The X-Files' Best Friends Necklaces, $19.21, Etsy.com
Your friend needs a bag to stash her Lisa Frank notebooks and Lip Smackers lip gloss in, and what better tote than one with a '90s-style print? It looks like something straight out of the Saved By The Bell intro, and that isn't a bad thing.
'90s Pattern Tote Bag, $22, Society6
Before Taylor Swift, your '90s #squadgoals consisted of Mel B., Victoria, Geri, Melanie C., and Emma, aka the Spice Girls. Since you already have all of their albums, add this '90s-style shirt to your wish-list for Santa instead.
Spice Girls Crop Top, $13, Etsy.com
There are more than enough Clueless -themed gifts to give around the holidays, but considering the fact your BFF already owns the movie and sports her best Cher outfit every Halloween, go a more subtle route. Quite possibly one of the most quotable lines of the movie (of which there are many), "Ugh, as if" is the perfect sentiment for a coffee mug, making it a great gift for true Alicia Silverstone-loving '90s kids.
Clueless Coffee Mug, $12, Etsy.com
Looking for more holiday cheer? Check out Bustle on YouTube.
Image: Society6