Women Walk In Lingerie For #BodyLove Campaign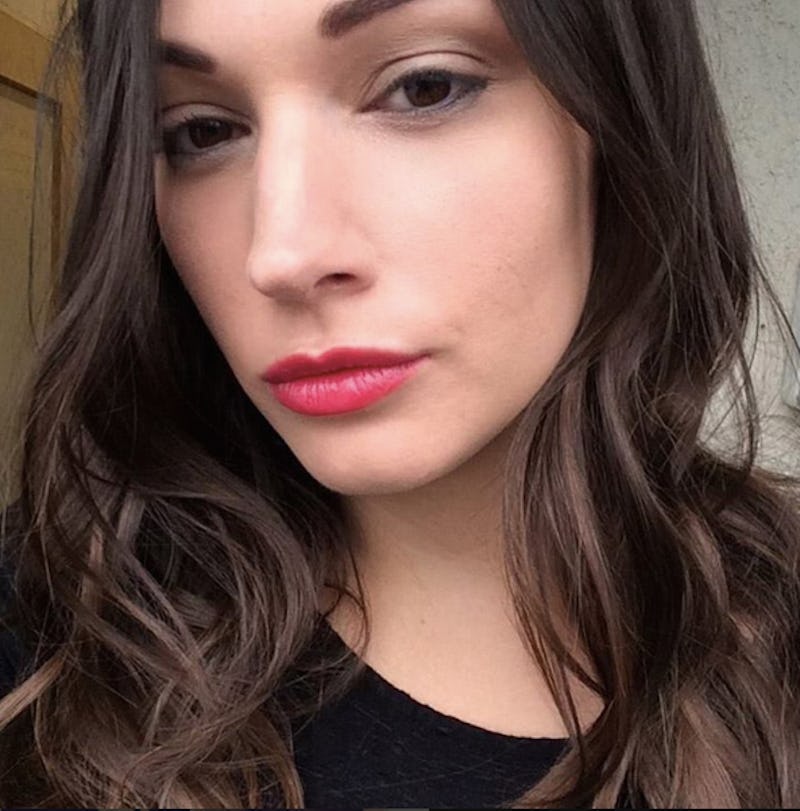 In October, German photographer and plus size model Silvana Denker launched the #BodyLove campaign in order to spread body acceptance and to show that all sizes are beautiful; and this weekend, she took it to the streets of Germany. The #BodyLove campaign is Denker's effort in cultivating body acceptance through Instagram, where she uses her photography skills to take and post pictures of humans of all different body types in their undies. The acknowledgment that all bodies are beautiful and should be visible is at the core of her work.
According to Mic, Denker came up with the idea after realizing just how much retouching photos that she is in (or that she takes) undergo when it comes to the editing for editorial jobs. She told the publication, "The idea of the campaign started from a serial I shot for a plus size magazine. I took pictures of nude plus size models to show that every body is beautiful, but the pictures were retouched [for the magazine]. Unfortunately, the magazine changed the concept so the pictures didn't fit anymore, and so I decided to publish them by myself and posted [the] first pictures on Facebook."
When asked why she came up with this campaign, Denker also told People, "I want to show the diversity of the human body. We are all different and there's not the ONE perfect body like the media often shows us."
Considering that Denker works with models and is one herself, she's well acquainted with the process of altering an image to show it in an unrealistic, seemingly perfect light. This campaign helps highlight a far more realistic side of existence.
She explained to People, "I show men and women the way they are — with bellies, bumps, stretch marks after giving birth — and they love themselves and everybody else should too."
To gain even more visibility for her message, Denker moved from city to city in Germany, posting open casting calls on Facebook for real people to join in on her campaign if they wanted to help spread her message. Once joined, the participators could strip down to their skivvies on the street, where she'd take photos of them in nothing but their lingerie — words like "love yourself" and "body acceptance" painted down their legs and on their tummies.
When asked about the reactions from passersby, Denker happily said that they were mostly positive. She told People, "Most of the people first were surprised when seeing eight women taking off their clothes. And I was surprised that almost all reactions have been very positive, with many women asked me why I do this and congratulating me for this campaign."
While Denker is spreading body love in Germany and doing her part to show that real bodies are all the more powerful than their Photoshopped counterparts, here are three other campaigns that inspired the same kind of body positive mentality across the globe.
1. "My Body Does" Campaign
When most of us think "body positivity," we likely think of appearance. It's a call to love the way you look, no matter how different that is from the folks of magazine covers or commercial ads. But what about if instead we focused not on how our bodies look, but all the amazing things they can do? That's the idea behind the #MyBodyDoes campaign, which inspires humans to love their bodies because of our individual relationships with and dependence on them. When writing about the campaign, one of the founders, Jessica Anderson said, "The more I connected with my body through yoga, the less I thought of it as an object, and the more I thought of it as a partner."
2. "This Girl Can" Campaign
Created by Sport England (a government agency for grassroots sport), this campaign was founded to increase the number of women engaging in sports and exercise throughout the UK. It was motivated by the reality that, oftentimes, women skip out on sports over the fear of how they'll look or how badly they'll perform, and opt to stand on the sidelines instead.
These adverts are to inspire you to get your sweat on and to own your body. They highlight women of all sizes, ages, shapes, and bodies kicking butt like their lives depend on it. With captions like "sweating like a pig, feeling like a fox," we see boobs bouncing, thighs jiggling, tummies out, and sweat dribbling, proving that your body can work it, no matter its form.
3. #EffYourBeautyStandards
Founded by plus size model and body positive advocate Tess Holliday, this hashtag was created to give a platform to all body types. By showing women, men, and everyone in between of all shapes and sizes, it helps break down the idea that only a slender body can be beautiful, stylish, or sexy.
Here's to many more campaigns with a body pos message in the future.
Image: silvanadenker/Instagram (1)