'Sisters' Could Pave The Way For Female-Led Comedy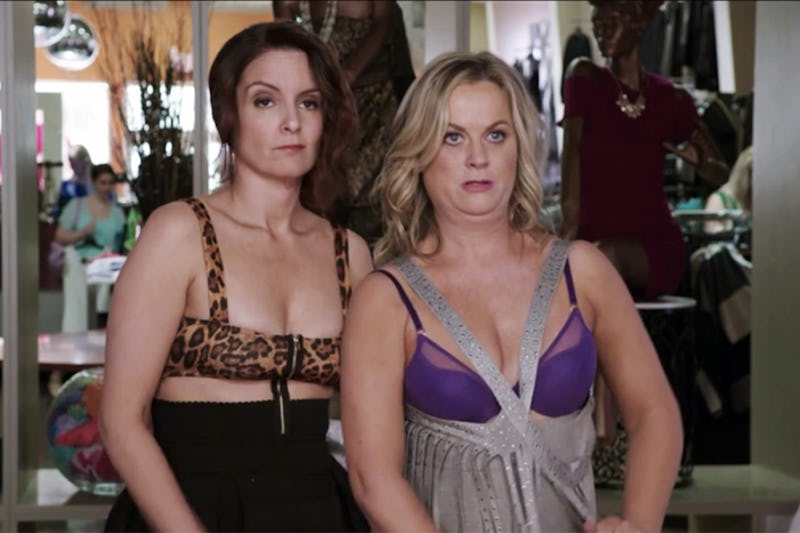 If there are two women I can't get enough of being together, it's the powerhouse comedic duo of Tina Fey and Amy Poehler. Needless to say, they're pretty damn perfect. They're conquered the realms of television, the Golden Globes and film. They're practically inseparable, which I can't help but wonder was part of the inspiration behind Sisters, their comedy flick opening Dec. 18. I haven't seen the film yet, but I'm already asking myself, will a Sisters sequel happen? After all, there's no such thing as too many Fey and Poehler collaborations.
No official word has been given yet concerning a sequel, but fans have been given a teasing joke. Star Rachel Dratch recently told The Hollywood Reporter about her totally not serious idea for a sequel, saying, "I'm the third sister that was kept in the basement." Granted, I think Dratch was definitely onto something there about including another sibling. It'd be a fun twist on Sisters' plot, which sees Kate (Fey) and Maura (Poehler) coming back home to throw a huge party before their parents sell their childhood house.
More importantly, getting another movie like the feminist Sisters would mean a great deal in the entertainment landscape. We're on the verge of a glorious revolution for movies and TV featuring brilliant, smart, and funny women, and the film industry, in particular, can always use more female-led entertainment. According to the Center for the Study of Women in Television and Film's 2014 report "It's A Man's (Celluloid) World", only 12 percent of film protagonists in 2014's top 100 films were female, with 75 percent of film protagonists being male (13 percent showcased a male/female ensemble). I don't know about you, but those numbers are pretty dismal to me. Hollywood can do better, by making films that not only star women, but ones who, like Sisters promises to have, are flawed, complicated, and realistic. Furthermore, women should get to lead not just small indies but big-budget Hollywood films, taking on major roles like Fey and Poehler's Kate and Maura.
Some recent films are already doing just this, such as Amy Schumer's summer hit Trainwreck. The film contained the conventions of your typical romantic comedy, but managed to be subversive at the same time. Schumer's clever, yet unapologetically raunchy leading lady was atypical and refreshing. Then there's Melissa McCarthy's Spy, which was a feminist spin on the espionage genre; both Spy and Trainwreck were nominated for Golden Globes' Best Motion Picture, Comedy, a huge sign of progress for Hollywood's acceptance of and support for female-led films, especially in the comedy genre.
But of course, those two films' success doesn't mean that female-led films are out of the woods. Here's to hoping that the Fey/Poehler dream team, Schumer and McCarthy's Golden Globes nominations, and the many strides of progress female comedians have made recently continue to make waves and have enduring popularity. In the meanwhile, let's all keep our fingers crossed for a Sisters 2 — or really, just another movie in which Fey and Poehler (and female comedians like them) get to do what they do best: make us laugh our pants off.
Images: Universal Pictures; Giphy (2)