Jordan Smith Slays On 'The Voice' Finale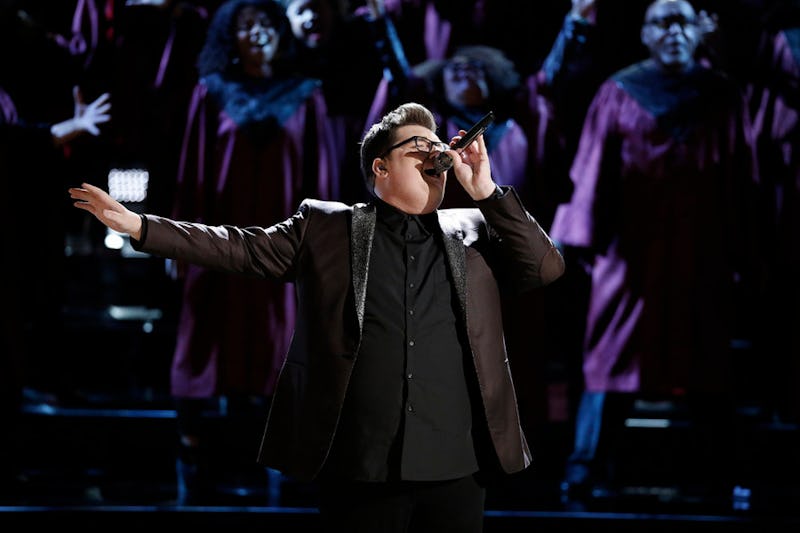 This is it, folks. Just 12 performances and 24 hours separate us from finding out the winner of The Voice season 9. The stakes are high, which means we're in for one amazing show. Kicking it off on a high note was front-runner Jordan Smith. The Team Adam contestant took the stage with a show-stopping rendition of The Sound of Music's "Climb Every Mountain." Seriously, just give this guy the trophy already. With a performance like that, there's no doubt he'll win over America's votes and take home The Voice crown.
Smith had the entire panel of coaches — and the entire audience — on their feet after his powerful performance. Pharrell was smiling ear to ear, Gwen Stefani was on the verge of tears, and Adam Levine was beaming with so much pride. This was one of the first times I really believed the coaches when they said this was one of the best performances they've ever seen — they were extremely blown away. And it's obvious why they were. With a full string orchestra behind him, Smith seemed almost angelic as he commanded the stage. He believed every single word he was singing, which helped the audience feel it along with him. The emotion was palpable and the vocals were near perfect, which is why the performance was so good.
Not only does Smith deserve to win this competition based on his voice, he deserves to win based on who he is. Smith came into this competition with a strong message about being who you are. He's stayed true to this message throughout his entire tenure on this show, and there's no doubt he's touched so many lives in the process. By singing songs with powerful messages that are traditionally sung by female icons, Smith has used his platform in this competition to share his powerful message with the world. This is only a small preview of what we can expect from Smith when he puts out an album of his own original songs and, I don't know about you, but that's something I certainly want to hear.
Image: Tyler Golden/NBC