The Many Voices Of Bill Burr's 'F Is For Family'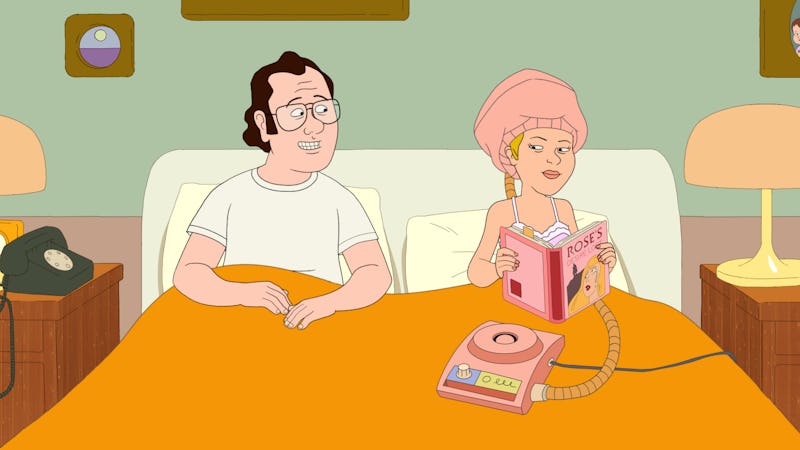 Bill Burr, the irreverent, profanity-riddled comedian, is bringing a new project to Netflix on Dec. 18 — and no, it's not another stand-up special. His new animated series F Is for Family has Burr starring as patriarch Frank of the Murphy family in the 1970s and Burr's isn't the only famous voice in F Is for Family . The master of the intellectual rant, disguised as an everyman, has surrounded himself with significant talent for his animated series.
Besides Burr creating the show with The Simpsons writer Michael Price, the cast is pretty impressively well-known — especially for an animated series. And, Burr is aware of his costars' skills as he told Boston magazine:
They all came from, like, an acting perspective where they had to do a number of takes, and you felt with each take it became more and more not them and just this person. It was insane! It was really insane to watch and that's when I thought, "I don't think I'm doing that with Frank, you guys are unbelievable." I basically have a lot of talent around me propping me up. Don't tell anyone.
The Netflix series has only six episodes, so it will be quite easy to marathon Season 1 of Burr's take on family life in the 1970s. Here are the (cursing) voices you can expect to hear in the series.
Bill Burr
As previously mentioned, Burr took on the role of the Murphy dad, Frank. While his distinct voice is typically heard in stand-up, he's also been in a decent amount of TV shows and movies, including Breaking Bad, The Heat, and Kroll Show, the last of which really highlighted his range in a bizarre and hilarious way. Burr has "kept it 100" on The Nightly Show with Larry Wilmore, but he has been speaking truths — political correctness be damned — long before then and F Is for Family will continue that tradition of his.
Laura Dern
After starring alongside Reese Witherspoon in Wild, Laura Dern has joined the cast of F Is for Family. The actress known for movies like Blue Velvet and Jurassic Park has also done her fair share of TV — like her HBO show Enlightened and Kroll Show (along with Burr, who is her husband on F Is for Family). Dern has even already dabbled in voiceover work with a small role in King of the Hill. Beyond F Is for Family, Dern is reuniting with her Wild costar as she's working on a new series with Witherspoon.
Justin Long
Though mostly known for his roles in movies like Live Free or Die Hard, Accepted, and Jeepers Creepers, Justin Long is no stranger to voiceover acting. Long was in FX's Unsupervised back in 2012 and he's been the voice of Alvin in all three Alvin and the Chipmunks movies. Over 10 years after he played high schooler Justin in Dodgeball, the casting of the 37-year-old Long as the pot-smoking, 14-year-old son in F Is for Family still manages to make sense — must be those boyish good looks of his.
Haley Reinhart
Her voice became famous to all American Idol watchers since Haley Reinhart was a contestant in Season 10 of the FOX singing show. Since placing third on American Idol, Reinhart hasn't received the high levels of fame as some of her fellow American Idol alums, but she has been getting praise for her vocal talent, like when she performed Radiohead's "Creep" with Postmodern Jukebox. Now she's really branching out with doing the voice of Bill, the 11-year-old Murphy son — on F Is for Family.
Debi Derryberry
Debi Derryberry may not be a familiar name, but she is definitely a familiar voice. As the voice of Jimmy Neutron, Wednesday Addams in the 1990's animated version of The Addams Family, and Jackie in Bobby's World, Derryberry has been a voice you've heard on your TV before. She loaned her voiceover talent to F Is for Family as the youngest kid in the Murphy family, Maureen.
Sam Rockwell
The actor, who has been known to take on some notably nonconformist roles like in Confessions of a Dangerous Mind and The Hitchhiker's Guide to the Galaxy, joined Burr's show as the muscular, bleach blonde neighbor of the Murphys, Victor. If his inclusion seems surprising, it's important to note that Rockwell and costar Long have worked together a couple times over the years — from 1999's Galaxy Quest to 2013's A Case of You. The guys also were also Batman and Robin in the short film spoof "Robin's Big Date."
With this group of talented and eclectic actors, Burr's Netflix series will be a delight to watch andlisten to.
Image: Netflix