Scott Lockhart's Killer Revealed On 'The Affair'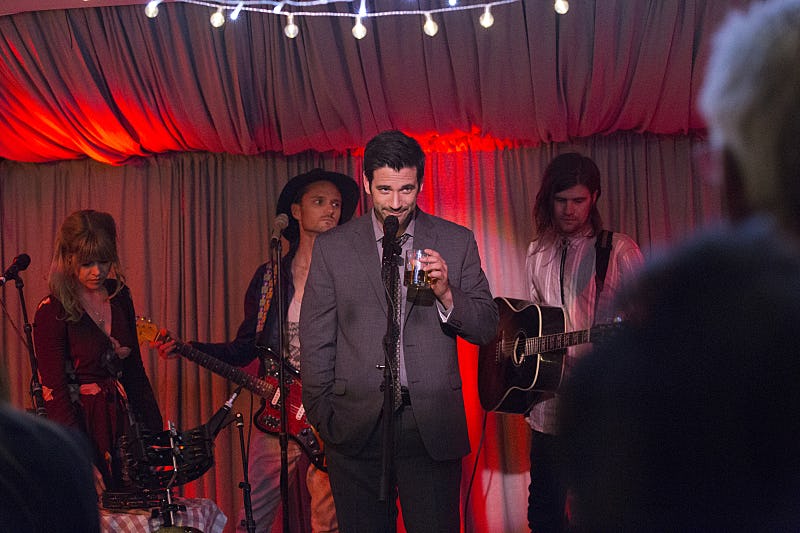 Viewers have been speculating and theorizing about the hit and run that killed Scott Lockhart for two seasons, and during the Dec. 20th Season 2 finale we finally got some answers. They were unexpected, shocking, and tragic — both Alison and Helen played a role in Scott's death on The Affair, but neither of them meant to kill him. So, after all that chatter about how many people would have motive to murder him, it turns out Scott's death really was a horrific accident. Of course, thanks to the cover-up, Noah is looking at a possible homicide conviction.
The evening began with Cole's wedding to Luisa, and no one was having an especially great day. After being blackmailed by Scott, Alison admitted to Noah that Joanie is Cole's biological child. He headed straight for the bar and downed a whole lot of liquor (after taking a benzodiazepine earlier in the day), then spent some time bonding with Helen as they drank together. When they decided to leave the Lobster Roll, Noah took the wheel even though they both knew they were too intoxicated to drive. But, they switched places when Noah began hallucinating — so Helen was driving when the car struck Scott. Hysterical and devastated, she stayed inside the car as Noah looked at the body and realized who it was.
Noah dropped Helen off at her mother's home and told her he'd "figure it out." But, that was just the beginning of the truth. As they sit in court, there's something Helen still doesn't know — Alison pushed Scott into the road immediately before the car hit him. She had left the wedding to take a walk after their argument, but she found Scott by the side of the road and they had another, more heated altercation. This time, he attempted to force himself on Alison and she shoved him in self defense — right as Helen and Noah's car came around the corner. She retreated into the woods, and mouthed to Noah "I pushed him," before he got back in the car and left with Helen.
Both Noah and Alison returned to the wedding so they'd have an alibi, discussed their cover-up plan in hushed tones, and tearfully danced together. Of course, things haven't gone according to plan — Noah is on trial for vehicular homicide, and the plot thickened mid-trial when Detective Jeffries discovered Alison's stone place card at the scene. Now, Noah needs to decide whether to implicate Alison or Helen in Scott's death — or else, it looks like he'll be facing some serious prison time.
Image: Paul Sarkis/Showtime