10 Last-minute Resolutions To Make This Year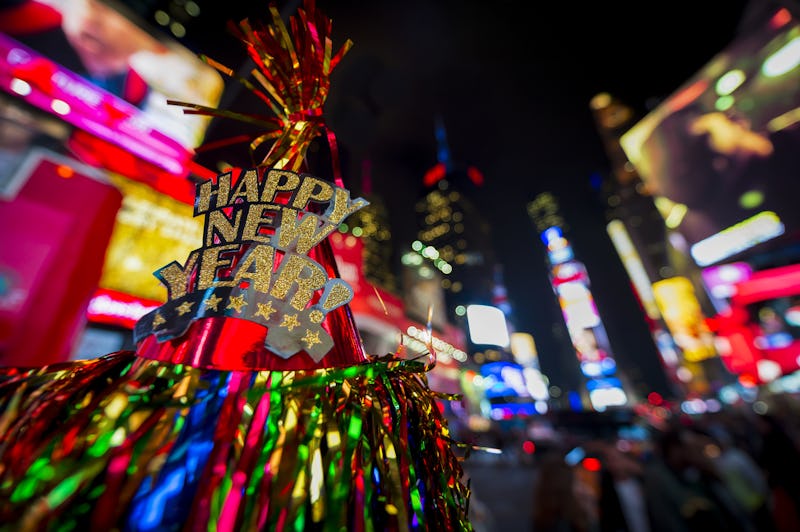 It's that time of the year when people start making New Year's resolutions — and even though we're already a few days into 2016, there are some last-minute New Year's resolutions you can make today to make sure this is the best year ever (insert joke about getting better about procrastinating here). While many people come up with lofty goals of reinventing themselves into someone completely different, I'm of the mindset that New Year's resolutions should be more about reflecting back on the past year, and figuring out where you want to succeed in the months ahead.
People — myself included — tend to make really unrealistic, pie-in-the-sky promises to themselves, and then we are too hard on ourselves when we can't follow through all year. Classic examples of these resolutions are: "I want to hit the gym every single day," "I want to buy a house" (when you literally have $5 in your savings account), and "I'm going to go on one Tinder date a week."
The New Year is a time for self-improvement — not just for two weeks, but for the entire year. And, it should be fun! Here are 10 resolutions you should make for 2016. I promise you'll want to keep these.
1. Travel more
Whether you're going on a road trip with your besties over to the next state, or want to go backpacking around Europe with your significant other, just get out more. As the old saying goes, travel is the only thing you can buy that will make you richer — now get out there!
2. Make use of your breaks and downtime
Americans are actually the WORST when it comes to taking their hard-earned vacation time. Use your two weeks (or at least a few days), and recharge your batteries. If you really can't take the time off, make use of your lunch breaks. Don't just sit at your desk with a sad salad looking over emails — download some good music or a podcast, and go for a walk outside. Sunshine and a good song are bound to put a smile on your face.
3. Respect and love yourself
Last year, I promised to put myself first for the first time — and I'm so glad I did. At the time, I was in a crappy relationship where the guy didn't value me or encourage me to pursue my goals. (He told me my job was to "play on Facebook all day." Ugh, #ByeFelicia.) I broke up with him, started a new job I love, and I'm now dating an amazing person. I didn't resolve to do any of those things, per se, but when I made time to focus on me and what I wanted, everything just fell into place.
4. Run a 5K, 10K, or marathon
Looking for a way to get more active? Sign yourself up for a race. Give yourself a few months to train, and really go after it. The feeling that you get after completing something seemingly "impossible" will give you a huge rush.
5. Get in tune with your inner foodie
As a self-proclaimed foodie, there are three things that I think everyone should know: how to make a signature dish (spaghetti and meatballs count!), what your go-to drink order is, and what your three favorite food or drink places are that aren't chain restaurants that you could recommend to a tourist visiting your city. If you haven't figured these things out yet, now is the time.
6. Drink better wine
The days of pure grain alcohol punch are (hopefully) behind you. As a grown-ass woman, it's OK to occasionally treat yo' self to a really good bottle of wine — you work hard, and you deserve it. Looking for a recommendation? Try SLO Down wines (with names like "Sexual Chocolate" and "Broken Dreams," who wouldn't want a sip?).
7. Make time for your loved ones
Life is crazy, your work schedule is hectic, and you have a million things to do. I get it. Now, go visit your grandma in her nursing home. Make a weekend trip to see your parents. Treat your friend to a mani. Give your boo thang an extra-long hug. Love your people — and show them on a regular basis.
8. Ask for a raise
If you've been putting in the hours and feel like it's time, go for it. According to a recent Glamour poll, 57 percent of women have never asked for a raise — let's change that statistic. Here's how to ask for one.
9. Be the queen of your finances
This is totally going to be my resolution this year, because I am so bad with money. Check your accounts on the reg for any weird charges, put some money from each paycheck in your savings account, pay off your credit card or student loans, and start contributing to a 401k. I know, adulting sucks big time. But it won't be so bad when you're retired and sunbathing on a yacht with Chris Pratt.
10. Get outside more
Staying in with your favorite TV show is great, but there's something about fresh air and sunshine that really gets your head in the right space. Go for a hike with your pup, or take bae on a picnic in the park. Just make it your goal to get out more.