I Tested 25 Vibes In One Year & These 5 Won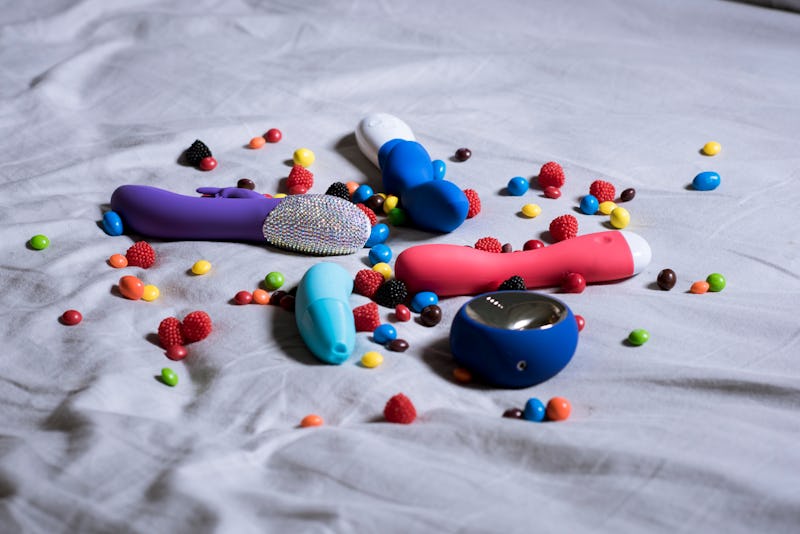 Out of all the many things about my job that are awesome, the biggest, most undeniable perk is probably that sex toy manufacturers regularly send me new luxury vibrators to try. They're all hoping I'll test and write about them, which I sometimes do, despite the fact that I know my parents have a Google alert out for my name. (Parents, if you're reading now, this would be your stopping point. Seriously.)
Over the last year, I've tested over 25 new vibrators from luxury brands like LELO, We-Vibe, Je Joue, Fun Factory, and many, many more. We've had some good times, these vibrators and I, both alone and with my down-for-whatever partner — and over the last year, some clear winners have emerged.
As 2015 draws to a close, I thought it was time to declare my favorites. While nearly every luxury, body-safe toy I tried was a feat of engineering (not to mention, chic packaging), five stood out as the clear winners, as I found myself reaching for them again and again. So, without further foreplay, here are my picks for the five best new vibrators of the year.
1. Best For Clitoral Stimulation During Penetrative Sex: LELO Lily 2
I was very skeptical of the idea of a "scented" vibrator when this came out. The LILY 2 comes in three scents — Lavender and Manuka Honey, Rose and Wisteria, and Bordeaux and Chocolat. The company says the fragrance is contained completely within the toy (so it won't mess with your pH!), and it isn't meant to mask your natural scent in any way — it's only intended to serve as an aphrodisiac.
When I opened it, I was pleased to find that the lavender scent was barely noticeable. Though it didn't serve as an aphrodisiac for me, I was immensely and pleasantly surprised by this toy — so much so that it has actually become my go-to vibrator for use during penetrative sex.
Small, quiet, strong, and waterproof, with eight stimulation settings, this toy is a wonderful clitoral vibrator. Though it's made from a hard material (something I don't usually like), it feels great on your body, and is easy to use in multiple positions — from cowgirl to doggystyle, and even positions that don't offer much room to manuever, like when you're laying flat on your stomach. I really can't recommend this toy enough — if you're looking to incorporate vibrators into your partnered sex life, this won't let you down.
LELO Lily 2, $139, Amazon
Before the Lelo Lily, this was my go-to favorite toy, and certain elements of it — like its softer, more "skin-like" material — remain my overall favorite. In the end though, it got knocked down to second place, because of We Vibe's somewhat cumbersome charger; it uses a magnet attached to a USB, which gets easily detached, and can leave you short on charge when you need it most. I also found the vibration point of the Touch slightly more precise than the one on the LELO Lily, which means you have to pay a little more attention to exactly where you're aiming it in order to fully reap the benefits.
That said, I still love, love, love this vibe and would highly recommend it to anyone for use alone, or on your clit during penetrative sex. It's strong, soft, quiet, easy to hold, and orgasmically dependable.
We Vibe Touch, $99, Babeland
I only discovered this toy a month ago, but I think it's safe to say that it is already a game-changer for me. This German-engineered toy was described to me by its agent as "the BMW of vibrators," and having tried it, I must say, I've never felt a motor like it. As you can see in the video above, the Fusion uses a rocking motion, combined with 64 (!) really strong setting options. The fin-like external clit piece also did the job for me better than most rabbit-style toys, because it's flexible and wider, making it easier to direct it onto your clit, no matter your anatomical size.
This toy will make you feel very, very properly f*cked. Like, be careful. If you don't like strong sensations, it's probably not for you, but if you want something that simulates the motions of sex and then takes things to another level, you won't be disappointed by this considerable investment.
Bi Stronic Fusion, $220, Babeland
Before I discovered the Bistronic Fusion, the Lelo Iris was my go-to for insertion. Though this one doesn't offer any crazy pulsing movements, it's just a really nice fit. Not too big, not too small, not too loud, with nice ridges and strong, multiple vibration patterns. Because it isn't rabbit-style, this toy is also great for a partner to use on you as part of foreplay, or even when they're going down on you. Though it's not marketed as a G-spot vibrator, I find it is curved perfectly to work mine as well. (Sidenote: I've found that guys seem to love watching you use this one, possibly because they can imagine it's them or something.)
I'd heard from no one less than Claire Cavanah, the founder of Babeland herself, that this was the most innovative toy of the year. Having tried it, I have to say I agree. Though the toy has some truly awful branding when it comes to its name and packaging (like, they really should have hired a feminist sexpert as a consultant), it doesn't matter once you start using it.
I am not generally a fan of toys that mimic oral sex — it's just not a sensation I find a twirl or motorized lapping can accurately duplicate. But the Womanizer has made me a convert. It produces a strong suction sensation, and when you put it over your clit, it's like you're being sucked and buzzed at once.
I kept laughing as I used this, because it was so intense and new-feeling, and by the time my sesh was done, I felt very satisfied. My partner enjoyed watching me use it, and it's even easy to use in positions like cowgirl for a very thorough orgasm. I personally wouldn't use this everyday (I felt almost a little sore afterward, and I would fear getting too used to such a hard-to-mimic sensation), but man, this is a great invention, and definitely worth adding to your toolbox.
The Womanizer , $189, Babeland
I am not usually a fan of bullet-style vibrators, but this necklace is just awesome. Not only is it USB-rechargeable and surprisingly strong, but it's also just really cute. Though I find I barely actually use it as a toy, wearing this out dancing or on a date makes the night feel full of spontaneous possibility. It's a great, less invasive alternative to putting a wearable toy in your underwear, and it can signal to your partner that you're feeling adventurous and DTF. Even better, it comes with a free (very subtle) custom engraving, so it makes a great gift. (Mine says "Feminist Killjoy.")
Crave Vesper Necklace, $69, Babeland
4. Best For G-Spot Stimulation: Je Joue G-Kii
I was not a fan of G-spot vibrators, until I met this one. It looked scarily curved, but when used with a thoughtful hand, this toy helped me realize what G-spot stimulation is all about. I enjoyed having my partner use it during oral sex, for both sensations at once, but it is also great on its own, or as a part of foreplay. There are multiple strong settings, and once it's in you, it is mighty quiet. It just gets your G-Spot — maybe even better than you do.
Je Joue G-Kii, $139, Babeland
This toy has two very powerful motors (much like its Fusion cousin), but is shorter and more focused on G-spot stimulation. It is also provides rabbit-style clitoral stimulation, and hits the clit pretty well, though again, it's really hard to successfully make a rabbit-style toy that is one-size-fits-all. The handle makes it easy for you or a partner to hold, and with multiple settings, there really is something here for almost anyone.
If the Fusion is the BMW of vibrators, than the Hitachi Magic Wand is definitely the Cadillac. But I had mostly stopped using my old Magic Wand about a year ago, because I realized its porous head was sometimes messing with my pH, no matter how well I washed it. I was also tired of being tied to the wall due to its cord, and it being so loud and unsexy during the laziest of partnered sex.
Well, now that the new rechargeable Magic Wand is out, my love has been truly reborn. Hitachi has fully embraced the fact that most people are using this toy as a vibrator rather than a back massager (though it still works for that too!) and has made the iconic Magic Wand rechargeable, cordless, non-porous, and quieter. It also now has four alternative settings.
Once again, I have to agree with Babeland founder Cavanah, who told us on the podcast I Want It That Way that she never got the appeal of pulsating settings until she tried this toy. Neither did I — they were fine for novelty and getting there, but I found I could never come with a pulsing toy (think bzzz. pause. bzzz. pause) — until I used the new Magic Wand. Because this is just probably the strongest toy out there, the alternative settings are downright delicious, and have made me come more than once. Seriously, if you love your Wand or have always been curious about all the hype, this is the upgrade you've been waiting for.
Hitachi Magic Wand, $94, Amazon
Once again, I have to say the Fusion takes it to another level here, by providing a truly innovative update of the classic rabbit-style vibrator. This toy simulates the thrusting motions of intercourse, and has a wider, more flexible clit stimulator, making it a better fit for a wider range of bodies. If you love your rabbit, this won't spin in the same way — but it will leave you feeling similarly ravaged.
FunFactory BiStronic Fusion, $220, Babeland
What a great time to be alive and in possession of a clit. Treat yourself to one of these in the new year — your body and mind will thank you.
Images: Bustle, JeJoue, WeVibe, FunFactory, Lelo, PleasureChest, Babland, Rachel Krantz