I Won Miss America In 2013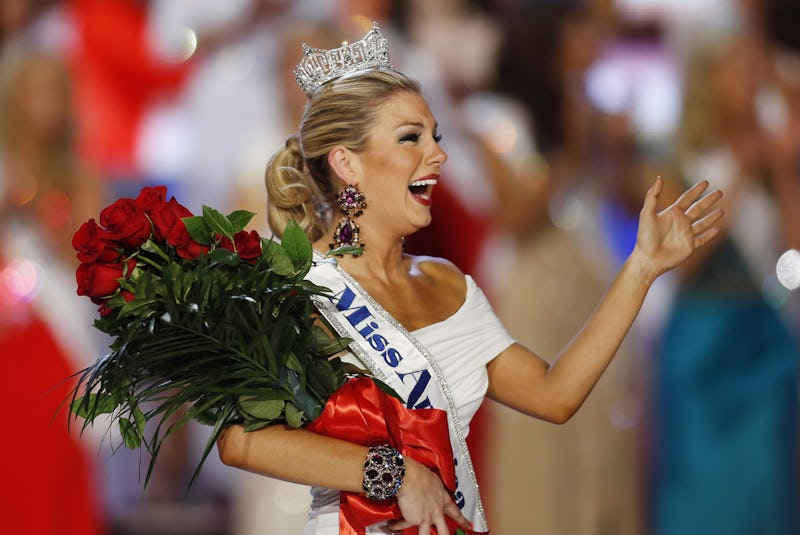 High-maintenance women. Fake boobs. Mean girls. Butt glue. "Iraqis and such as." Movies like Miss Congeniality, coupled with the occasional live TV mishap (Hello, Steve Harvey and Miss Universe), have certainly helped craft a stereotype of what it means to participate in a beauty pageant. I'm sorry, scholarship organization. If you watched Miss Universe on Sunday, I'm almost positive that one of those images crossed your mind — even before you were completely shocked to death by Harvey announcing the wrong winner. Congratulations Miss Philippines, Pia Wurtbzach!
For the last 13 years of my life, I have simultaneously been a part of the Miss America Organization and defying the "pageant girl" stereotype. There are a ton of positives to participating in the pageantry. I believe it promotes adaptability, independence, and greater cultural awareness, and the good qualities I gained by participating are endless. As a former Miss America, I'm here to let you in on five surprising truths about pageants.
1. It's Networking Gold
Holding a pageant title means that you have infinite opportunities to network in the community. When you see a woman wearing a sash and crown at an event, I assure you that she's there for more than photos. Each event is a chance to meet people and create relationships with community leaders, advocates, and business owners. So many doors open for you when you become "Miss [insert title here]," and the women who are participating in pageants are smart and driven, often making connections that lead to job opportunities in the future. Not too shabby.
2. You Gain Mad Interview Skills
Speaking of jobs … Preparing for pageants requires an intense amount of interview practice. The Miss America and Miss Universe Organizations require that every contestant be interviewed by their respective panels of judges. While the interview styles are different for each, both are looking for someone who can handle tough questions with smart, articulate, thoughtful responses. Becoming Miss America or Miss USA means that you are the face of an entire brand and its sponsors for 365 days. As such, it's important that the woman who wins can handle anything the media throws her way. After the pageants are over, the ability to position yourself in an interview room and pivot between topics becomes a great asset.
3. There Are Substantial Scholarships
The Miss America Organization is the one of the largest providers of scholarship dollars to young women in the country, and the winner of Miss USA walks away with a two-year scholarship to the New York Film Academy. Many participants have used their scholarships to completely fund their college educations, pay back student loans, or continue on to graduate school. In my years competing in the Miss America Organization, I tallied a little over $70,000 in scholarships, and continue to use it today at the Fashion Institute of Technology.
4. It's Very Service-Oriented
One of the most important aspects of major pageants like Miss America and Miss Universe is that they are huge proponents of service. Miss USA focuses on topics like awareness for ovarian and breast cancers, attending events and advocating for early detection screening. Miss America is the National Goodwill Ambassador for Children's Miracle Network Hospitals. In addition, both women have the chance to visit Washington, D.C. throughout their reigns and meet with lawmakers about their respective interests.
5. You Make Friends for Life
No mean girls here. I've found the ladies I've met while competing in pageants to be among the most uplifting, inspiring, kind women I know. The women who rise to the top are there to gain friendships and support one another. At the end of the day, you can only bring your best self to the process, and as such, that confidence means that you are not competing with the women next to you. Rather, you're celebrating them and their accomplishments as well as your own. Pageant "sisters" turn into lifelong friends, confidants, and sometimes even bridesmaids.
So while there is certainly some truth to those silly things you hear about the world of pageantry, the reality is that, while participating admittedly places you on a stage to be judged while wearing a barely-there swimsuit, it can lead to some surprising opportunities both in life and in business. There's more to it than what you see on television. I look forward to seeing where Pia Wurtbzach's year as Miss Universe takes her.
Mallory Hagan was Miss America 2013, and is currently a student at the Fashion Institute of Technology. Follow her @ItsMalloryHagan or www.ItsMalloryHagan.com