'Chuck' Kisses To Inspire A New Year's Eve Smooch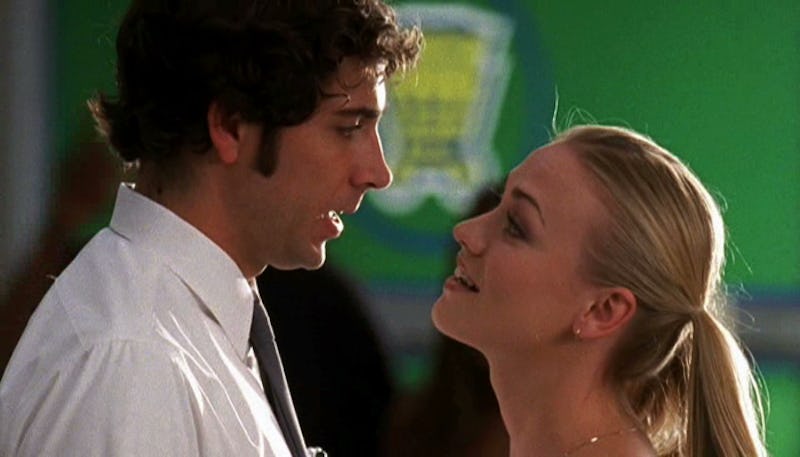 In just a few short days it will be time to say goodbye to 2015, and you know what that means: New Year's Eve parties. With New Year's Eve parties comes the anticipation of the New Year's Eve kiss, a tradition that puts a crazy amount of pressure on the holiday and tends to lead to me hiding out at home with my cats and an alarming amount of snack food. For you brave souls who are planning to be kissing your date, significant other, or game stranger you happened to be standing next to when the ball drops, I have the perfect couple to inspire your kissing techniques this New Year's Eve: Chuck and Sarah from NBC's flawless Chuck.
Thanks to all of the undercover relationship years, spy shenanigans, and relationship milestones, Chuck and Sarah had a wide array of kisses over the years. From the sweetly awkward "fake" kisses during their faux relationship phase to their relationship goals level wedding kiss, Chuck and Sarah kissed their way through five seasons worth of TV perfection. For that reason, they are the perfect fictional couple to teach you all the ways to have a memorable New Year's Eve kiss.
Let Chuck and Sarah be your kissing Yodas as you ring in the New Year. Have they ever steered you wrong before?
1. The First Date Kiss
One of Chuck and Sarah's earliest kisses was a kiss they used to maintain their cover as two normal people in a relationship. It was short, there was no tongue involved, but still sexy. If you decided to have your first date with someone be a New Year's Eve date, then go with a simple early era Chuck/Sarah style kiss... unless things are going mind-blowingly amazing.
2. The BFF Kiss
So you and your bestie decided to hit the New Year's Eve party together, and you're still standing together giggling and having a blast at midnight. Then take Chuck's lead and go in for a goofy peck on the cheek, nose, or forehead. No, you're not getting a grandiose kiss, but you are kicking off the New Year with your closest friend. It doesn't get much better than that.
3. The Hello Sexy Stranger Kiss
If you find yourself in one of those real life romantic comedy moments at midnight, then it might be a good time to try out a next level Chuck and Sarah kiss. When their relationship became the real deal their kisses became super hot. New Year's Eve tends to sweep people away on a boat built out of emotions. If you and that sexy stranger are vibing, then kiss like nobody's watching (because they're not, everyone's faces are stuck together).
4. The First Kiss Kiss
After some riling from a special agent played by John Larroquette, Chuck gave Sarah a kiss to remember in Season 2. If you've been out a couple of times and you want to take your relationship from casual to Facebook official (that's still a thing, right?), then go all in on that New Year's Eve kiss and see what happens.
5. The Ultimate PDA Kiss
Chuck and Sarah's first real kiss would have made a Jane Austen character blush. If you are super in love and not afraid to show it, then kiss your significant other with the kind of passion that would make Sarah Walker proud.
6. The Established Couple Kiss
Like married Chuck and Sarah, you and your bae are solid. You've had more than one New Year's Eve kiss, and you two still look at each other like super spies in love. When you go in for that special kiss make it memorable, happy, and full of feeling.
7. The "I Guess We're Staying In" Kiss
Hey, when a kiss is Sarah and Chuck in bed good, then whatever you do at home will be probably be a lot more fun than whatever is happening at the party.
Whatever kind of kiss you end up having this New Year's Eve, make it a Chuck and Sarah kiss.
Images: Warner Bros. TV; Giphy (8)