Yes, 'The Bachelor' Is Better Than Christmas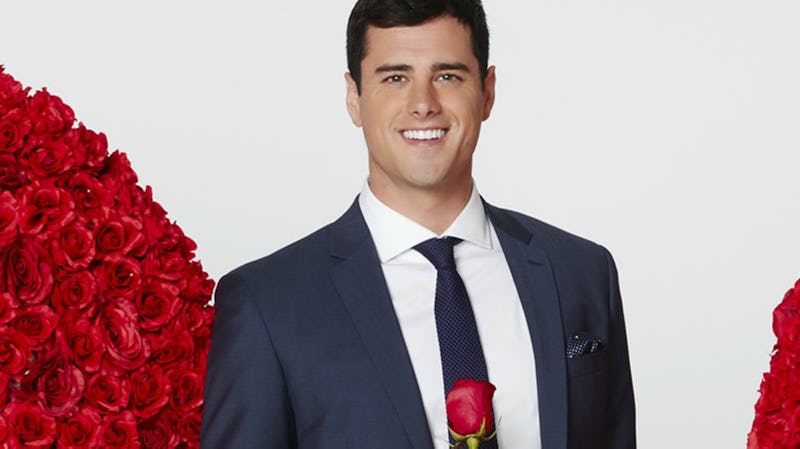 Quick poll! What's more exciting? A.) The 20th season premiere of The Bachelor featuring Ben Higgins, or B.) Christmas? If you're a Bachelor lover you probably chose the former, and for that, I welcome you. Come into my world. Let's discuss this.
Yes, Christmas is an exciting time and yes, that is the most obvious statement I've ever declared. So is this: People love Christmas. What's not to adore? Presents? Music? Food? The smell of pine? But be honest — there are some things about Christmas that stress us all out. Having to socialize with humans we don't really know/never see, procrastinating and being forced to buy gifts at 8 pm on Christmas Eve, fruit cake. (No offense, if you like fruit cake.)
Guess what though? On January 4, Ben H. — and his super cute face — will offer almost none of the perils Christmas can bring. And on top of that, he — and his dimples — will offer even more excitement than the beloved holiday. I know, I know, I'm so counter-culture it hurts. But bear with me. I have some points. Like Chris Harrison would probably say, keep your mind — and your heart — open.
Here are all the reasons The Bachelor's 20th season premiere surpasses Christmas, in terms of excitement. Go ahead. Try and refute them.
1. It Lasts More Than One Day
The Bachelor stays on air for weeks, people! Can you say that about your most cherished holiday?
2. It's Basically Free
OK, so you need a TV or a computer (both of which aren't free), but once you hook that bad boy up, ABC is free to air! You don't have to buy a Christmas tree, lights, ornaments, decorations, baking ingredients, or gifts!
3. You Don't Have To Socialize While Watching
It's well within your Bachelor viewing rights to demand a zero tolerance policy for speaking. This is something you unfortunately should not do while attending a holiday function.
4. You Can Participate Anywhere (No Traveling)
You don't have to drive across the country to participate in the festivities. Win.
5. No One Will Judge You If You Get Drunk
Fun game: drink anytime someone says "I think I'm falling in love", or there's a helicopter. Proceed to not be judged by your uncle.
6. You Consume Less Pie/Feel Less Sick
When you are consuming The Bachelor, you don't need any desserts. (Insert pun about how Ben is sweet enough, subsequently be upset that you've stooped to that level.)
7. You Can Always Talk About It
Talk about it with your other Bachelor loving friends. Discuss it on social media. There are so many ways you could take this, but one thing's for sure: No-one will ever give you the old "Uhm...The Bachelor's over, can you not?" The Bachelor — unlike Christmas — is never over.
8. It's The Gift That Keeps On Giving
This is not a sweater, or an Amazon gift card. This is the most dramatic gift in gifting history.
Be sure to catch the season premiere of The Bachelor, January 4 on ABC. Happy Bachelor-days! And a merry, merry Bachmas (patent pending) to you all!
Images: ABC; Giphy (7)