7 Plus Size Black NYE Dresses For Any Party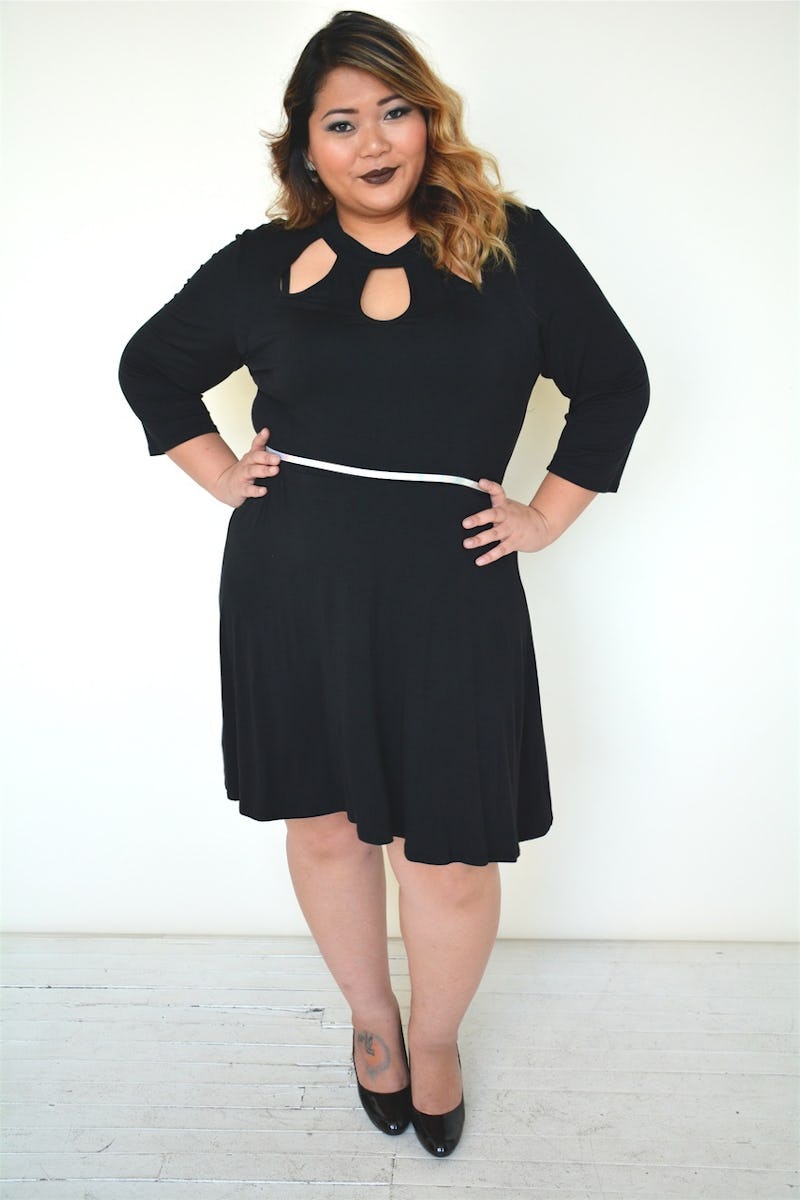 New Year's eve is only a handful of days away, which it means it's time to lock down your plans and your look. If you've yet to locate the perfect outfit for whatever party you're off to, these black plus size dresses for new year's eve are sure to be perfect for both casual and formal affairs. And luckily, thanks to the world of online shopping, you can still get them in time if you order soon!
If you're anything like me, NYE is when you officially go all out. It's time for glitter eyeshadow, glamorous false lashes, Kylie Jenner lip vibes, and either a fun braid or curls running through hair. And while the most important part of any amazing holiday look is obviously some serious body positive confidence, having an amazing outfit doesn't hurt.
This year, I'm definitely going with a little black dress as my look of choice. They're timeless, chic, easy to dress up or down, and photograph so dang well. I opted for a sequined shirt and skirt combo last year and, while it was fun, I definitely didn't like always worrying if my skirt was riding up!
If you still don't know what you're wearing, get inspired by these awesome plus size black dresses and tweet me @RoseEatsPlants with your final NYE look. I'd love to see it!
1. Loop Love Skater Dress
Loop Love Skater Dress, $44, Re/DressNYC
This cut-out dress keeps it classy with an edgy kick.
2. Faux Leather Shift Dress
Faux Leather Shift Dress, $77, Junarose
Super trendy and chic, you'll be able to rock this all year long.
3. A-Line Skater Pocket Dress
A-Line Skater Pocket Dress, $26, BooHoo Plus
For gals in warmer weather, this little black skater dress will keep you nice and cool.
4. Black Chiffon Maxi Dress
Black Chiffon Maxi Dress, $85, EvansUSA
If your night is going to be formal and glam, look no further than this dress.
5. Wrap D Ring Dress
Wrap D Ring Dress, $72, Missguided
Just like Taylor Swift songs, rap dresses will never go out of style.
6. Floral Print Black Dress
Floral Print Dress, $135, EvansUSA
Who says a little black dress can't have a burst of color?
7. High Neck Swing Dress
High Neck Swing Dress, $62, YoursClothing
Pair this winter-ready black swing dress with black thermals to stay extra warm.
Images: Courtesy of Brands