Deadpool Is Basically Us After Christmas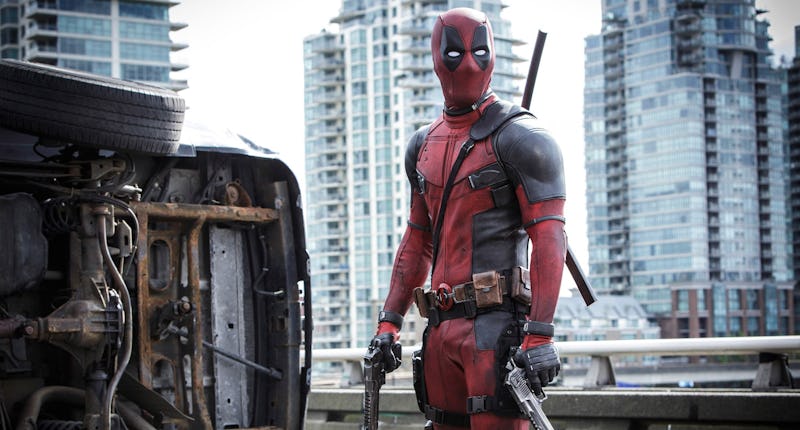 Surprise. This is a different kind of superhero story. Or so the anti-hero, superhero Deadpool has claimed. In the spirit of giving, Marvel and 20th Century Fox released two new trailers for Deadpool on Christmas Day — and trust me, they didn't disappoint. In fact, the new trailers — one regular and one NSFW — might be some of the best gifts I received on Christmas. (And if that sounds crazy, then just like Deadpool, I don't really care.) But, through all of the unabashedly foul-mouthed, sarcastic, and unconventional superhero's witty verbiage, I realized something else that had been gifted to me — via these new Deadpool trailers — and that's this: Deadpool is basically all of us right now — post-Christmas.
Surprise. This is a different kind of Christmas story.
In case you couldn't tell, Deadpool stars Ryan Reynolds as Wade Wilson, a former mercenary who's just been diagnosed with cancer in his liver, lungs, prostate, and brain. In a state of desperation, Wilson decides to become the subject of an experiment that leaves him with, let's just say, powers of the special variety. Wilson — who then adopts the alter ego Deadpool and dons a red spandex suit (naturally) — can heal from any injury.
Including the injury of living life after the holidays are over.
Yes, Deadpool might be physically indestructible, but the man still has feelings — and he understands your post-Christmas blues! Check out all the ways he understands, right now, below.
When You First Realize The Holidays Are Over
But...why? Are you sure? Check the calendar again!
When You Put Away The Christmas Movies And Music
If you need me, I'll be in an abandoned dark bar, in some remote location, lamenting.
When You Take Down Your Decorations
Actual footage of me, crawling out of an ornament and Christmas light pile.
When Your Parents Carry Out The Tree
NO. Take me with it!
When You Have To Start Wearing Non-Christmas Clothes Again
What are these articles of clothing and why do they not have antlers on them?
When You Say Goodbye To Your Family
Oh no, don't mind me. I'm just leaving. Finish your Facebook post, MOM.
When You Have To Go Back To Work
So bored already.
Watch the gloriously deviant superhero below, followed by the NSFW version.
Images: 20th Century Fox; 20th Century Fox/YouTube (7)