I Let My Partner Dress Me For A Week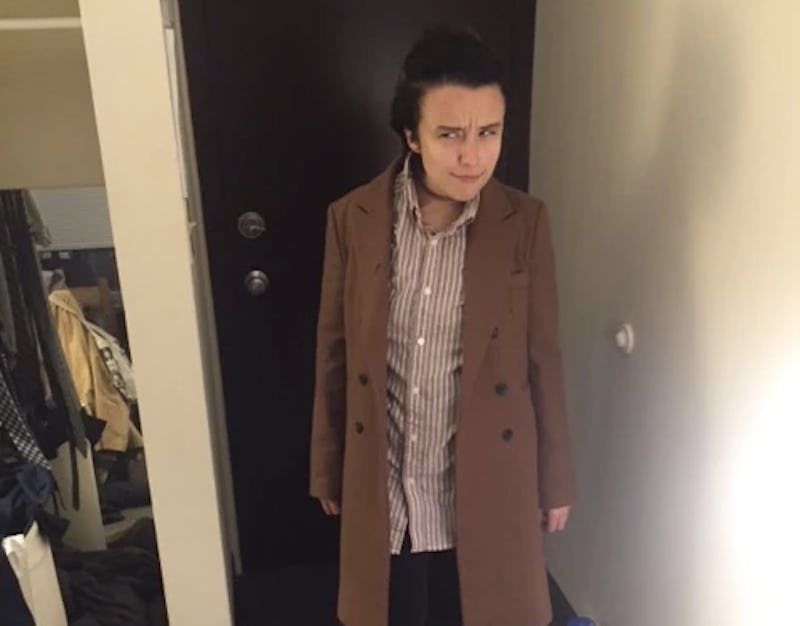 Since meeting them a little over a year ago, I've been a huge fan of my partner's fashion sense. Skylar's skill in putting together a wonderfully dapper outfit without losing any of their unique pizazz and penchant for pattern-mixing was the first thing that attracted me to them. Before we were acquainted, I even low-key stalked them in the hopes of including them in my street style column at my college's magazine. But alas, I was too intimidated by their cuteness to ever ask them for a picture. Never did I think that over a year later, I would be paired with this stylish human; and that we would strive to combine our sartorial powers in order to be the most fashion-forward couple around.
We both value style but have very unique takes on dressing. Skylar never fails to effortlessly pull off bright colors and rock two different patterns at once, while I wear mostly black and manage to live off a wardrobe consisting almost entirely of crop tops. With my own closet hardly straying from its sea of black and gray, I was positive that Skylar's dressing philosophy rooted in the power clash would not go well with my own persona. But despite this, and my overwhelming need to control everything around me, I decided to let my partner dress me for seven days. Here's what happened.
My Normal Look
First, let's take a look at my day-to-day outfits. As I mentioned, I mostly wear black, and love to keep things monochrome. Skylar, on the other hand, is a walking ray of color. This was going to be an interesting week.
Day 1
As I had expected, this first outfit was the very definition of a power clash, and I honestly cringed when Skylar showed it to me. Accessorizing my Zara floral cropped tee with my camouflage Brooklyn Industries jacket was certainly never something that occurred to me. I was open to the idea of Skylar's power clash philosophy, but I wasn't all that impressed with the way it looked in my own wardrobe. Plus, it was not very weather-appropriate, especially on this first freezing night.
However, my best friend complimented the outfit, which was a total ego boost to a certain degree. My bestie is also a fan of the power clash, so I felt this comment was at least a little bit biased.
I wasn't a huge fan of this one, but it certainly didn't look as bad as I thought it would (especially once I started channeling Skylar's confident spirit). By the day's end, I began to adjust to the idea of clashing patterns, partly because I didn't look half bad, and partly because I had six more days of this...
Day 2
My second day of wearing two different patterns didn't feel as painful. I actually enjoyed this outfit a lot, even though it's probably not something I would ever choose for myself (which, I would soon learn, is why this experiment was so fun).
My pink, floral H&M romper and this cute zip-up I got from a campus yard sale for free definitely made for an interesting and fun combo. Coupled with the shoes Skylar chose (Dr. Martens I picked up from a thrift store), I definitely enjoyed this one. And thanks to the weather heating up a bit more from the day before, I wasn't as cold as I feared I would be. However, I began to worry about whether Skylar's seeming disregard for weather patterns (since this outfit didn't originally include tights) would make for quite a bone-chilling week.
Day 3
Taking heed to my discomfort with all the patterns, Skylar chose a simpler outfit for the third day. Blue skinnies from Express and a thrifted cashmere sweater were definitely a super ordinary change of pace compared to what my last couple of days looked like.
Skylar chose the Dr. Marten shoes again (which I certainly wasn't opposed to) and opted to dust off my awesome thrifted jacket for the first time this winter (which I was thrilled about). The sweater and jacket certainly addressed my concerns about staying warm, which I appreciated. I felt pretty great in this one, albeit a little drab. Wearing multiple patterns at once may not be my thing, but finding some middle ground between plain and prints would be great.
Day 4
I loved this outfit. Trading out the sweater for my men's button-up and the blue skinnies for my BDG black skinnies, this outfit felt cooler, more me, and extra masculine. This was definitely my favorite ensemble during the experiment so far, and I was forever thankful to Skylar for understanding my aesthetic so well.
I even got a few compliments about it from friends and acquaintances throughout the day. While walking on campus, one friend asked, "Oh, are you still doing that experiment where Skylar dresses you for a whole week?" After responding affirmatively, she answered with, "Wow, they're really doing a good job. You guys should do this more often." Perhaps we will.
Day 5
This outfit — my Guess sheer top, DM boots, and an H&M miniskirt — is definitely something I would wear every day. Actually, it's the exact outfit I used to wear at least once a week during my junior year of college (when Skylar and I first met). So kudos to my partner for channeling me to a T, and paying homage to 20-year-old Meg.
However, I wasn't as comfortable in this one, since I was feeling pretty masculine that day (while the outfit felt pretty feminine). But since I wanted to stay true to the experiment and embrace stepping outside of my comfort zone, I wore it anyway.
By now, I definitely felt proud of my partner's ability to pick outfits for me. If only they could do this every day, it would make my life a little bit easier.
Day 6
And we're back to the Power Clashing With Skylar And Meg show! I was honestly happy to return to a more daring look (all pieces being from thrift stores and Skylar's mom), and embraced this look without hesitation. Pairing the outfit with my favorite lipstick, NYX Wicked Lippies in Wrath, made me feel all kinds of confident.
With the last day of our experiment approaching, I promised myself I would let Skylar pick out my outfits more often. And they had so much fun with it that they suggested I should even pick out their outfits for a week to see what mayhem (or totally sound sartorial choices) might occur.
Day 7
For the last day of the experiment, Skylar chose their favorite top of mine: A silky pink crop with a delicate floral pattern. Paired with my black skinnies and tattoo choker, they threw my relatively new and deeply beloved leather jacket over the top. I loved the way the fun floral pattern and the tougher aesthetic of the black and leather combined to a create a balanced outfit that perfectly encapsulated both sides of my personality. Skylar, you did good!
Letting my partner dress me for a week was an ultimate success. I certainly wasn't completely comfortable with all of the choices, but the process allowed me to explore the untapped potential of my wardrobe by presenting me with an interesting array of combinations I had previously never thought possible. Besides the arguable importance of stepping out of your comfort zone from time to time, the experiment was a delightful peak into my partner's styling capabilities, making for quite an unusual yet totally fun bonding experience.
I can't wait to start picking out their outfits for the week ahead.
Images: Meg Zulch