Full Beauty's Holiday Campaign Is So Rad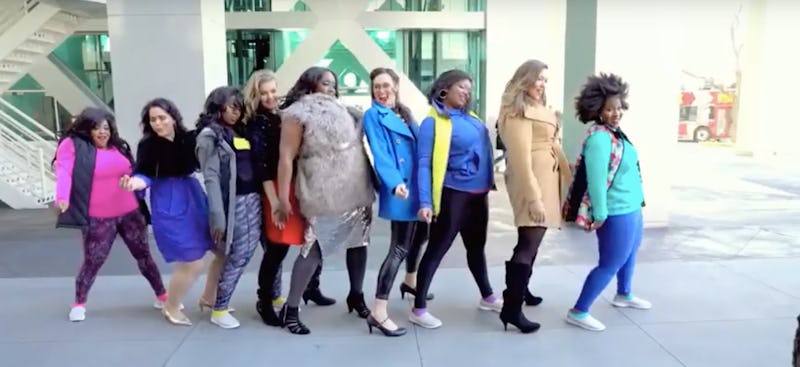 Only days before Christmas on Dec. 22, plus size e-retailer Full Beauty released its #OwnYourCurves campaign's second video, and the representation did not disappoint. The brand, which specializes in making clothing for women and feminine people sizes 12 and above, created a fun video celebrating the curves of plus size women while also removing the stress from trying to decide on a killer outfit perfect for all of your holiday festivities. Not only does the video represent plus size women of all backgrounds, but it also includes plus size bloggers and models like Liz Black and Nicole Zepeda.
The video takes you on a fun journey, as star Stephanie Dunn (from the America's Got Talent full-figured dance troupe Pretty Big Movement) decides on what to wear to a fun holiday gathering, her gaggle of plus size pals enthusiastically approving of her many outfit changes and sweet dance moves.
Pop star and Full Beauty ambassador Meghan Trainor's hit song "All About That Bass" is bumping in the background, as the ladies joyously break into a well-rehearsed dance routine that you won't be able to resist getting up and imitating (or at least, trying to).
The video also features plus size models Rachel Hirsch and Christina Mendez, celebrity stylist Denise Caldwell, plus size blogger Shay Tucker, and plus size fashion editor Madeline Jones.
Not only is it wonderful to see this group of very talented ladies repping plus size women in fashion (and showing off their killer moves), but it's also wonderful to see so much joy and a carefree attitude surrounding holidays and the fashion that comes with them.
Both the holidays and getting dressed in a way that makes us feel confident are tricky things for people to deal with. Combining the familial-related stress holidays can bring on with the woes that getting dressed every day can sometimes provoke (especially for those who tend to fall outside of the beauty standards of our cis-normative, racist, and fat-phobic society) creates an entirely different beast. The pressure to wear something "flattering" to avoid your auntie's fat shaming comments or so your sexy NYE look sizes up to the thinner ladies at the party can undoubtedly be kicked into high gear around the holiday season.
With Full Beauty's #OwnYourCurves campaign, it's refreshing to see these gorgeous women remove the stress from holiday shopping by portraying a completely enjoyable experience. After all, fashion is supposed to be fun, right?
Not only did they look stunning in their designs, but they didn't hesitate to break out into an awesome dance number, celebrating their body positivity through movement. Full Beauty's latest #OwnYourCurves video replaces the common trope of women shopping being about negative body image and so-called flaws. Instead, it shows us a world where plus size bodies are seemingly considered universally beautiful and respected. It shows us a world where we are allowed to have fun and take part in holiday fashion without the stress of meeting certain standards. And it shows us a world where shopping can be about confident plus size women dancing around in an array of stunning dresses, as their loving friends surround them in celebration of their body, confidence, and sartorial choices.
Maybe shopping for that perfect New Year's Eve dress doesn't have to be so stressful after all.
Images: FullBeauty/YouTube