What Engagement Ring Is Right For You?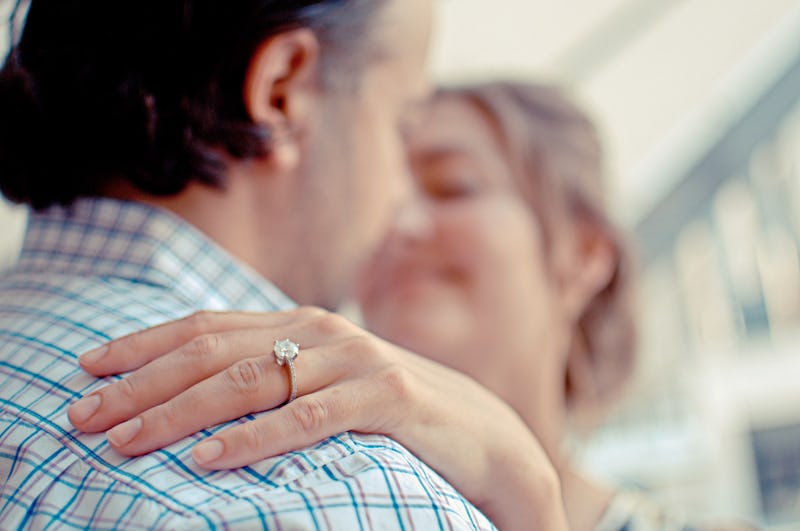 It's engagement season, everyone! If you're a social media user in their mid-twenties to thirties, you've probably been inundated with photos of your friends' happy holiday engagements. For many, the same joyful occasion could be around the corner, and you mind find yourself asking what engagement ring is right for you? If that's the case, it's important to examine what types of rings fit your style and most importantly, what you are going to be OK with wearing the rest of your life.
Many still feel strongly that the person being proposed to should be firmly in the dark when it comes to their engagement ring, but other, less traditional couples want their partners to have input on what they'll be sporting on their finger for the rest of their lives. While the history of the engagement ring is actually not as long as many would imagine, the tradition has had ample time to evolve. From gorgeous non-diamond sparklers to ultra unique wisdom tooth rings, the jewelry comes in all different shapes and sizes. If your significant other has hinted or even straight-up asked, it's important to be able to explain which engagement ring you feel is right for you, and to do that, you'll need to know what is out there. While this engagement ring overview can't be exhausted, hopefully it'll get you a step closer to figuring out which engagement ring if your perfect sparkler.
So what should you look at to figure this out?
Shape
Petite Solitaire Engagement Ring in Platinum, Blue Nile
Engagement rings come in multiple shapes. From round to emerald cut, they are each gorgeous and unique. Shape is one of the first elements of a ring to look at when you're trying to figure out which is best for you.
Size
Studio Petite French Pave Crown Diamond Engagement Ring, Blue Nile
In terms of engagement rings, size matters. If your every day style is more simple and pared-down, a large ring probably isn't going to be something you're into, but if uber-glam is your style, well, a huge solitaire may be your thing.
Color
Tiffany Soleste Yellow Diamond Ring, Tiffany
If you're seeking a diamond, keep in mind that they come in all colors. From pink to yellow, these precious stones are versatile. Figure out which is your favorite and which fits your personal style best.
Setting
Daphne Engagement Ring, Rare Pink
Double halo. Single halo. Solitaire. Pave. There are lots of setting styles, and they're the portion of your ring that will give it the most character. Flip through settings on websites and familiarize yourself with them. Remember that figuring out which engagement ring is right for you consists mostly of which ring suits your everyday style.
Stone
Sapphire Fancy Halo Diamond Ring, Brilliant Earth
Diamonds aren't for everyone. Just ask Kate Middleton. Take a chance on a vibrant sapphire or brilliant emerald stone. These non-traditional rings are picking up major traction, and it's easy to see why. They're gorgeous!
Style
14K White Gold Art Deco Inspired Octagonal Halo Ring, James Allen
Love vintage pieces? Art deco? Mod? There's a ring out there for you. Don't feel trapped by modernity and tradition. If a throwback is your jam, don't ignore that urge with your ring.
Metal
Pink Morganite Rose Gold Engagement Ring, TwoPeridotBirds
Just like with your stone, don't be afraid to spice things up with the metal of your ring. You don't need to be locked into white gold. This rose gold stunner if the perfect example of how a different metal can be a brilliant choice.
Whether you want input on your engagement ring or you're seeking a surprise, knowing your style — be it clothing or jewelry — may come in super handy for your SO, especially with a ring you'll wear for the rest of your life.
Want more style tips? Check out the video below, and be sure to subscribe to Bustle's YouTube page for more hacks and tricks!
Images: Courtesy of brands