Can You Tell 'Bachelor' Stars Apart By Their Eyes?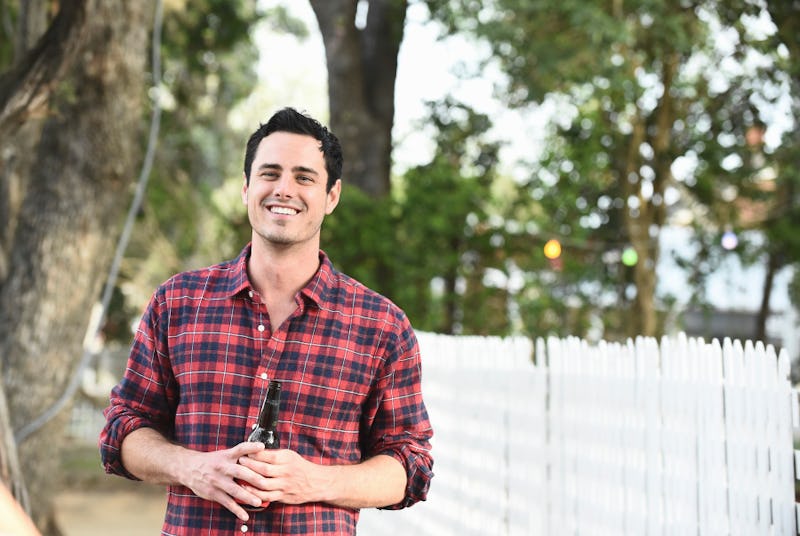 A new season of ABC's hit reality dating competition, The Bachelor , is upon us! And, what a perfect time of year it is. With the winter weather really settling in and Valentine's Day right around the corner, it's a good time to fall in love. Or, to watch someone else fall in love. This year on The Bachelor, fan-favorite Ben Higgins from Kaitlyn Bristowe's season of The Bachelorette is setting his soulful eyes on his own potential love interest and happily ever after. Now, they say eyes are the windows to the soul — I'm not sure who first said that, but it's been said so many times that it has to be true, right? — so I wondered: Can you guess these Bachelors by just their eyes?
Sure, there are distinguishing factors about each set of eyes to help you out, like color and shape, but to ace this quiz, Bachelor Nation fans will really have to know the show's 20 seasons of leading men. Seriously, it's not as easy as it looks! So, study up on your favorites from The Bachelor and challenge your fellow Bachelor Nation buds to see who can get the most correct!
1.
A) Sean Lowe
B) Bob Guiney
2.
A) Ben Higgins
B) Jason Mesnick
3.
A) Brad Womack
B) Chris Soules
4.
A) Jesse Palmer
B) Aaron Buerge
5.
A) Jake Pavelka
B) Andrew Firestone
6.
A) Juan Pablo Galavis
B) Aaron Buerge
7.
A) Matt Grant
B) Brad Womack
8.
A) Andrew Baldwin
B) Aaron Buerge
9.
A) Jake Pavelka
B) Sean Lowe
10.
A) Travis Stork
B) Bob Guiney
11.
A) Ben Higgins
B) Ben Flajnik
Answers
1. Sean Lowe! This Texan appeared on Season 17 of The Bachelor where Catherine Giudici won his heart.
2. Jason Mesnick! He appeared on Season 13 of The Bachelor where he chose Melissa Rycroft as the winner, but ended up breaking off their engagement and marrying runner-up Molly Malaney — and they're still together!
3. Chris Soules! The first farmer to appear as The Bachelor, Soules helmed on Season 19 but wasn't lucky in finding love.
4. Jesse Palmer! The former NFL quarterback appeared on Season 5 of The Bachelor. Although he didn't find long-lasting love on the show, his career in broadcast TV has continued to flourish.
5. Andrew Firestone! This Season 3 Bachelor is heir to the Firestone Tire and Rubber Company. He didn't stay together with Jen Schefft, but both went on to find love and happiness.
6. Juan Pablo Galavis! The former pro soccer player appeared on Season 18 of The Bachelor and has become one of the most infamous men to lead the show.
7. Brad Womack! This entrepreneur appeared on The Bachelor twice, in Season 11 and 15. Unfortunately, he didn't find lasting relationships during either seasons.
8. Aaron Buerge! Since his appearance on Season 2 of The Bachelor, Buerge has stayed out of the public eye. Though he gave his final rose to Helene Eksterowicz, the two split after a few weeks, but both are now happily married to their respective spouses.
9. Jake Pavelka! This pilot appeared on Season 14 of The Bachelor and Season 2 of Bachelor Pad, as well as a number of other reality series.
10. Bob Guiney! This contestant appeared on the first season of The Bachelorette before starring in Season 4 of The Bachelor.
11. Ben Higgins! This software salesman from Denver, Colorado is the new Bachelor!
So, how did you do? Are you a Bachelor expert? Well, if you didn't score as well as you hoped, at least you have a new season of The Bachelor to watch and cheer you up!
For everything Bachelor Nation, check out Bustle's podcast, Will You Accept This Podcast? and follow our Bachelor fan page on Facebook.
Images: Felicia Graham, Craig Sjodin/ABC; Getty (10)