Start Your 2016 Off Right With 'Chuck'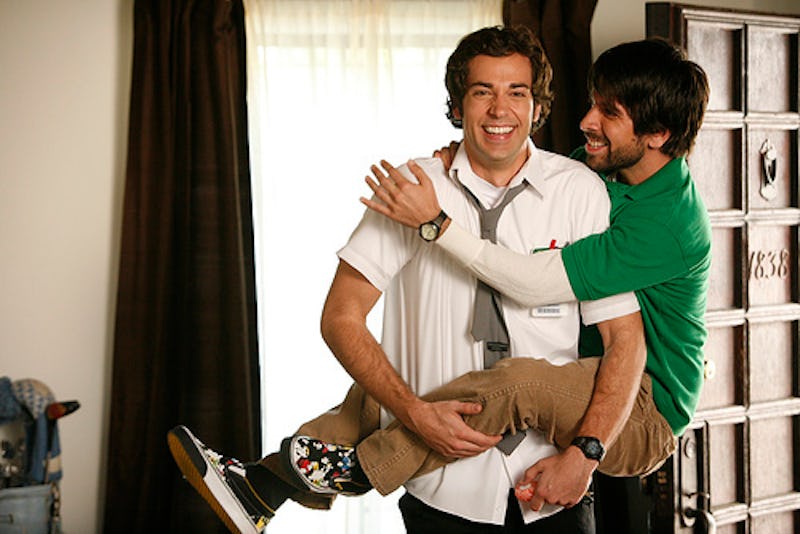 The part that comes after New Year's Eve is far better than the end of the year party. This is just a fact. And as you're working through your New Year goals, you're probably lining up a few new series to marathon on those cold winter days when the weather outside is just too much to bear. Luckily, I have a foolproof idea ready for you. And while no one is the boss of you besides maybe Netflix, for my money, I think you should set the tone for your 2016 TV viewing experience by building your own Chuck marathon. All five seasons of the spy comedy are on Netflix just waiting for you to revisit them and Chuck, Morgan, Casey, and Sarah are the BFFs you need to spend your day with if you want to kick off 2016 right.
But can see how you might need some convincing and with 91 episodes to choose from, narrowing your choices down is way too taxing of an activity, so allow me to choose 11 episodes of Chuck that will get you hooked with action, inspirational self-improvement stories, and enough character development to get you in the mood to write down some resolutions you might actually stick with.
Remember, Chuck begins the series as an aimless Buy More employee and ends as a competent spy — I'm not saying a job at the CIA is in your future, but after watching Chuck and friends win at life, you might just find some serious inspiration for your 2016.
1. "Chuck Versus The Intersect," Season 1, Episode 1
You will be astonished by just how perfect the first episode still is. I think it is important to remember where Chuck was at the beginning of the story. Watch him grapple with the reality of the Intersect for the first time and take note of how all business Sarah and Casey were. Everyone changes so much, but the pilot episode is timeless.
2. "Chuck Versus The Alma Mater," Season 1, Episode 7
The New Year is a time for reflection and new beginnings, and this episode has both as Chuck returns to Stanford and learns the truth about his best friend Bryce. More importantly, Matt Bomer is in this episode and he is exquisite.
3. "Chuck Versus The Imported Hard Salami," Season 1, Episode 9
Sarah and Chuck have their first kiss, the adorable Lou (expertly played by Rachel Bilson) is there, Morgan and Anna's relationship begins, and there's an intense bomb scene — this episode has it all.
4. "Chuck Versus Tom Sawyer," Season 2, Episode 5
The fate of the world comes down to Jeff's ability to play a video game in what is one of the show's best outings. Not only does it show the value of getting to know the people in your life better, it also includes a huge moment for Chuck at the episode's end (and there is a killer musical moment).
5. "Chuck Versus The Ring," Season 2, Episode 22
Ellie and Awesome finally get married in the crazy emotional Season 2 finale. Chuck seizes his own destiny in a way that will make you want to be as big of a boss as he is, and there's also a crazy Jeffster! performance just to round things out.
6. "Chuck Versus The Beard," Season 3, Episode 9
The one where Morgan finds out Chuck is a spy and Chuck learns he should always trust in his friend. A total heart-warmer, and another episode about being the best version of yourself (which for Chuck means have his buddy by his side).
7. "Chuck Versus The Other Guy," Season 3, Episode 13
This is a huge Chuck and Sarah episode that finds Chuck making his first kill (or so he thinks) in order to protect Sarah. It is a powerful hour with all the romance and intensity you would expect from an episode that finally solidifies Chuck and Sarah as a couple and Chuck's status as a spy.
8. "Chuck Versus Phase Three," Season 4, Episode 9
Sarah kicks butt all the way across Thailand to rescue a kidnapped Chuck. I love the way this episode highlights what an amazing team Sarah, Casey, and Morgan have become. Even with Chuck missing, they work together seamlessly. Add in some sweat fight scenes and you have the perfect episode.
9. "Chuck Versus The Push Mix," Season 4, Episode 13
Not only does baby Clara make her debut, Sarah and Chuck get engaged, and Casey finally admits how important it is to him to have his daughter back in his life. The episode was intended to be the season finale which explains why it is overflowing with huge steps forward for all the characters.
10. "Chuck Versus The Cliffhanger," Season 4, Episode 22
By this point in your marathon, it is going to be clear just how far every character has progressed. Sarah and Chuck get married, Casey has opened up to the possibility of a family life, Morgan takes on a new role, and Chuck and the gang become independent spies. You could call it a day right here, but then you would miss the show's most wrenching, but satisfying hour.
11. "Chuck Versus The Goodbye," Season 5, Episode 13
In the series finale, everything comes full circle and you get to see how all of the characters have grown over the course of five years. While Chuck and Sarah's story has a bittersweet ending, seeing all of the characters pursuing brighter futures is the perfect way to start your own new year.
Set off 2016 with your (new) favorite spy family, a.k.a. the best possible way.
Images: Warner Bros. TV; chuckvsthegifs/Tumblr (11)