Olivia Made A Great First Impression On 'Bachelor'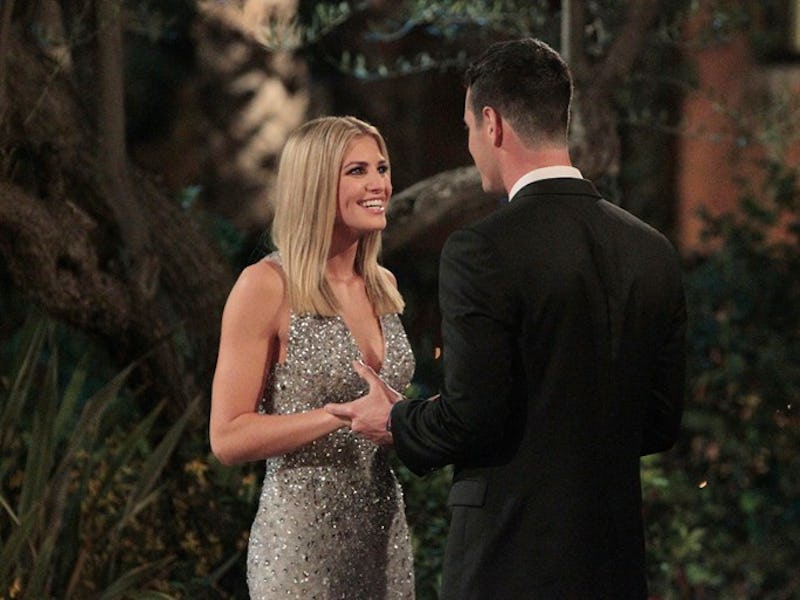 The premiere episode of The Bachelor always gives me secondhand anxiety every season, and it's all because of one very important thing: The Bachelor's First Impression Rose. Aside from the regular Rose Ceremony, these poor women also have to worry about impressing Ben Higgins so much upon meeting him that he hands over the coveted trophy flower. Haven't they been through enough already?! This time around, it seemed like it was pretty easy for our leading man to make his choice. Ben awarded the First Impression Rose to Olivia, but hopefully, she doesn't get too confident yet.
Why not? She's gorgeous, she's smart, she has an interesting job (newscaster), and so far, it seems like she and Ben have really hit it off. But, as far as Bachelor history goes, the First Impression Rose winner is rarely indicative of the lady who ends up with that sparkly Neil Lane ring at the end of the season, and unfortunately, it also puts a target on her back for the other women. Olivia has officially been marked as A Serious Threat to everyone else, and that just means the more competitive of the bunch have that much more of a reason not to like her — or to sabotage her chances with Ben.
If Olivia wants to take this opportunity to be strategic, she'll lay low and not talk too much about her dates with Ben that are bound to come along over the next few episodes. Otherwise, she may be the Britt of this season — Chris Soules' First Impression winner who not many of the women liked or became friends with. And even though I love Britt, she definitely didn't have an easy time on the show. I don't want that for Olivia. Hopefully there are tons more roses in Olivia's future!
For everything Bachelor Nation, check out Bustle's podcast, Will You Accept This Podcast? and follow our Bachelor fan page on Facebook.
Image: Rick Rowell/ABC