Is The 'Gilmore Girls' Set Primed For A Revival?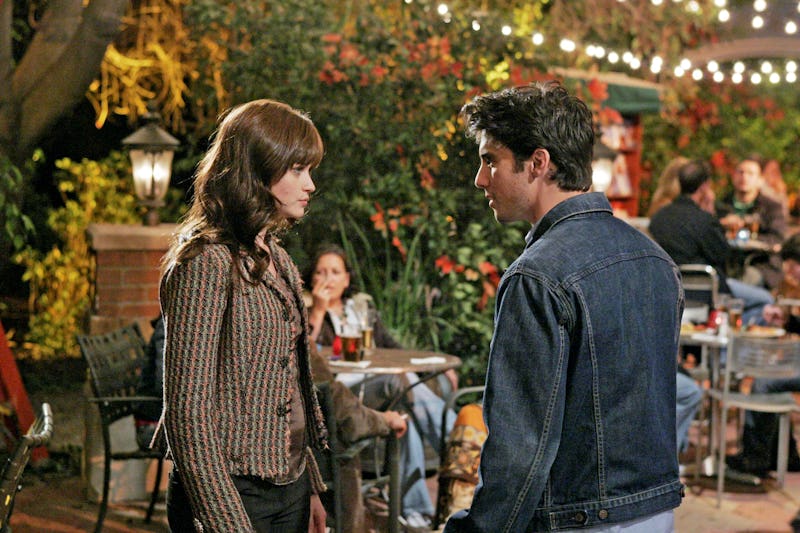 Though both Netflix and Warner Bros. have still yet to officially confirm that Gilmore Girls is returning to our screens for it's rumored set of 90 minute movies, our dreams seem to be getting one step closer to being set in motion thanks to some truly exciting pictures posted up on Twitter at the end of December. They appear to show the Stars Hollow set being prepped for the Gilmore Girls revival, and, if they're real, then fans can start getting excited from now.
Twitter user Clara (@caddyglass) did us all a solid during a trip to the Warner Bros. lot, where Gilmore Girls was filmed, and took some truly exciting pictures which seem to show a fresh (and fabulous!) new paint job on Miss Patty's Dance Studio, alongside some other sightings of work being done around the sets and props being brought out of storage. While it's tricky to say with anything less than speculative daydreaming what any of the other props are, I'd like to think that those cake props have something to do with Lorelai and Sookie's Dragonfly Inn (or maybe Taylor Doose's Old Fashioned Soda Shoppe?), and that the work being done on Mrs. Kim's antique store shows that Lane's family is still flourishing in Stars Hollow.
Though Warner Bros. has yet to comment on the authenticity of the pictures, they mean some serious business for those of us who have sat diligently waiting for any sign of a confirmation that Gilmore Girls will definitely be returning. While Pretty Little Liars and Hart of Dixie (which was recently cancelled) have both been using the Stars Hollow set for their shows, I'm totally ready to take heart from the prop labelled "Kim's" as a sign that the set is being primed for a Gilmore Girls shoot.
Adding more fuel to the fire of my little fangirl heart is this picture taken at the start of December by Kevin Porter of the wonderful Gilmore Guys podcast (@GilmoreGuysShow), who appeared to have stumbled upon the most teasing parking space sign in history on the WB lot:
Not to confuse my fandoms or anything, but as The X-Files always said: I want to believe. So what do the prop pictures mean for a potential Gilmore Girls revival? Well, if it's truly going into production, then the props seem to indicate that the show will be keeping fans happy by remaining as true to the vision of Stars Hollow from the original seasons as possible. As such, I'd like to think that if there's a Dance Studio being decorated, then Miss Patty has to still be teaching kids the delight of ballet within it. And if there's a Miss Patty, then there has to be a Kirk, a Taylor Doosey, and, well, the whole cast of our beloved eccentric townies, too.
That mere glimpse of Mrs. Kim's antique store being fixed up has also got me hopeful that a possible Gilmore Girls revival may also mean that Lane (and her twins!) would definitely be returning. And you know what? She might have kids now who are old enough to articulate their own noises, but I'd like to believe that Lane is a mom who is still rocking (Hep Alien forever!). So maybe that Antiques Store now has a soundproofed basement for Lane to take an hour out of her motherly duties each day to bash some drums? Time will tell, my friends.
Just do me a favor, guys. If and when the Gilmore Girls revival does get officially confirmed, just know that all you have to do is call my name, and I'll be there on the next train (or, you know, I'll be where I always am: Online, and by that point, shrieking with happiness).
Images: Warner Bros. Television