9 Books to Read Before Oscar Season Is Over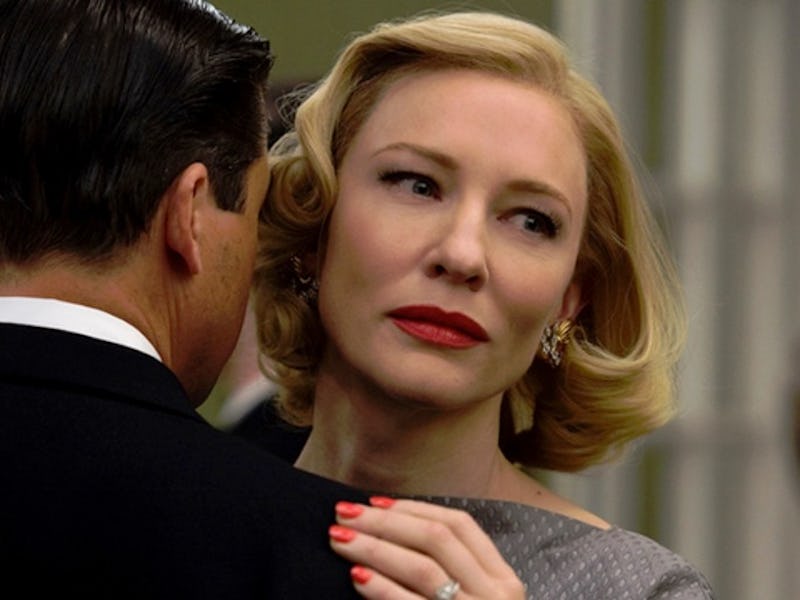 It seems like now that I'm older, my family never knows what to get me for Christmas, and I end up with a lot of gift cards and movie passes. Since my relatives can't just hand me cash and say, "Here, for your crippling student loan debt," — because honestly, how un-Christmas of a thought is that— they hand me tickets to a local theater for a fun night out instead, and every year, I do the same thing with them: see the most talked about movies of the awards season. That is, of course, after picking up all the books you should read before Oscar season is over.
This year, like so many other, has plenty of book-to-movie adaptations that are major contenders for awards. Out of this year's 10 Golden Globes Best Motion Picture nominations, five of them are based off of books, and although the Oscar nominations aren't released until January 14, it is safe to assume that several adaptations will make the list. And why wouldn't they? From The Big Short to Carol, the years most talked-about movies all came from someone's library, because Hollywood is the place where books are just waiting to be adapted to the next biggest film.
Before someone goes home with an Oscar, read these 12 books to get you ready for award season. Trust me, no matter how good the film is, the book will be better.
1. The Price of Salt, or Carol by Patricia Highsmith
Cate Blanchett and Rooney Mara star in the much talked about Carol, an adaptation of Patricia Highsmith's The Price of Salt, otherwise known as Carol. It's the story of two women, one wealthy, older, and married, and the other, a young dreamer, who fall in love in New York in the 1950s, and, unlike most lesbian love stories of its time, was romantic and optimistic, even through the ending. Complicated yet sweet and heartwarming, read The Price of Salt before you root for Carol to take home the prize.
2. Room by Emma Donoghue
If you didn't catch this bestseller when it was published in 2010, now is your time. Emma Donoghue's Room takes a dark, harrowing trauma and explains it through the eyes of a 5-year-old boy whose knows nothing outside of his mother and his room. A powerful story, Room is a novel you have to read before you see the movie, starring Brie Larson.
3. Betrayal: Crisis in the Catholic Church by The Boston Globe
The world was shocked when The Boston Globe's investigative team revealed the truth about the overwhelming number of cases of child sex abuse in the Catholic Church. Bribes were uncovered, faiths were tested, and people around the world were angry and disgusted. A true story that's hard to swallow, Betrayal is the Globe's team's real investigation that inspired Spotlight, starring Mark Ruffalo, Michael Keaton, and Rachel McAdams, that is sure to be a big winner this season.
4. The Revenant: A Novel of Revenge by Michael Punke
Is this finally Leonardo Dicaprio's year to win an Oscar? If any book-to-film adaptation can do it, it's The Revenant. Michael Punke's 2002 novel by the same name follows the same basic story: It's 1823 when frontiersman Hugh Glass is brutally attacked by a bear while out on a scouting mission, and left for dead by his company. Instead of succumbing to his wounds, Glass uses his survival skills and his thirst for revenge help him survive in this epic tale of persistence, based on a real man's life.
5. Patently Female: From AZT to TV Dinners, Stories of Women Inventors and Their Breakthrough Ideas by Ethlie Ann Vare and Greg Ptacek
Another year, another award-worthy performance by Jennifer Lawrence, am I right? This time, she stars in Joy, the story of Joy Mangano, inventor of the Miracle Mop and home shopping channel superstar. If you're interested in learning more about business women and female entrepreneurs and inventors, Patently Female has stories like Mangano's and many more you need to know about. Who knows, maybe there's another biopic in there, waiting to be adapted for the silver screen.
6. Beasts of No Nation by Uzodinma Iweala
It's not just Netflix shows like House of Cards and Making a Murderer that are getting people's attention. Beasts of No Nation, the Netflix original film starring Golden-Globe nominated Idris Elba, is based off of Uzodinma Iweala's stunning 2005 debut by the same name. After Agu, a young African boy, loses his father to militants, he is recruited to join the guerrilla fighters. Over the following brutal years, he faces violence, fear, and betrayal until he becomes someone he doesn't even recognize anymore. Poignant and devastating, Beasts of No Nation should be at the top of your TBR pile.
7. The Big Short: Inside the Doomsday Machine by Michael Lewis
A year after the stock market crash of 2008, Michael Lewis tried to explain exactly what led to the biggest finance crisis in America through the voices of those who saw it coming first in his financial investigation, The Big Short. Now, seven years later, Adam McKay has taken that book and has tried to make its information even more accessible in a film starring Steve Carell, Christian Bale, Ryan Gosling, and Brad Pitt — and take it from someone who saw the movie, he has done it. If, like me, you want to know even more about the housing credit bubble and shady bank dealings, then read this before you find out which of these leading men take home Best Actor.
8. Trumbo by Bruce Cook
Sometimes, those who tell great stories are the ones whose lives actually make for the best stories. Such is the case with Dalton Trumbo, a high paid screenwriter who was blacklisted from Hollywood, among many others, for his ties to Communism. Unlike many others, however, Trumbo fought his was back to recognition to become the first person to break the blacklist with his movie Exodus. Bruce Cook takes a personal and in-depth look at his life and times of this complicated man in Trumbo, which was brought to life by none other than Bryan Cranston in one of this year's possible award contender.
9. The Danish Girl by David Ebershoff
Inspired by a true story, David Ebershoff's The Danish Girl is the moving, heartbreaking story of Lili Elbe, the first publicly known person to have sex reassignment surgery, but it is also a story about the strengths (and limits) of love and marriage. Before you cross your fingers for another Eddie Redmayne win for his performance as Elbe, you should read the book behind it.
Image: The Weinstein Company