7 Times DJ Tanner Was A Beauty Inspiration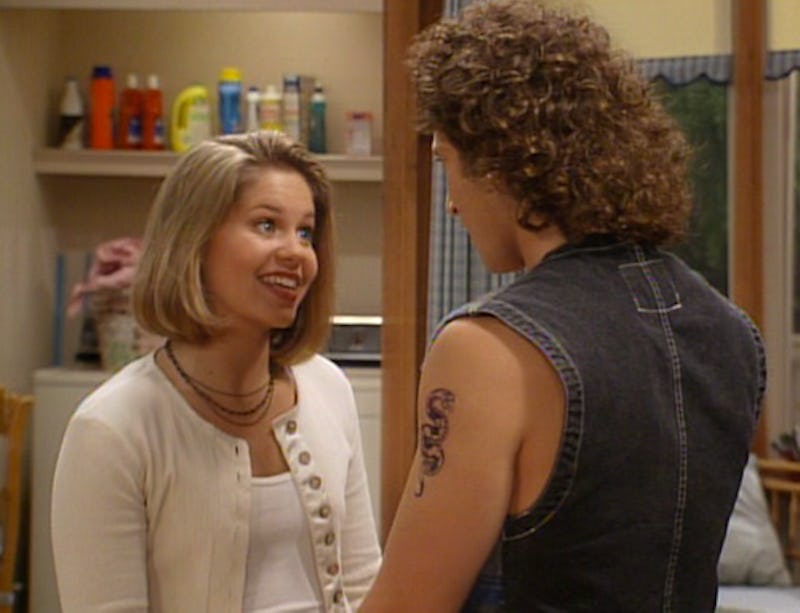 Full House could basically be described as the cool girls guide to fashion and beauty from 1987 until its sad end in 1995. Because of it's late '80s premiere and mid '90s finale, the series got to showcase both decades' fashion. In my opinion, among the entire cast, Full House's DJ Tanner was total hair and beauty inspiration. While sister Stephanie definitely had her moments — like that silver mini skirt from when she joined girl band Girl talk — DJ's ever evolving beauty looks were some of the best of the series.
If you were a Full House fan, you probably fall into two categories — a Stephanie or a DJ. I fell firmly into the DJ Tanner category. From her killer teased bangs in the early seasons to the flipped up bob of the last episode, DJ was total beauty goals. While Stephanie definitely had her moments, her ultra long locks and bare-faced looked stayed pretty consistent throughout the show. Plus, as the middle daughter, Stephanie started the show too young to have as expansive a library of looks as DJ. The eldest Tanner may have just been a kid when the show began, but because of her age, we watched Deej progress from a mere tween to one hell of a beauty forward woman.
So what made DJ Tanner such major beauty inspo? To be honest: lots of things.
1. When She Was Embracing Trends
From the very beginning, DJ embraced trends. Her crimped hair and teased bangs may seem totally dated now, but they were totally on trend at the time.
2. When She Kept Her Style Her Own
DJ for sure kept her locks long for quite some time on the show, and in doing so, she proved that personal style is what beauty is all about. DJ's long hair proved that regardless of how long you've rocked a style, if it's your thing, don't feel pressure to switch things up just for the sake of doing so.
3. When She Rocked A Bright Lip Like A Champ
DJ's bold, coral lip here was a total moment. This scene, during the opening credits, seemed to kind of mark the eldest sister as growing up. For those of us who grew up alongside the Tanner sister, you were definitely reaching for the same shade.
4. When She Proved Loose Waves Are Never Out Of Style
DJ's prom style shows that a great loose waves never goes out of style. The curls along the bottom of her long locks were the stuff hot roller dreams are made of.
5. When She Made The Move To A Bob
While long hair may have been DJ's jam for much of the series, her move to a short bob was so on point for her more adult character, and that subtle flip at the bottom was so totally '90s.
6. When She Rocked A Deep Side Part
That deep side part is total beauty goals, and I've more than once wanted to emulate it. Plus, it's such a class look and just further proof that DJ was total beauty goals.
7. When She Rocked A Brown Lip
DJ's beauty game was totally on trend, and that's '90s rosy brown lip is proof. We could definitely see Kylie Jenner rocking this shade today.
Basically, DJ Tanner was the epitome of late '80s and early '90s beauty, and even now, she's a total beauty inspiration.
Want more beauty tips? Check out the video below, and be sure to subscribe to Bustle's YouTube page for more hacks and tricks!
Image: Full House/ABC