How To Actually Get Short Fine Hair To Curl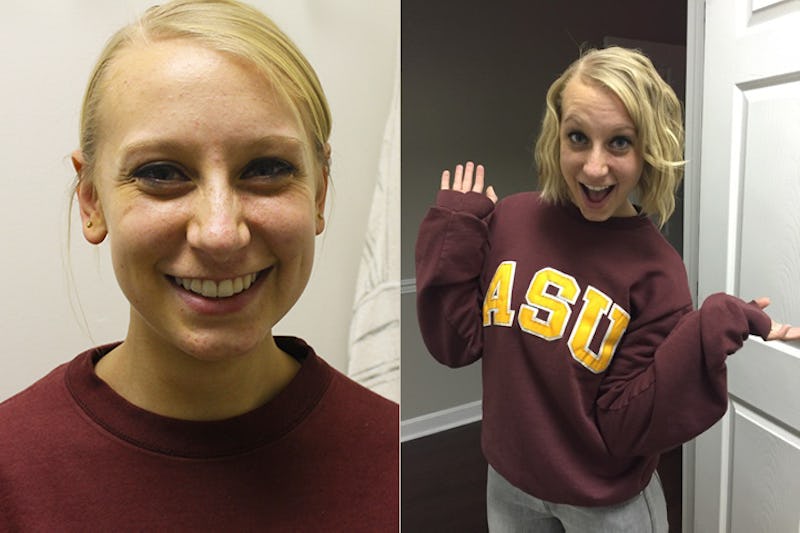 Unfortunately, I have never been too fond of my hair. While I'm thankful for my unique, natural blonde, I've always found that curling my short, fine hair was basically impossible. In fact, my strands rarely did anything besides lie flat on top of my head.
Growing up, I used to competitively dance. For competitions, my team would never choose a curled hairstyle because everyone knew that my curls would fall out before we took the stage no matter how much hairspray was applied. It was pretty nice of them to be so considerate, but I longed for the waves of our competition. Then, before my senior year of college — about six years too late IMO — my hairdresser taught me that I don't have to settle for flat, straight hair on top of my head. After cutting about six inches off, she taught me these seven steps to curling my hair. Finally, I had more than one style to choose from!
When she pulled out a flat iron to curl my hair, I thought she was crazy. If my hair couldn't hold a curling iron's force, what good would a straightener do? Oh, how wrong I was. Here's how to recreate it on your own short, fine hair!
Materials Used
Thankfully, not many materials are needed for this little project. All you really need is a brush, dry shampoo, hairspray (lots and lots of it!), and a flat iron.
1. Start With Dirty Hair
Since it takes extra time to "curl" hair versus straightening hair, on days I decide to curl it, I opt out of washing my hair — it helps the curls hold too! And if I know I am curling my hair the next day, I will sleep in a ponytail. That little crease left in your hair from the ponytail is actually helpful in this process. So as not to appear dirty, however, I apply dry shampoo my roots.
2. Section, Then Rotate In & Out
Listen, when you have next to no hair, you can't miss a single strand of it. The key to pseudo-curling short, fine hair is to break it off in sections. Rumor has it this is also the key to curling long, thick hair, but I will never know for sure.
I divided my hair into three sections, starting at the bottom. Although this layer won't be seen underneath the top two, you'd be surprised at how much volume this adds to the style. I pulled the remainder of my hair in a ponytail.
After I had my hair divided out, I pulled out a section — no more than 1.5 inches wide — and ran it through the straightener. Starting from the top, I'll curled the flat iron in, then released ever so slightly and move down my hair, and curling the next section out. Repeat this step until you get to the end of your hair. This is what creates the curled look without literally curling hair, hence the pseudo-curl. Depending on which direction I start the previous section of hair, I'll curl in the opposite direction on the next 1.5 inch section of hair.
3. Hairspray
Always, always, always hairspray the section of hair you just finished curling immediately after it is curled. Always. Otherwise, if you hair is as sensitive as mine, the curl will fall out before you finished pseudo-curling the next section.
4. Repeat On The Second Layer Of Hair
After the bottom layer is completely curled and sprayed, take down the next layer and repeat steps one through three. Again don't forget to hairspray each section of hair after pseudo-curling! It may start to look crunchy from the hairspray, but we'll take care of that in the final step.
5. The Final Layer
Once the second layer is completely pseudo-curled and hairsprayed, take down the top layer aka the most important layer aka the most complicated layer. While this has to be near-perfection since it will be the layer that is most seen, I always have trouble curling this section.
Repeat the same steps you did on the first and second layer. Don't be surprised if you have to go over a section a couple of times to ensure the curls remain intact.
6. Bangs
If you have bangs, like me, curling them in this pattern would look a little weird next to your face. Instead, I pull mine all the way across my face — meaning if my bangs are on the right side of my face, I would pull them diagonally across my face and curl under. This will create a nice curl that will fit in with the rest of your hair without completely taking their role as bangs away.
7. De-Crunch
Once all of your hair is curled and hairsprayed, gently run your fingers through it, both going down through the strands (to remove the hairspray crunchiness) and up to add more volume and separate the curls. If it still looks crunchy, you can gently run a boar bristle brush through!
The Final Result
I always feel like a whole new human after I curl my hair. I looks (and feels) like I actually put effort into myself. And the best part? The entire process only took me a half hour.
Images: Heather Hartmann