Catch 'Spotlight' Ahead Of The Golden Globes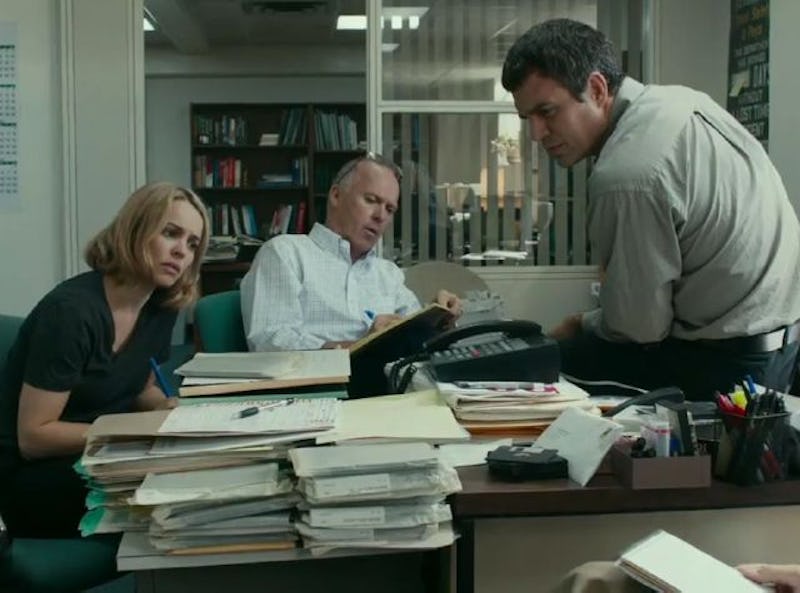 You know what's great but also terrible about seeing a majority of the films that are up for major awards? It's, uh, kind of difficult to see them, and, in effect, see why they're getting so many awards. Case in point, if you're trying to see where Spotlight is playing, you're probably not having the easiest time of it, depending on where you live. And, I'm not naming names or anything, but they're may be a certain movie responsible for this conundrum... *cough* Star Wars: The Force Awakens *cough*
You don't have to go around berating your Star Wars loving friends for kicking the movie you want to see out of its potential wide release. That'd be an especially Dark Side thing to do, anyway. It's OK; I am here to help you. Why? Because I'm kind and generous like that. Don't question my motives. I did some looking around and found out that there still are a bunch of cities playing the movie. Which means there are still a good amount of theaters in those cities that are showing Spotlight. Enough that I think you will get your chance to give it your own personal two thumbs up or down. Or, at the very least, be able to critique it against the other awards front runners.
Here are the cities where Spotlight is still playing, per Fandango, so you can get your fix ahead of the Golden Globes.
New York
Washington, D.C.
California
Oregon
Maryland
Massachusetts
Minnesota
New Mexico
Nevada
Georgia
Illinois
Virginia
Washington
Texas
Florida
New Jersey
Michigan
Tennessee
Ohio
Arizona
Pennsylvania
South Carolina
North Carolina
Indiana
Arkansas
Colorado
Oklahoma
Connecticut
Wisconsin
Nebraska
Kansas
Missouri
Kentucky
Louisiana
Iowa
Delaware
Aspiring movie critics: This is your cue.
Image: Open Road Films