Pizza Hut Has A Deliciously Cool New Venture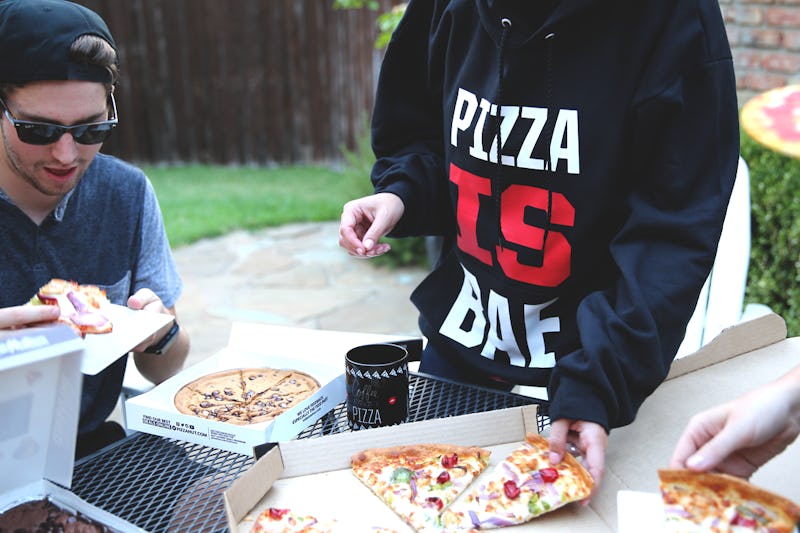 I don't need to tell you that pizza is pretty much the best food ever. I mean, it has bread and cheese and everything else good and nice in this world. It's pretty hard to improve perfection, but it's safe to say your pizza obsession is about to be kicked up a notch. Pizza Hut released a clothing line called — wait for it — Hut Swag. Yes, there is now a clothing line dedicated to the best food in the world. So, there's no need to worry about what you're going to wear to your next pizza party — Pizza Hut has got you covered.
So, where can you buy this Pizza Hut clothing? Head over to the brand's website to get your fill of all things pizza. If you wanted, this pizza apparel could literally take over your life. Let's just say wearing pepperoni from head to toe is no longer a pipe dream. It can now be a reality. In addition to pizza taking over your closet, Pizza Hut has also released pizza-themed sheets and pillow cases so you can be surrounded by pizza day and night. And if you're in a hurry to go pick up a pie from your local Pizza Hut, no worries, because you can just grab your pizza longboard and skate your way to cheesy goodness.
It's really no surprise that Pizza Hut released this collection. From pictures of oozing cheesy pizza slices to delicious artisanal pizza recipes, the food has been all over the internet for awhile. Considering pizza is the most addictive food out there, I'm sure the masses are going to, well, eat this stuff up. If you're in the mood for some pizza-themed clothing, I would get these pieces while they're hot.
1. Pepperoni Socks
Pepperoni Socks, $20, Pizza Hut
2. Dreaming of Pizza
Dreaming of Pizza Pillow Case, $40, Pizza Hut
3. Devoted to Pizza
Devoted to Pizza Shirt, $16, Pizza Hut
4. Pepperoni Scarf
Pepperoni Scarf, $30, Pizza Hut
5. Pepperoni Hat
Pepperoni Five-Panel Hat, $18, Pizza Hut
6. Tribal Pizza
Tribal Pizza Leggings, $50, Pizza Hut
7. Pizza Tank
Pizza Tank, $18, Pizza Hut
8. Pizza is Bae
Pizza is Bae Hoodie, $35, Pizza Hut
9. Pizza Vision
Pizza Vision Sunglasses, $6, Pizza Hut
10. Pepperoni Longboard
Longboard, $180, Pizza Hut
11. My Pizza, My Life
My Pizza, My Life Shirt, $17, Pizza Hut
12. Pizza Slice Hat
Slice Hat, $15, Pizza Hut
Want more beauty tips? Check out the video below, and be sure to subscribe to Bustle's YouTube page for more hacks and tricks!
Images: Pizza Hut