12 Clever Ways To Use Leftover Wrapping Paper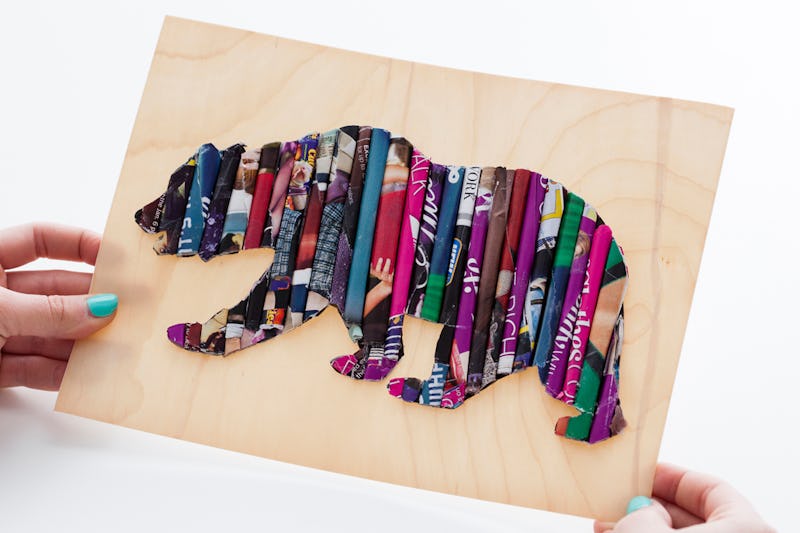 Now that the new year is in full force, it is time to get back to real life. Part of that means figuring out what to do with leftover wrapping paper you inevitably have hanging around. Of course, there is always the option of chucking everything into the closet. I mean, the holidays will come around next year, right? But when you have more paper than space, storage ends up looking like crazy clutter. Tiny apartment dwellers, I know you feel me on this one.
That's when DIY projects come to the rescue. With basic crafting skills and a couple extra supplies, you can re-purpose all that wrapping paper into useful items. Remember, the simplest ideas often double as the most fun. A little paper can go a really long way.
To get you started, I rounded up 10 easy peasy paper-based tutorials. You will probably notice that most of these projects don't even use wrapping paper in the original versions. Instead, they featured materials such as newspaper, tissue paper, and old magazine pages. The awesome part is that wrapping paper can replace any of those materials. How's that for having options?
It's time to put all that paper to good use... again. Happy crafting!
1. Confetti
The holidays might be over, but that doesn't mean that there is nothing to celebrate. From birthdays to graduations, there's a new year of festivities ahead. Prep yourself by making super fun confetti with some help of Lines Across. This tutorial features seven — yes, seven — different ways to make confetti. Now this is a mess I can get behind.
2. Weaved Basket
For a useful way to re-purpose wrapping paper, weave a paper basket. This is excellent for holding trinkets and books on your coffee table, night stand, or desk. The original tutorial by How About Orange uses newspaper, but you can easily utilize wrapping paper. I'm thinking a printed metallic basket would look awesome.
3. Coasters
While I'm on the topic of useful items, let's talk about these coasters. Personally, I use coasters on the daily, thanks to my coffee and tea obsessions. It's probably why I adore this project by Oh So Beautiful Paper. Wrapping paper with bold and graphic designs would work really well for this one. Loving the painted edges, too.
4. Drawer liners
The new year is the perfect time to take on small renovations in your home. It's the best way to keep things feeling fresh and upgraded. For an inexpensive upgrade, use wrapping paper as drawer liners. Your best bet is to use a paper that can pass for an all-year-round design, such as polka dots or stripes. Learn how to do it with the help of Salvaged Inspirations.
5. Magazine holder
Keep your space (somewhat) neat and tidy with a homemade magazine holder. This project by The SITS Girls shows you how to re-purpose an old cereal box into a functional storage unit. To use this tutorial with wrapping paper, simply trim it down to 12x12-inch sheets. Eating a bowl of cereal has never been so productive.
6. Magnet paper bin
It turns out that cereal boxes and paper are quite the killer combo. In this tutorial, Soho Sonnet demonstrates how to make a magnetic bin for your fridge. This is a great way to clean off your counter and make room for actual food. Plus, all those pens and rubber bands will finally have a home.
7. Tassel garlands
Keep the party going with a tassel made of fun wrapping paper. Want to take your decor cred up a notch? Make a garland using the same paper(s) as the confetti. While this project by The Bold Abode uses tissue paper, any lightweight wrapping paper will work just as well.
8. Shoe box storage
For another way to kill that stash of wrapping paper, transform an old shoe box into a storage unit. This simple creation can be used to hold memories from 2015, old holiday greeting cards, and photos. It's also a nifty tool for tidying up your desk. Thanks to Sincerely Sara D., you'll be doing Mother Nature a huge favor.
9. Wall art
Dressing up your walls is one of the easiest ways to transform your room. After all, each wall is like a blank canvas, waiting for your personality to adorn it.
I'm especially loving this clever wall art idea from Brit + Co. Originally made with old magazine pages, this project is extremely easy to customize. Just pick a shape that fits your style and have at it. If you have a crazy mix of leftover scraps, you can mix and match designs for a unique piece.
10. Paper Beads
Exercise your inner Martha Stewart by making a batch of paper beads from wrapping paper. With practice, you can make interesting beads that can be used in garlands or jewelry. From personal experience, making paper beads is an amazing stress relief activity. Find the project at mad mim.
11. Paper flowers
It might be winter, but that doesn't mean you can't adorn your table with a bouquet of beautiful flowers. And thanks to Lia Griffith, you can do just that with just a couple supplies. Of course, your color palette will probably differ — but that's what makes it fun! To find a type of flower that works best with your wrapping paper, check out the rest of her tutorials right here.
12. Party hats
Like I said... the party must go on. This floral (!!!) handmade party hat project is more than perfect for this year's spring-themed parties. Both solid and printed papers would be amazing. Thank you, Studio DIY, for your brilliance.
Looking for more creative ideas? Check out Bustle on YouTube.
Images: Lines Across; How About Orange; Oh So Beautiful Paper; Salvaged Inspirations; The SITS Girls; Soho Sonnet; The Bold Abode; Sincerely Sara D.; Brit + Co; mad mim; Lia Griffith; Studio DIY