The Most Popular Porn Search In The U.S. Is...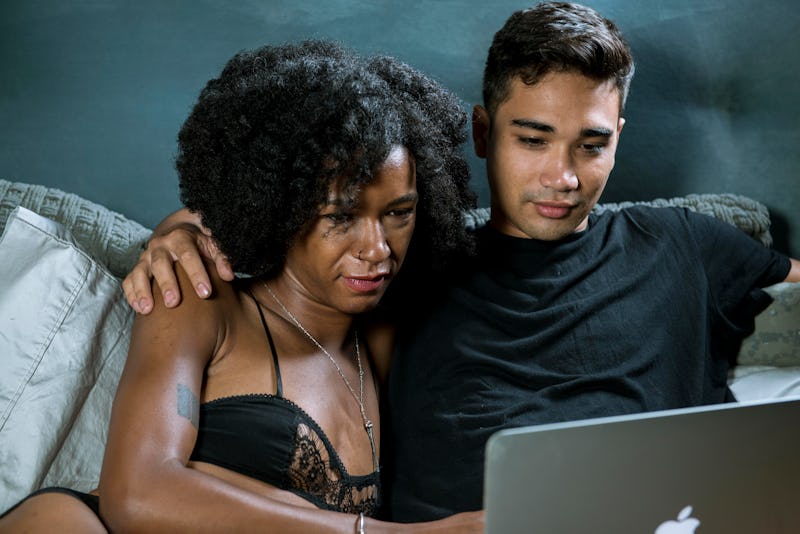 It's that time again when we look back at 2015 fondly and comment on it being quite an interesting year. But nowhere is there more insight on the past year like there is from Pornhub's 2015 Year in Review, which reveals the most popular porn searches, most searched porn stars, and more. It's here and only here that we get to see just how kinky, vanilla, or somewhere in between the porn-watchers of the world really are.
To no one's surprise, porn was a big hit this year. According to Pornhub's stats, 4,392,486,580 hours of porn were watched on Porhhub and over 87 billion video were viewed. If you can't wrap your brain around exactly how many videos that is, Pornhub broke that down into simple terms: 87 billion videos is like every person on the planet watching 12 videos each. That's a hell of a lot of porn being consumed. And when it came to words that were most frequent in the comment section of all these video "love" came in the top spot, followed by "hot." I just love a hot porn video too, you guys.
When it came to traffic, the United States won, as it usually does, because if there's one thing thing we're good at in these parts it's watching porn and eating all day breakfast ― another exciting highlight of 2015.
So what type of porn are we watching, you know, since we're watching so much of it? Here the 10 most popular search terms in the United States.
10. 'Mom'
Coming in at the tenth spot of the most searched terms in the U.S. according to Pornhub's research is "mom." Yes, there are people out there looking for "mom" porn videos, which is totally cool as long as they're not hoping to stumble upon a video of their own mom, because awkward.
9. 'Threesome'
In ninth place, we have "threesome," a term that jumped two spots since last year. And who doesn't love a little threesome action right before bed?
8. 'Squirt'
Coming in at 8th place for most searched terms is "squirt." Squirt, of course, means the ever elusive female ejaculation. Although female ejaculation has finally been accepted as something that can indeed happen to women, the jury is still out on what that mystery liquid actually is, with some researchers thinking it's urine.
7. 'Step Sister'
Making the jump up one spot is "step sister." The research also found that it's in English speaking countries where interest in porn involving step sisters or step moms is far more prevalent.
6. 'MILF'
Although it dropped one spot in the top 10 most searched porn terms, "MILF" is still in the top 10 searches here in the United States. I guess the fantasy of getting with your friend's hot mom is still alive and well.
5. 'Black'
As Pornhub noted the search for "black" made huge strides this year. Not only did it jump nine spots in the U.S., but on the international scale of searches, it jumped 16 spots, making it the term with the highest increase in searches next to "celebrity sex tape," which jumped 39 spots in the U.S..
4. 'Teen'
Although it's down one spot than it was last year, "teen" remains a very popular search term in the United States.
3. 'Lesbian'
Interestingly, "lesbian" was kicked out of its number one spot on the top searched terms in the U.S., despite still being a favorite among women. Although globally it sits high on its pedestal at number one and can be found in "hardcore lesbian scissoring," which is the search in the U.S. that's gaining the most traction, it seems that the appeal for just lesbian porn in the States is slipping a bit due to....
2. 'Cartoon'
Personally, I've never understood the appeal of watching cartoons having sex, but considering how popular My Little Pony porn has become, there's definitely a market for it. It's also this market that puts the search term "cartoon" in second place.
1. 'Step Mom'
And what search term is lucky enough to have the number one spot in Pornhub's 2015 Year in Review? "Step mom." It may be only in the third spot globally, but here in the United States, it reigns supreme as the top searched term for 2015.
Want more of Bustle's Sex and Relationships coverage? Check out our video on sex positions to help him last longer:
Images: Andrew Zaeh/Bustle; Giphy(10)