At-Home Pregnancy Tests Just Got Super High Tech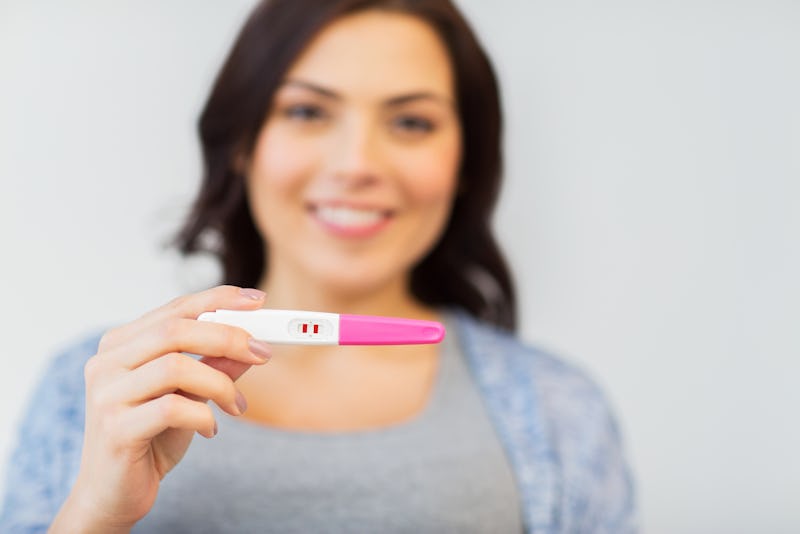 The days of peeing on a regular, low-tech stick and waiting three minutes to find out if you've got a bun in the over are over: First Response has created an app-enabled pregnancy test. Called First Response Pregnancy Pro, the test is Bluetooth-enabled and works with their Cycle & Ovulation app to tell you if you're going to have a baby. It's also a welcome addition to the 63 percent increase of women using their smartphones while trying to get pregnant.
While First Response Pregnancy Pro replaces the boring old stick you used to get at CVS, the Cycle & Ovulation app alone has also made women's lives easier: It provides resources, articles, and videos; it helps you predict your due date and pregnancy milestones; it gives you important questions to ask your doctor, as well as appointment reminders; and it also tells you your most fertile days, so you know when to go boom-boom if you're trying to get pregnant (or avoid boom-boom, if you're me).
When I first read about this, I immediately envisioned a stick that plugs into your phone, requiring you to stick your phone under your crotch so you can pee on the stick. Not quite. The test looks like a normal one you'd find in the store, except it syncs with your smartphone.
After you're done taking care of business, a clock counts down for three minutes while your results are prepared. And because this is the longest three minutes of your life, the app provides all kinds of videos to distract you. You can even watch cute puppies.
The stick and app have other sweet features, too. Have you ever taken the test and worried that you didn't pee on it enough, so the answers would be skewed? No? Just me? All right. Anyhoo, this app actually tells you once it senses your urine. Neat-o! Plus, the results aren't revealed until you enter a special security code.
Like the old school pee sticks, the First Response stick is a one-time only thing, so you'll have to keep buying them for $14.99 to $21.99 a pop. The app, however, is f-r-e-e. Happy urinating, friends.
Images: Fotolia