Matt Bellassai Accidentally Gets Snubbed At PCAs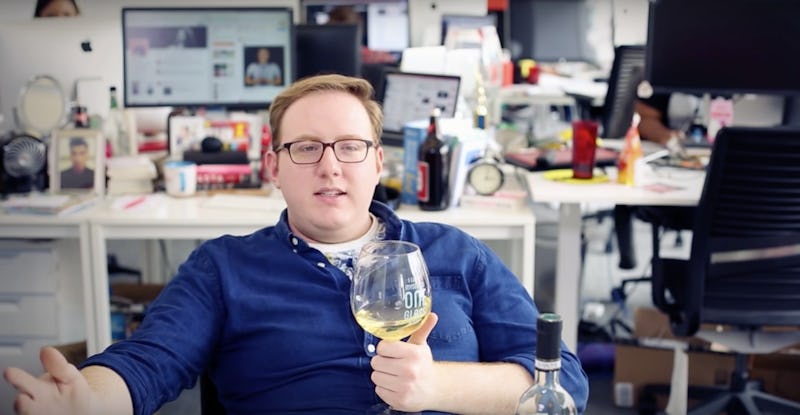 Do you ever have a rough day at work and feel like uncorking a bottle of wine right there at your desk? It may seem like a fantasy, but this is what BuzzFeed's Matt Bellassai does on a weekly basis. He stars in a hilarious video series called Whine About It, where he drinks a huge glass of wine and vents about whatever's on his mind. From reasons why wearing pants is the worst to the worst types of roommates, he tackles it all. If you haven't seen his videos, you're missing out. With more than 1.5 million followers on Facebook, it's not surprising that Bellassai took home a People's Choice Award. He won Favorite Social Media Star, but unfortunately, didn't get to bask in the moment. Instead of showing him on screen, the camera panned to someone else. Yikes! I guess he has something new to whine about, huh?
Proving that he really is a social media star, Bellassai quickly tweeted about the incident. He wrote,
UM I WON THE PEOPLES CHOICE AWARD AND THEY SHOWED THE WRONG PERSON ON TV AND IM THE DRUNK ONE WHAT IS THIS
The caps lock is totally warranted! While it probably was just a misunderstanding or camera glitch, it's a shame he didn't get the recognition he deserves while on TV. If it's any consolation, the People's Choice Awards account did tweet this red carpet photo:
Another plus? He got to hang out in the same room as Chris Hemsworth, which automatically makes it a successful night.
Congrats to Matt! And for those of you who haven't yet discovered the magic of Whine About It, check out the video below. Trust me, you won't be disappointed.
Image: BuzzFeedVideo/YouTube