9 Things That Will Go Wrong When You Try Dark Lips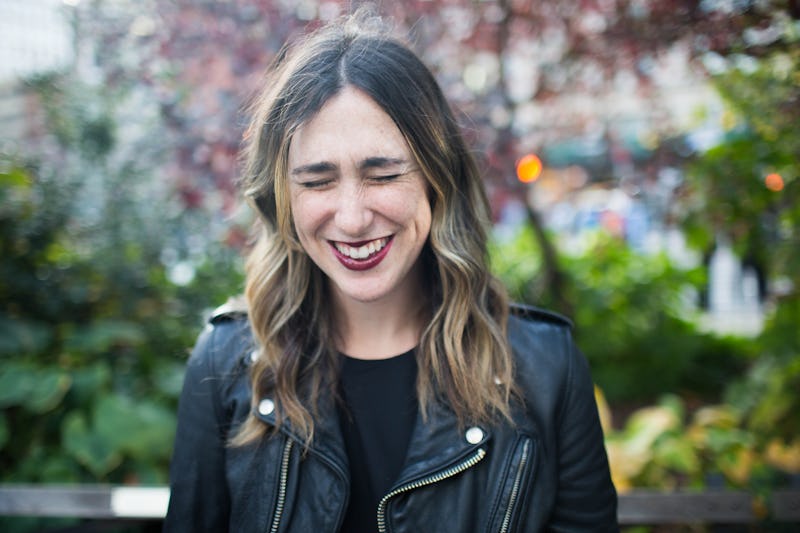 There are a lot of things we do for the sake of playing with new makeup trends, but I'd like to argue that wearing dark lipstick during the winter could be one of the hardest. And that's saying a lot, seeing how many hoops we go through just to experiment with pots and tubes. We contour like we're repainting our faces, glue our eyes shut with fake eyelashes, spend an hour immobilized while drying our nails, end up with foundation smears all up in the collar of or shirts... the list can be endless. But it's usually well worth it because, well, it's a lot like playing. When you buy a new palette or stock up on some new lipstick tubes, it's the equivalent of going bananas in Toys R' Us when we were younger. So the pain and eye twitching annoyingness are well worth it.
But while there are a set of trials and tribulations that come with every makeup process, wearing a vampy lipstick shade comes with its own set of special problems. The look isn't what you would call the most cooperative. Below are the nine things that will go wrong wearing a dark lipstick color this winter — just get yourself ready for the stress, guys.
Smashbox Be Legendary Matte Lipstick in Screen Queen, $21, Check It Out
1. You'll Spazz Out While Putting On Lip Liner
When the stakes are low and you're playing around in the mirror on a regular Wednesday night, it's a life rule that your makeup will turn out YouTube-tutorial-flawless. It's another rule that when it's go-time in the morning to repeat what you did the night before, your arm will randomly spazz out as you're lining your lips with burgundy-red liner, giving you a Joker effect that's near impossible to wipe away. Which is always great.
MAC Lip Pencil in Burgundy, $16.50, Check It Out
2. You Won't Be Able To Give Smooches In The Morning
You ring your lips with your deepest purple, slick it with you shiniest gloss, and... forget your significant other slash cat want smooches before heading out the door. But when you come at them with that stained mouth, they put their fingers into an "x" and hiss, denouncing your love. All the warm heart feels right there.
Bobbi Brown Lip Color in Blackberry, $27, Check It Out
Lipstick Queen Lip Gloss, $24, Check It Out
3. Your Coffee Cup Looks Like It Got Murdered
This is a two-parter. One, the lid of your coffee cup is going to look like you straight-up made out with it, with vampy smears running all over the place. It's going to look like you shared a passionate embrace while no one was looking. And second, you'll then continue to freak out that you've got none left on your lips and your morning of careful applying was for naught. The stress people, the stress.
Yves Saint Laurent Beaute Lipstick in Prune Avenue, $36, Check It Out
4. Breakfast Foods Will Get Stuck Like Honey Traps
Have you ever tried eating a croissant or pastry while you had a chic slick of purple-red gloss? Those flakes will get caught all up in there, making you look like you're collecting nibblets to tide you over till lunch. It's a no-go. Foods that can be eaten through a straw, only.
MAC Tinted Lipglass in Rebel, $15, Check It Out
5. Sometimes It'll Randomly Smear Down Your Chin
We all have moments where we forget we're wearing makeup — rubbing our eyes when we have eyeliner on and running our hand across our mouth when we're stressed — which will effectively wipe that dark shade all over your chin. And then it will take about 15 wet paper towels and profuse praying and swearing to rub it all off in the ladies' bathroom.
Clinique Chubby Stick Intense in Grandest Grape, $17, Check It Out
6. You'll End Up Looking Like J.Lo Circa 2003 At One Point
You might feel a little weird taking out a compact a la a 1930s movie star in the middle of your office, so reapplying your vampy shade throughout day might be a hit or miss. Which is why when you go to the bathroom and look in the mirror, you're going to see J. Lo circa "Get Right" staring back at you, in her full lip liner glory.
Vasanti Love Brights Gel Matte Lipstick in Mad Love, $19, Check It Out
7. Someone Will Comment On The Bold Shade
A lot of people will admire you and your bold cat-walk-esque mouth, but then others will have an opinion on the punchy shade that you might not necessarily care to hear. You'll be called "Lorde" a lot, some will say it'd look great if it was just a touch or two lighter, while others will wonder out loud if you're slipping back into your teenage goth phase. Which will induce and eye twitch or two but whatever. You know you look fabulous.
Laura Mercier Velour Lovers Lip Color in Temptation, $28, Check It Out
8. Eating Lunch Becomes Uber Tricky
This is just a disaster zone. No matter what you do, you're going to leave that restaurant looking like you've just come out of a club at four in the morning. The grease from the food will wipe away only strategic portions of the color on your mouth, your lip liner will peek through, the napkins on the table are going to look like gauze used in a world war, and your forks and glasses are going to be marked and smeared like you were claiming your territory. Like I said: It's going to be a hot mess.
NARS Velvet Lip Liner in Lanika, $24, Check It Out
9. You'll Accidentally Leave Your Lipstick At Home
After reading everything that could possibly go wrong literally minutes after applying a deep shade, you can only imagine what a crisis it is if you accidentally forget it on your bathroom sink. You have zero chances of reapplying through out the day — which means you're either going to be eating your lunch through a straw and hoping for the best, or you're going to pop into the drugstore to buy a replacement tube (I can't tell you how many times I've done this — #commitment.) Either way, even though there are so many trials and tribulations associated with wearing dark shades during the winter, I still say go for it. Because what's a little extra work when you end up looking so boss?
MAC Dark Desires Lipstick in Black Knight, $17, Check It Out
Images: Brooke Cagle (2), Nathan Walker/Unsplash; Ali Gilliams, Bianca Consunji/Bustle; Fotolia; Pexels (2)