11 Times Stephanie Tanner Had The Best Hair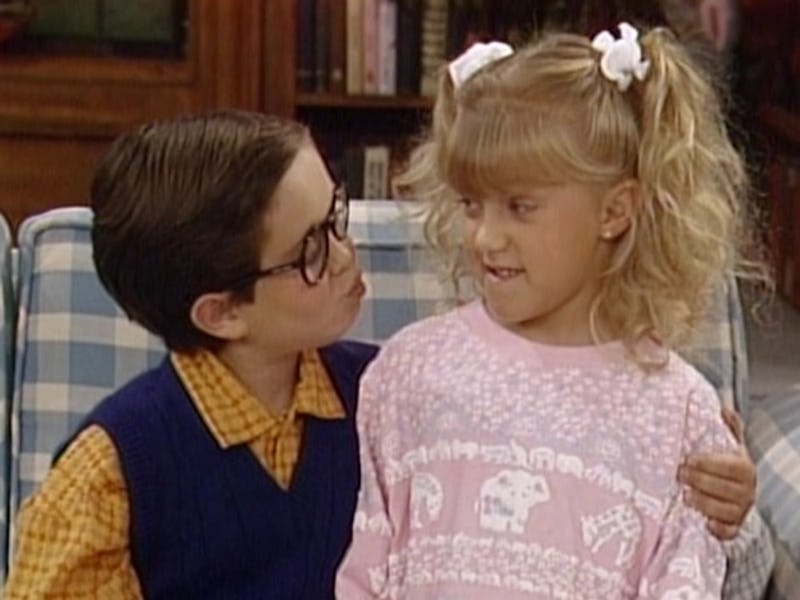 Since '90s hair is bound to continue making a comeback, what better place to get style inspo than old episodes of Full House? From DJ Tanner to Uncle Jesse, the beloved family show is filled with so many good hairdos. But my personal fave? The middle Tanner sister, which is why I scouted out all the times Stephanie Tanner had the best hair ever, and I hope you're prepared to swoon over some refreshingly non top-bunned tresses. Tanner always knew how to rock fun feminine hair in a spunky way, and the looks below are definitely worth popping back into your repertoire.
P.S., in case you somehow missed the best news ever, the Full House reunion series, Fuller House, is coming to Netflix on Feb. 26. Though the Olsen twins declined to get involved ("How rude!"), I'm super pumped that the rest of the cast, obviously including Jodie Sweetin, will all be there. While it's hard to say just what to expect, the cast has kindly revealed a few secrets.
If you're freaking out waiting for Fuller House to air, take a giant breath and get your Stephanie Tanner fix with all the obsession-worthy hairstyles below. From poofy bangs to slicked back perfection, there's no doubt Tanner not only was the best character on the show, but by far the most stylish of the bunch!
1. Top Scrunchie
Before the top bun, there was the top scrunchie and it was the best.
2. Sleek Headband
Nothing like slicking it back with a headband and calling it a day.
3. Curly Pigtails
Ah, I miss puffy pigtails so much right now. Let's all bring it back, shall we?
4. Full-On Puff
Sometimes the poofy just can't be tamed. The more volume, the better!
5. Side Scrunch
Why keep your scrunchie right on top when you can give it a touch of borderline '80s flavor? The side top pony gives Steph a bit of edge, too.
6. Clean Middle Part
Sometimes, you just gotta brush it straight and be done.
7. Feathered Bangs
There isn't a single crazy hair trend out there that can top feathered bangs.
8. Bow Down
When in doubt, put a bow on it.
9. Tight Top Pony With Curly Locks
I have seen this 'do making a comeback, and I have to say, I think Stephanie Tanner is the muse behind it.
10. Simple Bangs
Does it get more '90s than this look? Swoon.
11. Beret Beauty
I'm calling it – the beret is going to make a huge comeback in 2016.
Want more beauty tips? Check out the video below, and be sure to subscribe to Bustle's YouTube page for more hacks and tricks!
Images: Full House/ABC